For me, food and music belong together. Cooking a delicious meal while your favorite music is playing in the background is simply good. At least as good as eating with – quieter – music in the background. Especially in the cooler season of the year it gives me such a pleasant feeling to be at home, having the scent of roasted autumn mushrooms in my nose, looking outside into the darkness and listening to a melancholy song. In autumn, food and music take us closely in their arms and fill us up with warmth and comfort. Pumpkin, sweet potato, mushrooms and apples do this in a culinary way, the appropriate music in an acoustic way. Together they nourish us on different levels and make us full and happy.
It's normal for me to feel a faint nostalgia in autumn and to unearth old, cherished recipes and songs that fit the moos. That's exactly what I did this week when picking out the recipes I wanted to eat the next few days like putting out clothes for the next day. Then there was only a suitable song to be chosen – and the autumn menu for body and soul was ready to be served. Here is my compilation …
Polenta sticks with mushroom ragout
Do you rarely eat polenta? Yes? Then it's time for a change! Because there is hardly a better (and faster) accompaniment to autumn mushrooms than the humble polenta. These polenta sticks are admittedly a slightly advanced version, but incredibly tasty. If you don't have much time, you can simply serve the mushroom ragout with creamy polenta (see how to make creamy polenta here).
Meanwhile I listen to: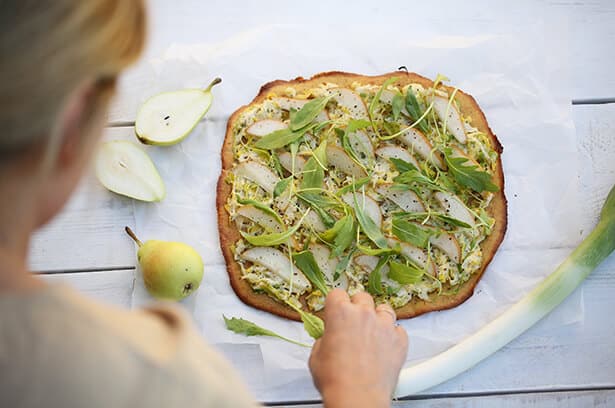 Tarte flambée with pear and leek
When we lived in Alsace, we always went to eat tarte flambée in autumn on a small farm nearby that didn't serve anything else. Since then, the smell of autumn leaves, the warmth of the farm restaurant and the taste of the thin dough with onions have been burned into my mind forever and evoke the most beautiful autumn memories. I still don't prepare my own tarte flambée traditionally, but in a very special way with chickpea flour and a topping of pear and leek. This is how new traditions are formed!
Meanwhile I listen to:
Spirelli with mushrooms and leeks
An uncomplicated pasta with mushrooms is the ultimate lunch for autumn. Add a green salad– and everything is good.
Meanwhile I listen to:
Pumpkin hummus
This sunny hummus makes even gray days colorful. It can easily be prepared for several days and eaten with a piece of good bread, vegetables or a little salad.
Meanwhile I listen to:
Pumpkin and sage pasta
This pasta is a Wellcuisine classic, and I believe that many of our long-time readers have already made it more than once. It combines a combination of flavors that always works: pumpkin, pasta and sage. So easy, so good.
Meanwhile I listen to: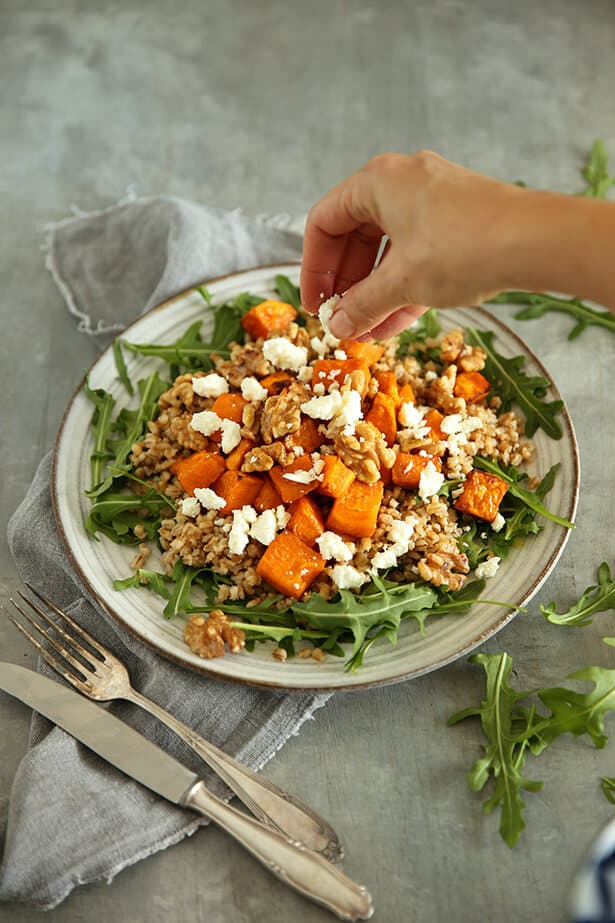 Sweet potato and barley salad
Oven-roasted sweet potatoes and grainy barley turn this salad into a wonderful autumn main course, which can optionally be refined with feta.
Meanwhile I listen to:
Apple Crumble
When you say "autumn dessert", I say, "apple crumble!" There is simply no better dessert this time of the year. The nice thing about a crumble – besides the taste – is that it is very easy to prepare. The oven does most of the work. This recipe comes from our latest book "Süß & Happy".
Meanwhile I listen to:
Oh, and because it was so nice, here's a little encore ;-):
Well, one last, tiny song for the way home. But then the party is over …