When the leaves fall and rustle dry on the streets, when a cool wind blows away the last warmth of late summer and nature glows red and yellow and brown, not only our surroundings change, but also our bodies. Just like the leaves on the trees, they become drier (especially mucous membranes and lips) and colder (feet and hands). In Traditional Chinese Medicine, autumn is the season of the lungs and colon. Both organs nourish the body (one with oxygen, the other with food), but are also responsible for letting go (carbon dioxide and food residues). That is why October and November are ideal months to let go on other levels too. It's a good time to clean up life, bring projects to a good end and to create clarity. At the same time, it is important to relieve the digestion – good digestion means nourishing and letting go par excellence –  and to warm the body. Of course, it is no coincidence that nature now ripens fruits and vegetables that fulfill precisely these functions. And what is more warming and nourishing than a warm pumpkin dish on a cool autumn evening?
Pumpkin has been considered not only a food but also a medicine for centuries. In Chinese medicine, it is used to strengthen the bladder and relieve indigestion. In ancient Indian cultures it was used as an anti-inflammatory agent, and in Benedictine monasteries it was an integral part of medicinal remedies and prescriptions. Today we know that pumpkin contains large amounts of alpha and beta-carotene, which are converted into vitamin A in the body and are actually very anti-inflammatory, slow the cells' aging process and improve immune functions.
The Hokkaido is a pumpkin variety from Japan and is one of the only pumpkins that can be cooked and consumed with their skin on. Compared to other types of pumpkin, it contains seven times as much cell-protecting beta-carotene. Fortunately, that doesn't even get lost during long periods of storage or cooking. Studies indicate that the beta-carotene can be used even better by the body when it is heated.
I like to bake Hokkaido squash in the oven with a little olive oil. This is how its full aroma comes into its own. Mixed with pasta, sage and almond crumbs, it makes a wonderfully warming autumn meal. Enjoy!
And now my question for you: what kind of food do you crave in autumn? Please let me know in the comments below!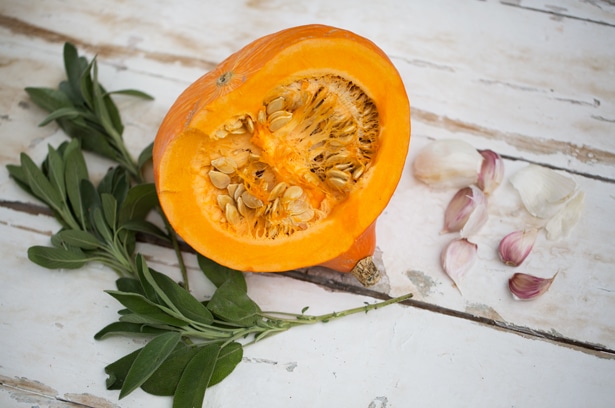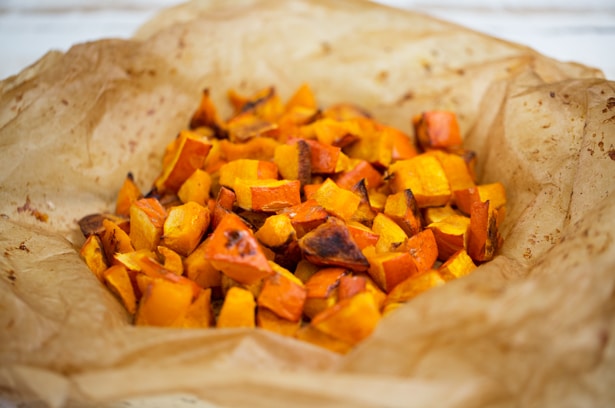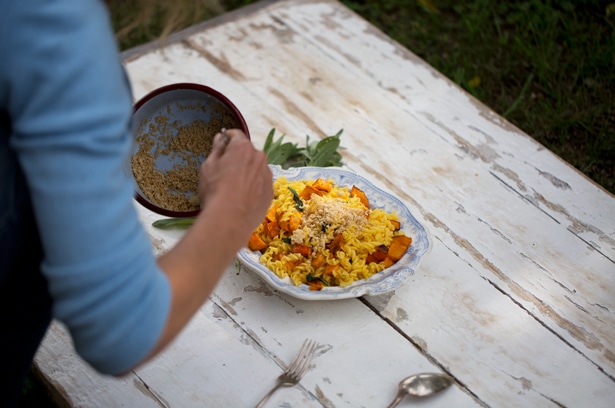 PUMPKIN AND SAGE PASTA
Instructions
Preheat the oven to 180°C.

Mix the pumpkin in a bowl with olive oil, salt and pepper. Spread on a baking sheet lined with baking paper and bake for about 30 minutes.

Cook the pasta in plenty of salted water until al dente. Drain and keep warm in the pot.

In the meantime, gently heat the olive oil in a saucepan. Add the garlic and sage leaves and simmer gently for about 3 minutes. Be careful not to let the leaves get too dark. Salt and pepper.

For the almond crumbs, heat olive oil in a small saucepan and briefly brown the ground almonds and nutritional yeast and season with salt.

Add the sage oil and pumpkin to the pasta in the saucepan and mix well. If necessary, season again with salt and pepper. Spread on plates and serve sprinkled with almond crumbs.