"Should I be scared if I invite you to dinner?", a journalist with whom I spoke about Wellcuisine and healthy eating asked me this morning. I had to laugh spontaneously because I knew exactly what she meant: health-conscious people are not always the easiest guests, especially when there is a multitude of foods that they cannot or do not want to eat. Since I can tolerate almost everything today, I am an easy guest and am always very happy about the loving gesture of a homemade meal.
Still, the question lingered a bit, because it includes a few other questions: Do we manage to be health conscious AND relaxed? Can we love one food without fearing another? Do we have to eat 100 percent perfectly or is 80 percent enough? Do I always have to be strict to be healthy? How much nonchalance is good for me?
Everyone has to find their own answers to these questions. And sometimes these turn out differently from day to day. Of course, it would be easier to walk around with a list of "Do's and Don'ts" and see the world in black and white. But I believe that we would lose something valuable: our inner feeling that tells us what is good for us and what is not. And that helps us to find the right balance between health and enjoyment.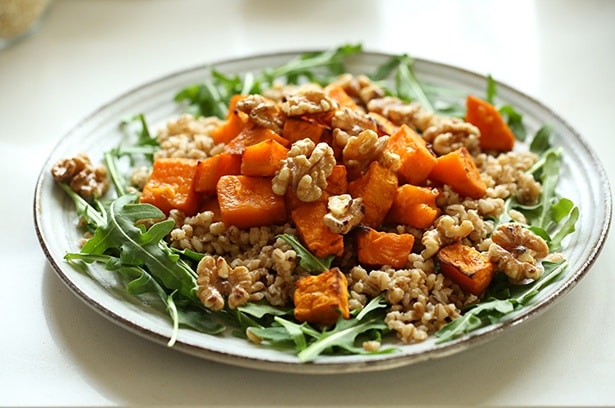 Finally, the journalist asked me the following question: "How do you get a great, sexy charisma?" The answer was easy for me: When you feel completely at home in your body, you can enjoy yourself and embody a harmonious balance of health and joie de vivre.
And now to my recipe of the week: a delicious and healthy winter salad made from nutritious barley, roasted sweet potato and a touch of oriental spices in the dressing. We don't eat barley very often these days, although it was the most popular grain in many ancient cultures. In ancient Egypt, the hieroglyph for barley therefore stood for grains in general. The ancient Greeks found barley to be their most popular grain. The poet Homer called it the "core of men" and, according to Plato, barley was the food of the philosophers.
Food Pharmacy Barley
Barley is one of the so-called ancient grains. It was first cultivated in Southern Central Asia and the Middle East around 10,000 years ago. In contrast to wheat, which is much more common today and which is genetically very different from the wheat of the last millennia, an analysis of 6000 year old barley grains has shown that the genome of the barley has hardly changed to this day.
It was recognized early on that barley has some beneficial health effect. In ancient times barley groats were used as a remedy for acute gastrointestinal diseases. Barley water, also called tisane, was prescribed to sick and weak people to strengthen their health well into the 19th century. To do this, the barley was boiled with water, the grain removed and the liquid drunk. In Japan and Korea, barley tea is still popular to this day to prevent stomach ulcers. Barley is also considered beneficial for the stomach and intestines in traditional Tibetan medicine. Many millennia later, science proves the ancient medicine right.
The medically most interesting substance in barley is the insoluble fiber beta-glucan, which promotes digestion and improves the intestinal environment. Studies have shown that beta-glucan nourishes the good intestinal bacteria and promotes their settlement in the intestine. Italian scientists have shown in a study that subjects who ate 100 grams a day of a pasta that was 25 percent barley flour saw a noticeable increase in beneficial intestinal bacteria after 2 months, while the number of harmful bacteria had decreased.
More health benefits of barley:
lowers cholesterol
lowers blood sugar levels and prevents diabetes
strengthens the cardiovascular system
And now my question for you: how do you find your balance between health and pleasure? And do you eat intuitively or do you prefer to follow clear guidelines? I look forward to your comment under this post!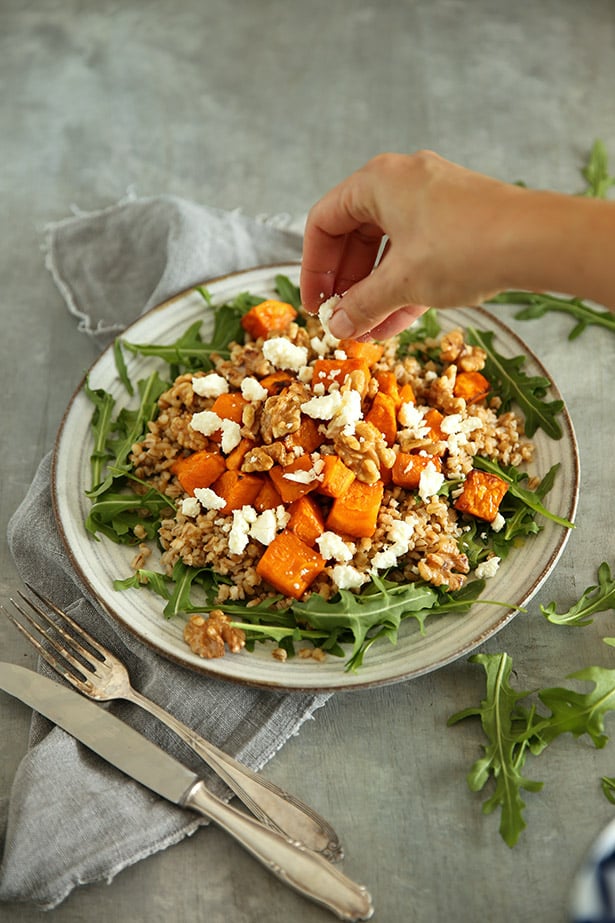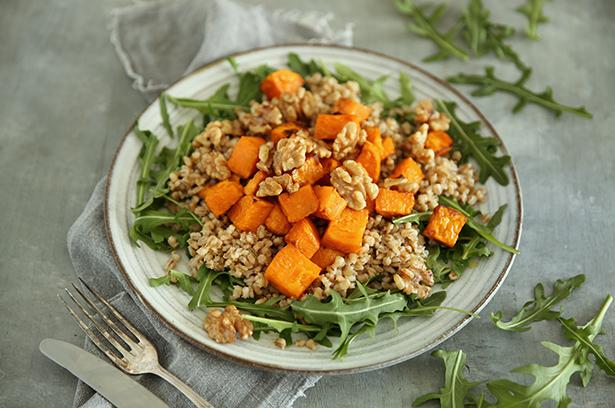 SWEET POTATO AND BARLEY SALAD
Instructions
Preheat the oven to 200°C fan oven and top heat.

Put the barley with the water and salt in a saucepan and bring to the boil. Reduce the heat and let the whole simmer for about 40-45 minutes with the lid closed, until the water has boiled off and the barley is firm to the bite.

Mix the diced sweet potato in a bowl with olive oil, smoked paprika powder and salt and massage in with your hands. Spread evenly on a baking sheet lined with baking paper and bake for about 20 minutes, until the sweet potato is cooked through and browned on the surface.

For the dressing, mix orange juice, olive oil, apple cider vinegar, smoked paprika powder, cumin, salt and pepper.

Briefly roast the walnuts in a pan with a little olive oil while stirring.

Mix the barley with the dressing in a salad bowl and add the sweet potato and rocket. Spread on plates and serve garnished with the roasted walnuts and optionally feta.
Wellcuisine-Tipp
The cooking time of barley can be almost halved if the grains are soaked for at least 4 hours beforehand. To do this, simply soak the barley in the specified amount of cooking water. Cook the barley in the soaking water for about 25 minutes until it is cooked through. Simply pour off the remaining water (which does not boil off completely because of the shorter cooking time).