Every afternoon I walk through nature with my husband and our dog. I watch new plants and flowers growing, admire at the wild flowers, pick a few wild blackberries, figs or oranges depending on the season, grind wild herbs between my fingers and inhale their ethereal scent. I feel the air, how it touches my skin, cool and damp or warm and dry. Those are the moments in which I am just part of the landscape and that is a calm and good feeling. In nature I can feel the seasons very clearly. In autumn the leaves rustle underfoot, the scent of wood fire is in the air and the freshness of the morning makes me pull my scarf tighter. When I lived in the city, my relation to the seasons was a little different, not as distinctive. So I tied them to the color of the sky and the leaves of the tree in front of my window. In my kitchen though, the seasons were always very noticeable. Because I like it when my food tastes like spring, summer, autumn or winter. Seasonal ingredients and suitable spices allow us to be present in the moment. They make us more aware of the time of year and help our body to get used to the changing temperatures.
No taste can get me into an autumn mood as quickly as that of warm apples. Combined with the flavors of cinnamon, oranges and walnuts they make a beautiful crumble. When eaten on a cozy Sunday in October when the sun shines golden through the window, it's the perfect feel-good treat. But it also makes a rainy day much more comfortable.
The apple crumble is a recipe from our new book "Süß & Happy", which came into bookshops two weeks ago. Since then, I've been getting messages and photos almost every day from people who have tried recipes from it, which makes me really happy.
And now my question for you: what's your favourite atumn recipe? And which ingredient, taste oder smell bring you into autumn mood immediately? I'm looking forward to your comment below!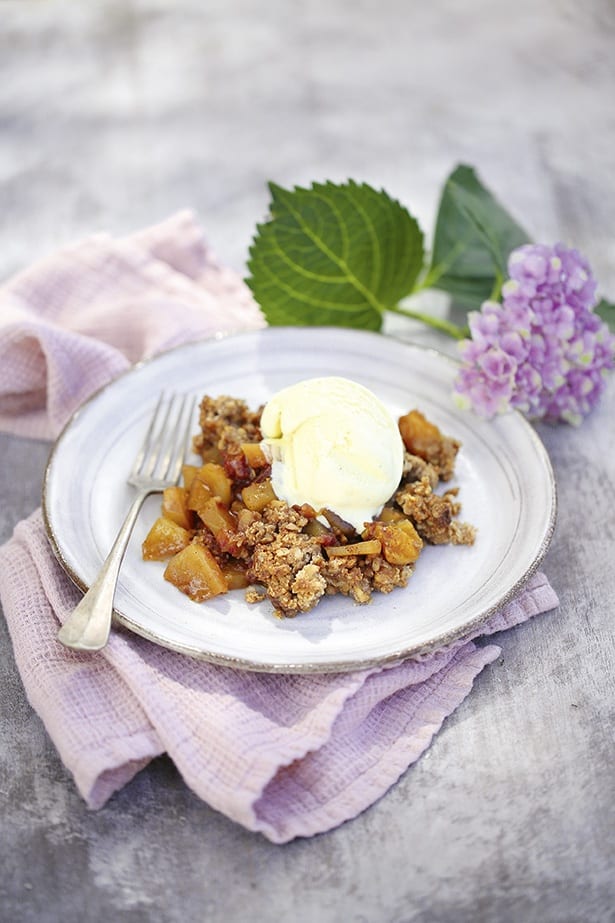 APPLE CRUMBLE
Instructions
Preheat the oven to 180°C top and bottom heat.

For the filling, peel, core and dice the apples and place in a bowl. Rub the peel of 1 orange and add to the apples. Peel both oranges and dice the pulp. Mix into the apples along with all the other ingredients for the filling.

For the crumble, mix all ingredients thoroughly with your hands.

Grease an oven pan with coconut oil and pour in the fruit mixture. Spread the crumble loosely on the surface with your hands.

Bake for about 55 minutes. Check in between that the crumble is not too dark and cover for the rest of the baking time if necessary. The crumble tastes particularly good with vanilla ice cream.