This year I'm much more looking forward to the pre-Christmas season than usual. Since this year was not an easy one, I'm looking forward to pamper myself a little bit with the scents of cinnamon, chocolate and vanilla, the taste of gingerbread and the flickering dance of a candle in the evening. For me, Advent season includes the warmth of an oven, from which the delicious smell of freshly baked cookies pours. That's why I'm going to prepare my first Advent pastry on the weekend. And this year these are the delicate Advent Madeleines from our second Christmas baking book. I'm a huge fan of Madeleines, because the shape guarantees that the small cakes are wonderfully fluffy and delicate.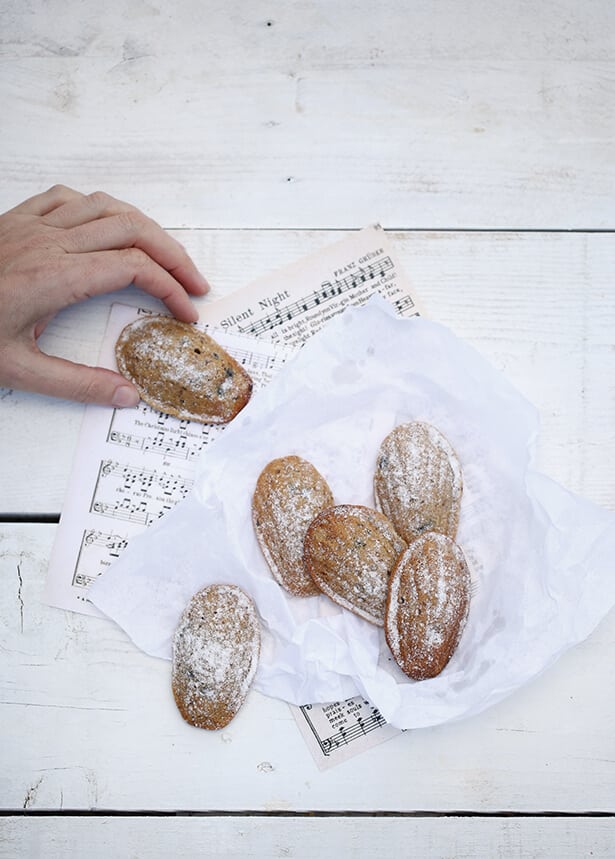 My husband Thomas is a very good cook, but he usually leaves the baking to me. The last time we ate these madeleines, however, he announced that he wanted to look over my shoulder the next time I am gonna bake them so that he could make madeleines himself in the future. Coming from a man who would a thousand times rather eat a savory sandwich than something sweet, this is a real seal of quality.
For me, the Madeleines mark the beginning of the Advent season. They are a foretaste of all the other pleasures that this time has to offer. For example, drinking homemade mulled wine, in white or red . Standing outside at night and looking up into the sky. Bringing a few twigs from a walk or buying eucalyptus at the farmers market and decorating the house with fragrant greenery. Flavoring the rooms with essential oils that smell of orange or Swiss stone pine. Eating golden porridge for breakfast. Thinking long and hard about what to eat on Christmas Eve and then think again. Browsing through cherished Christmas recipes. Listening to nostalgic songs and jazz while lighting the fireplace (or many candles).
But one by one. Now I'm going to turn on the oven and stir up a Madeleine dough. Are you with me?
And now my question for you: do you have cherished rituals in this special period before Christmas that are good for you and that you are already looking forward to? Then leave a comment under this post. I'm looking forward to it!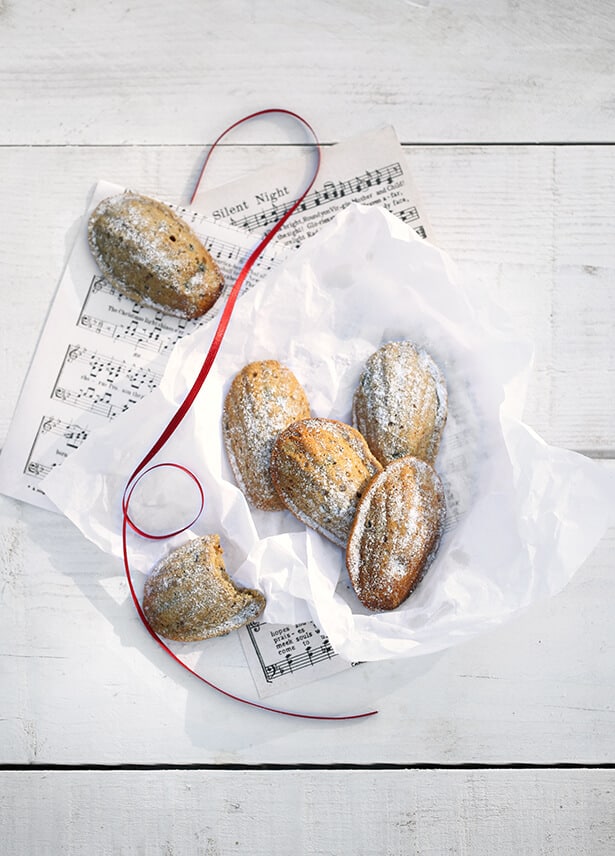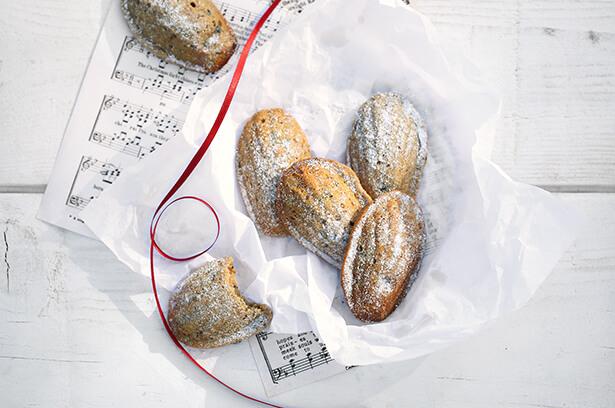 ADVENT MADELEINES
Ingredients
For the dough:
100

g

spelt flour type 1050

alternatively my gluten-free flour mixture: the gluten-free variant becomes particularly juicy with an added egg.

50

g

ground hazelnuts

40

g

dried cranberries

roughly chopped

2

tsp

tartar baking powder

2

tsp

cinnamon

1/4

tsp

nutmeg

1/3

tsp

salt

80

g

virgin coconut oil

melted (plus a little more for the baking tin)

150

g

apple sauce

unsweetened

60

ml

maple syrup

grade A or C

2

tbsp

lemon juice

1

grated zest of untreated orange

1

tsp

organic orange oil

sold in small tubes in the baking department of the organic food store
For the dusting:
Erythritol powdered sugar

finely ground the erythritol in a chopper
Instructions
Preheat the oven to 180°C top and bottom heat.

Mix all ingredients for the dough in a bowl until smooth. Rub a madeleine baking tin with coconut oil (unless it is a silicone form, then just rinse briefly with water).

Fill the madeleine hollows completely with dough. Bake for about 15 minutes (the baking time may vary depending on the size of the hollows). When the madeleines are slightly browned on the surface, take them out of the oven.

Let cool in the baking tin for about 15 minutes, then carefully remove the madeleines from the hollows and let cool down completely on a cake rack.

Just before serving, dust some icing sugar over the madeleines.
Wellcuisine-Tipp
The madeleines can also be frozen and baked briefly in the oven after defrosting.