Valentine's Day is approaching and I owe it to the tradition of this blog to write a post about love, just like last year and the year before. So this week I was thinking about love. And I asked myself which ideas, quotes or lyrics came to my mind about love that shaped my attitude towards it. You sure know those phrases that keep you company and suddenly come up in moments when you most need them. Here are mine:
It is what it is, says love
(Erich Fried)
In a blog post about love I start with Erich Fried's wonderful poem, which says that love cannot be described because it simply is what it is. Isn't that nice? With everything that movies, books and our culture try to convince us, love is not a pattern F. It does not follow any conventions, no preconceived ideas, but is a real child of freedom. I believe that we can only experience true love when we are ready to let go of our expectations of it. When we open up to it and allow it to be what it is and trust that it is good.
Do you want to be right or do you want to be happy?
(Marshall B. Rosenberg)
Certainly one of the most wholesome phrases when it comes to relationships and friendships. Because of course we all want to be right when we know that the other is wrong ;–). The only question is: is our pride really worth more than our peace of mind and the quality of our relationships?
If it hurts, it isn't love
(Chuck Spezzano)
This sentence can be understood in different ways. I interpret it this way: we often do things that hurt in the name of love. We say it's love, but the truth is, it's about pride, anger, vindictiveness, or a lack of self-esteem. Since we grew up in a culture in which the most diverse – unpleasant – things are packaged under the name of love, it is beneficial for ourselves to create clarity and to call things by their real names.
Love yourself and it doesn't matter who you marry
(Eva-Maria Zurhorst)
A really good relationship with another person always starts with ourselves. By the way, I don't think it doesn't matter who we marry if we love ourselves. But I believe that it will then be easier for us to find the right partner. And if we really love ourselves, it doesn't really matter whether we have a partner or not, because we don't need someone to fill a void in us. If a person does come into our life, then he is a gift and not the helper who has to save us from ourselves.
I think I made you up inside my head
(Sylvia Plath)
I firmly believe that we energetically attract everything in life. One could also say: as one calls into the forest, it echoes out. The people who come into our lives are not there by chance, but because we called them. That is why our encounters with others are always an indication of what we are like in ourselves and what expectations we have of others. Do we feel lonely, unhappy and imperfect? The chances are good that we will attract a partner who also carries these aspects. Unfortunately, two unhappy people rarely turn into a happy couple. If instead we are good to ourselves and learn to draw our satisfaction from ourselves, the probability of finding a suitable partner with whom we can be happy is much higher.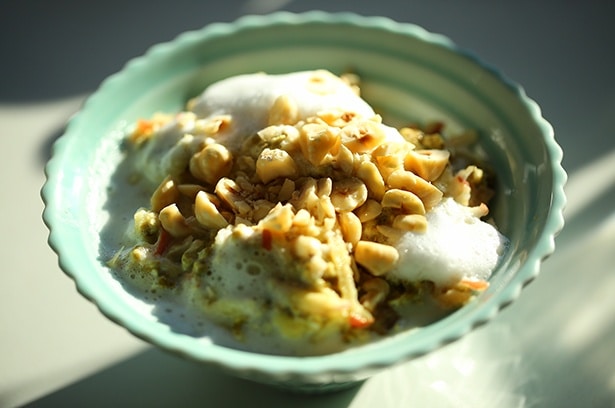 Go where you feel most alive
Love isn't always where we think it is. But in any case, it is where we feel life most strongly. Relationships don't always go according to plan. They're not exactly the calm, contented river that many have come to expect. But if we keep pausing and feeling how alive we feel (and yes, one is also alive when arguing), then that is a good indication of whether we are still on the right track. A psychologist once said that couples who quarrel more often are together the longest. Presumably because they have something to do. To prevent relationships from falling asleep, you should keep asking yourself now and again: when do I feel particularly alive? And what could I do to feel more alive here and now?
Do not fall in love, darling. Rise in love.
Have you ever noticed that many people are less interesting when they are with their partner than when they are alone? This is because they withdraw, compromise more and therefore behave differently. But what if we allow ourselves to just be who we are? What if we dared each other more? What if we don't care whether we please our partner or not? Then we would be somebody … just to fall in love with!
And we are in bed together laughing and we don't care about anything …
(Charles Bukowski)
No matter how old or new it is, love needs lightheartedness. Lightheartedness may not be available every day, but it is possible much more often than we think. On a stolen afternoon in bed, on a weekend in a hotel (maybe even in your own city?), with a glass of mulled wine under the starry sky in your own backyard. Wasn't it the lightheartedness that made the time you first fell in love so special and  especially beautiful? She is not lost, dear lovers, lightheartedness is waiting for us just around the corner!
I'll let you be in my dreams, if I can be in yours
(Bob Dylan)
I firmly believe that it is important for love to realize dreams together. These can be small and big dreams. For example, Thomas and I share the dream of "living in flip flops". We have fulfilled this dream together by moving to a sunny and warm place. As soon as one dream is fulfilled, another dream can come up that wants to be fulfilled. Traveling, a creative project, a cooking class, a new type of movement, but also conversations – real and deep conversations that are more than just sharing everyday life. Conversations that touch the soul by focusing on topics that really move us.
Devote yourself to love and cooking with all your heart
(Dalai Lama)
Love, like cooking, is an art. It is not difficult to be in love, but it is an art to make something beautiful out of the relationship after being in love for the first time. Just like in cooking, the right seasoning plays a role. After all, nobody wants to eat the same bland meal every day. An open mind and a warm heart are the main ingredients in turning a relationship into a delicious meal that nourishes us and makes us happy.
And speaking of love: my recipe of the week is the result of a liaison between an exotic golden milk and the honest Swiss Bircher muesli. Together they result in something new, which in the end seems as natural as a really good love relationship. My Golden Oats are a delicious breakfast that is already there for you in the morning, just like love itself, because it was prepared with loving foresight the evening before. Then you just grate an apple before breakfast, spread some hot milk foam on it, and a fine meal is ready for lovers of life – just like you.
And now it's your turn: which thoughts, quotes and guiding principles of love accompany you? Leave a comment below, I look forward to read what's on your mind!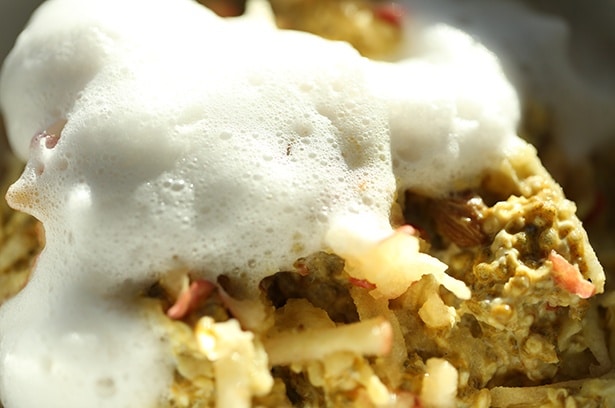 GOLDEN OATS
Instructions
Mix all ingredients except apple, lemon juice and hazelnuts. Cover and leave to soak in the refrigerator overnight or for at least 2 hours.

Roughly grate the apple, drizzle with lemon juice and stir into the oatmeal mixture. Divide into two bowls. Heat approx. 100 ml almond milk and froth up with a milk frother. Spread over the golden oats, sprinkle with chopped hazelnuts and serve.