For a few days I've been thinking about what to cook for Christmas. This year Thomas and I are celebrating alone, so we don't have to consider anyone's eating habits and can simply cook what we want. We are both big fans of potatoes and actually eat them all the time in different forms such as baked fries, tortillas or mashed potatoes or boiled potatoes. At Christmas it can be a little more festive. That's how I came up with the Hasselback potatoes. These are potatoes whose surface is sliced not-quite-all-the-way through in thin, even layers. When they are baked in the oven, the inside of the potato becomes soft and creamy and the outside is nicely crispy.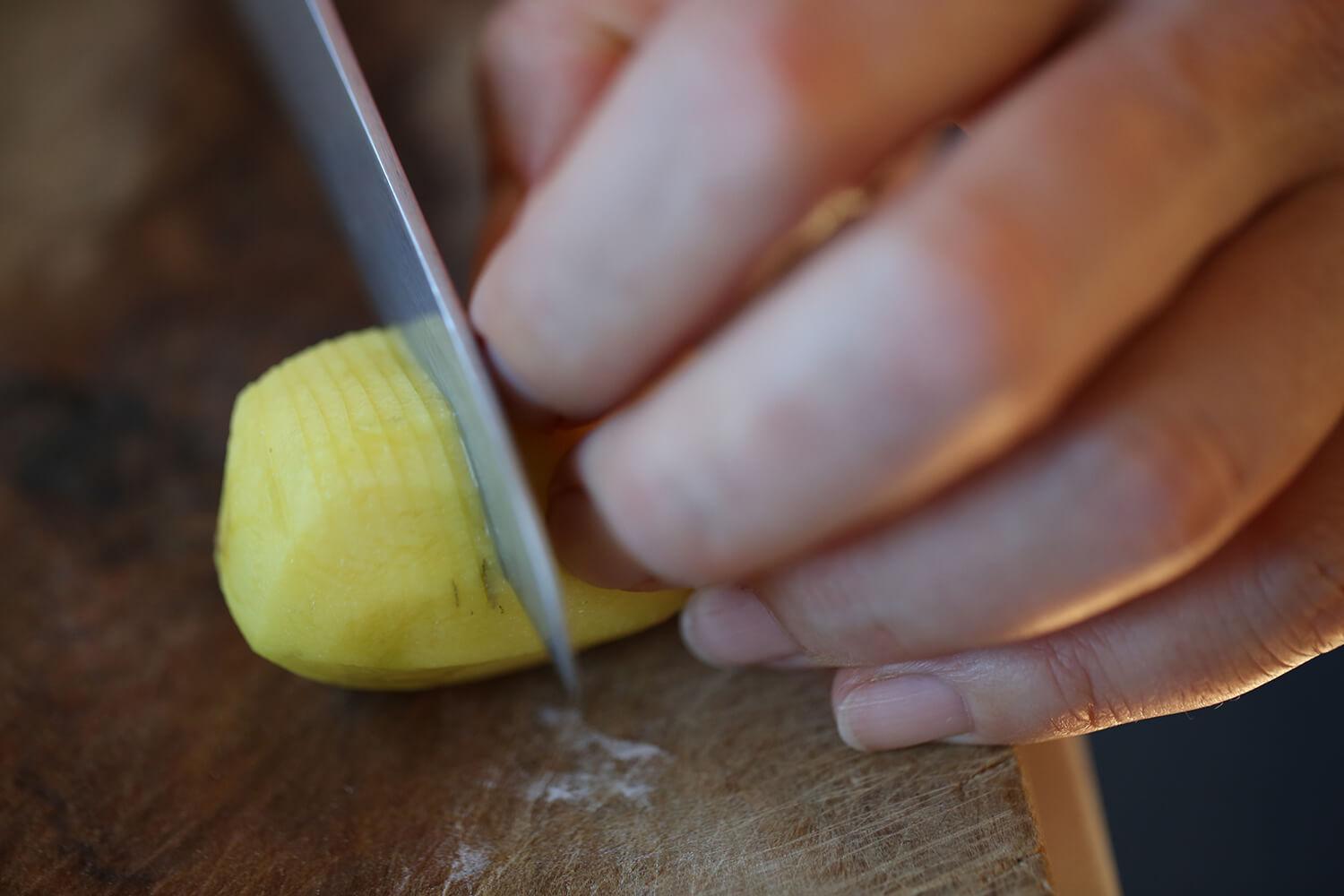 Incidentally, the name of this dish comes from the restaurant Hasselbacken in Stockholm, which first prepared these potatoes in the 1940s and called them "Hasselbackpotatis". The original recipe provides the potatoes with butter and is seasoned with pepper and salt. My version uses a marinade of olive oil, lemon juice, garlic and rosemary instead, and is garnished with toasted hazelnuts at the end. After all, it's Christmas.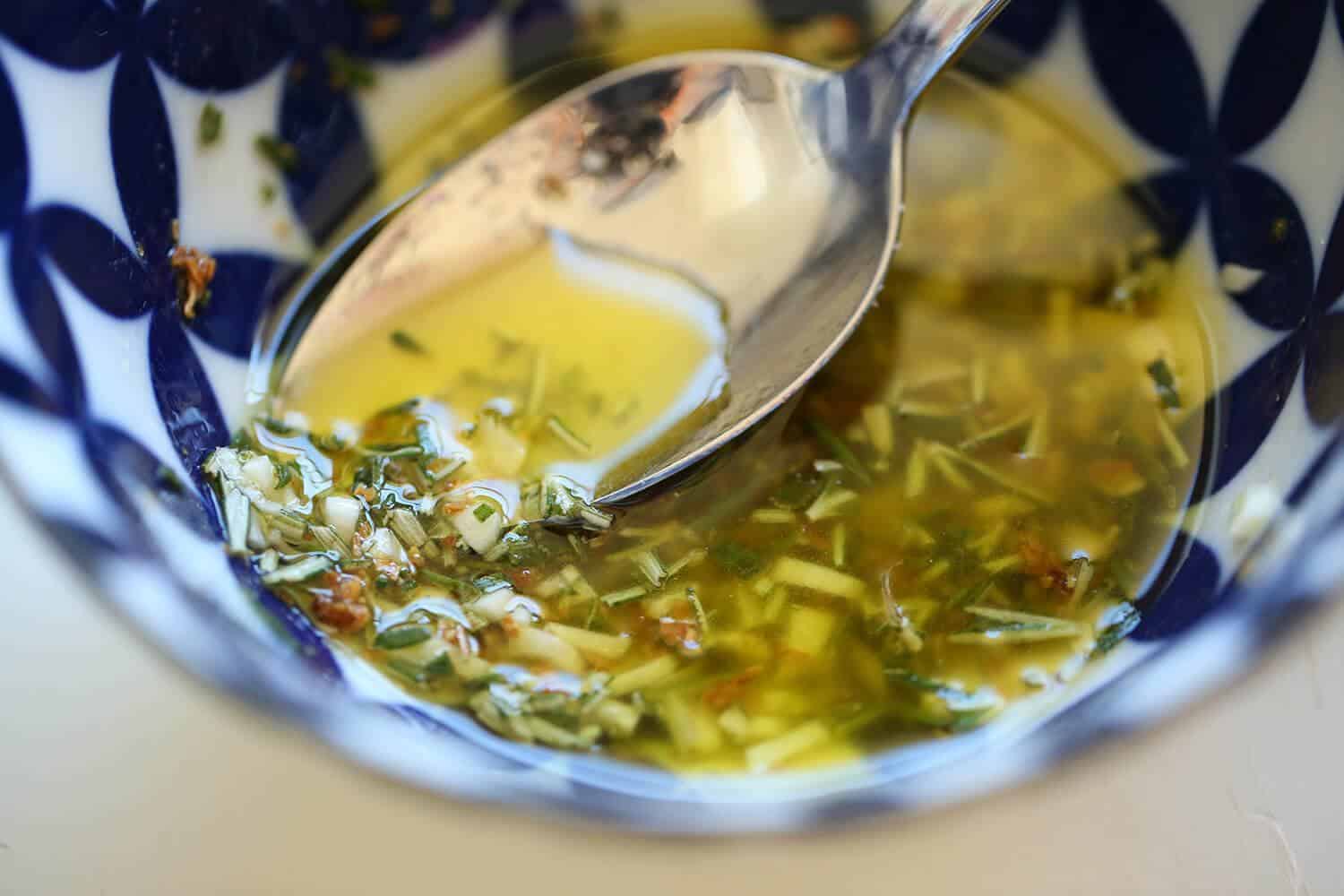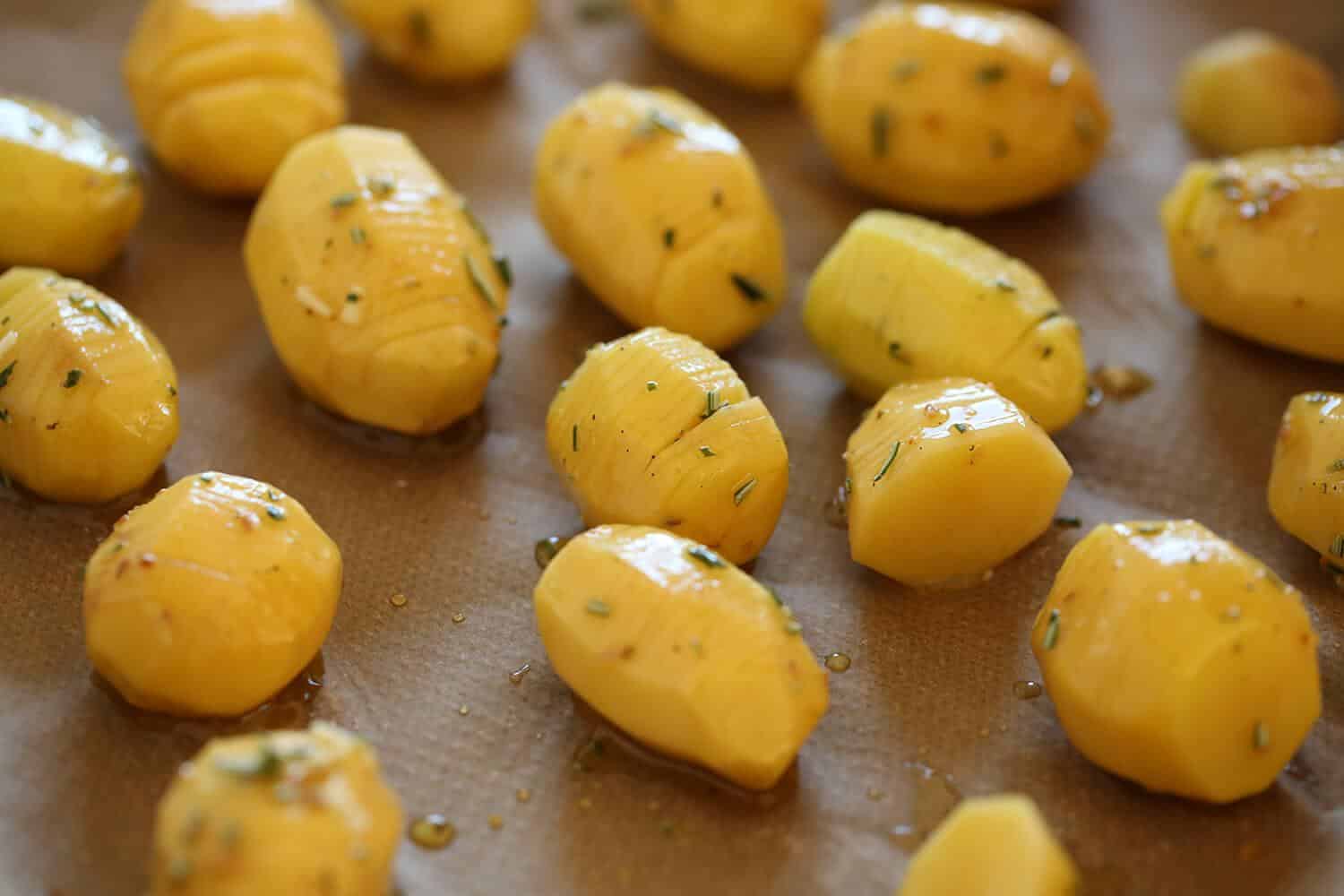 You can eat pretty much anything you want with them. They go well with fish, Christmas goose, chicken or even grilled halloumi cheese or any other vegetable. The important thing is that everything is on the table at the same time. This is much nicer and more casual than serving different courses. In addition, nobody has to run back and forth between the kitchen and the table.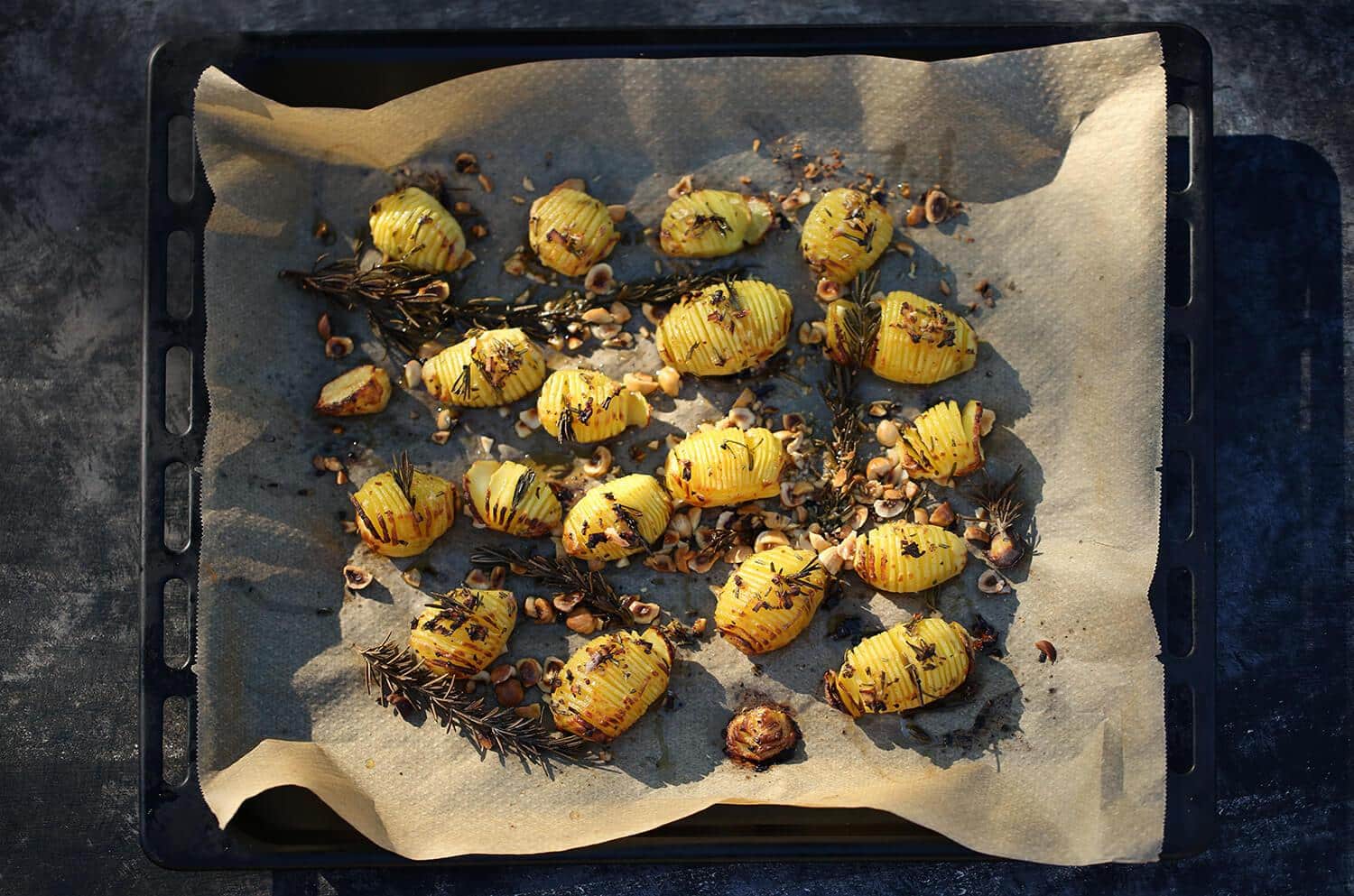 Yes, that's how I like it this Christmas. Simple and without much frills. The year has been tough, that's why Christmas can't be relaxed enough for me. I will take some time off, go for lots of walks, read, reflect and just do nothing else. I'll see you here again in the New Year. And I'm looking very much forward to that.
And now my question to you: how will you spend Christmas this year? And above all: what are you going to cook? I look forward to your comment under this post!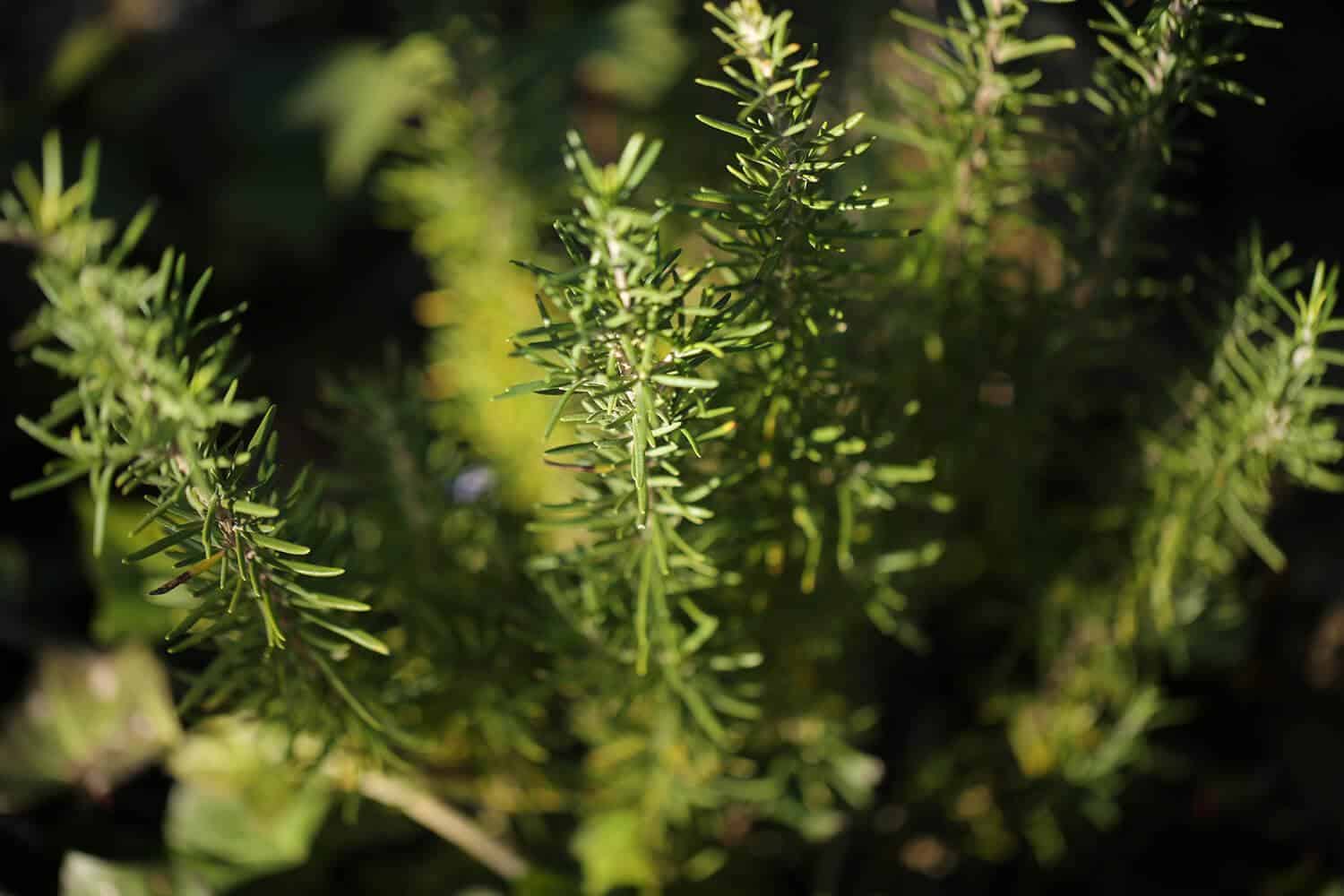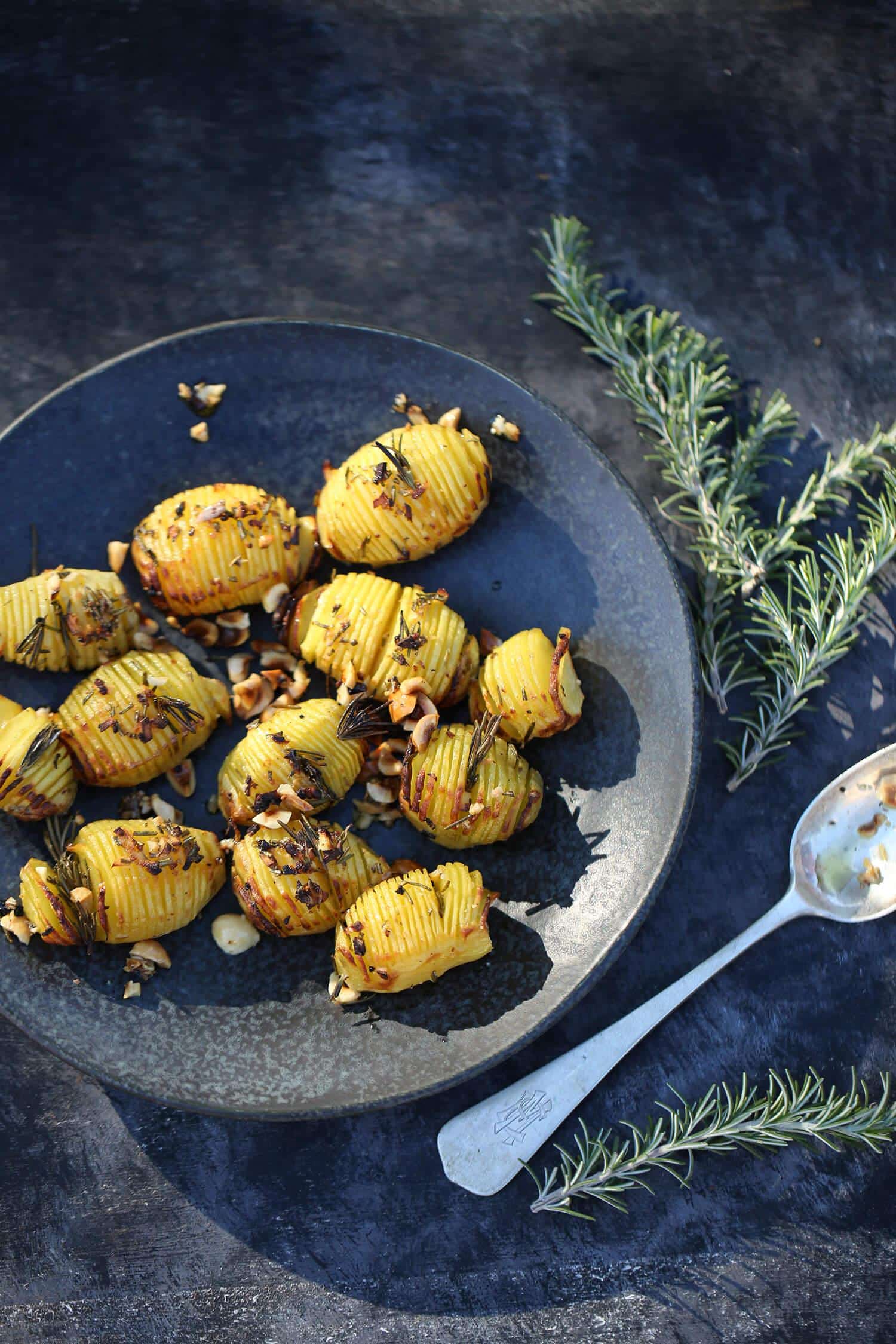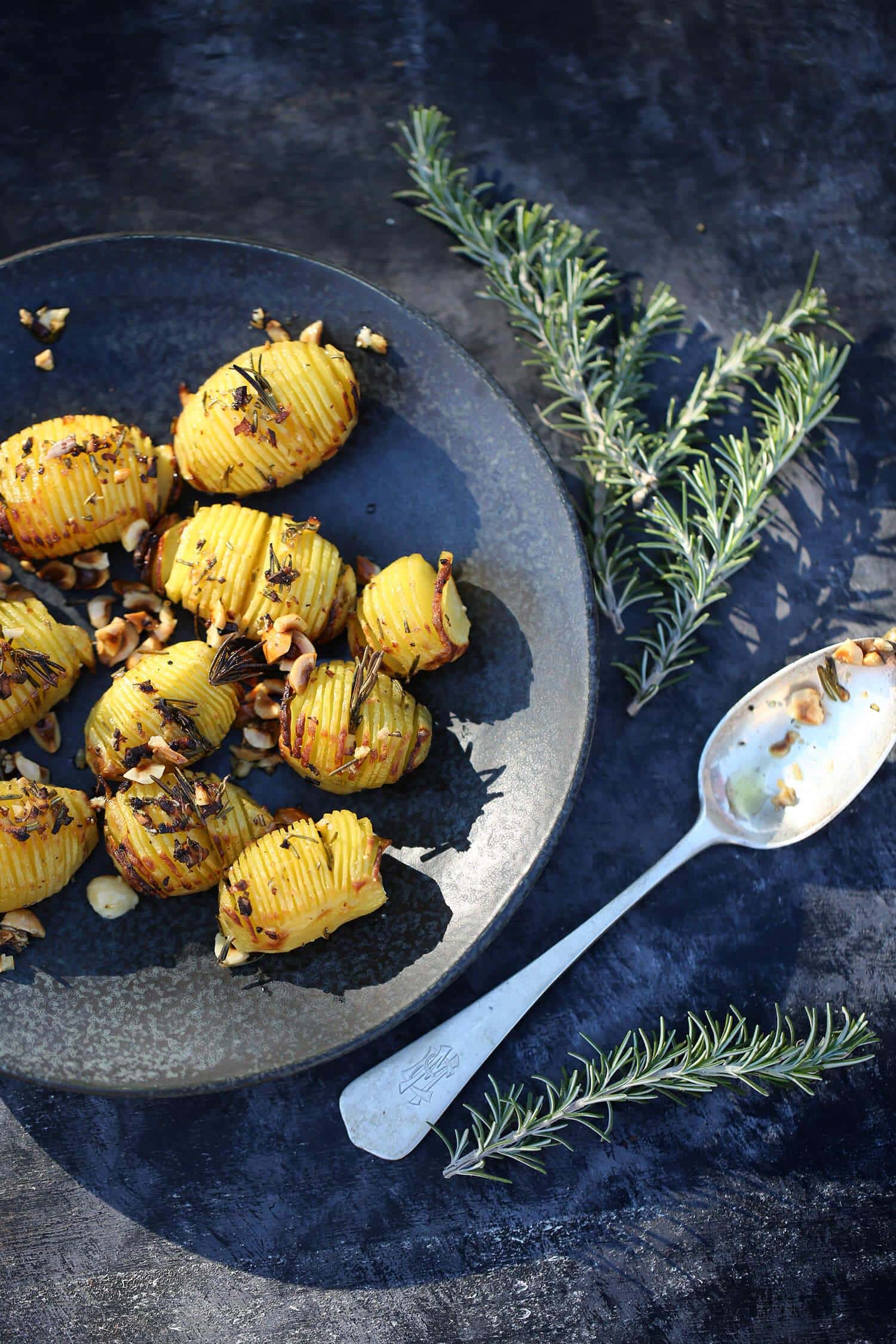 HASSELBACK POTATOES
Ingredients
700

g

small potatoes

with or without skin (I peeled them)

3

tbsp

olive oil

1

tbsp

freshly squeezed lemon juice

3/4

tsp

salt

1

clove

garlic

peeled and chopped

1/2

tbsp

chopped rosemary plus 5 rosemary sprigs

freshly ground black pepper

30

g

hazelnuts

chopped
Instructions
Preheat the oven to 200°C top heat and circulating air.

Cut the potatoes with a sharp small knife about every 2 mm across. If possible, don't cut through the potatoes, just cut them. If you do cut through a potato, don't despair and just keep going!

Place the potatoes, cut side up, on a baking sheet lined with baking paper.

In a bowl, combine olive oil, lemon juice, salt, garlic, chopped rosemary, and pepper. Brush the surface of the potatoes with it. If the garlic and rosemary are left in the bowl, set aside to spread over the potatoes later.

Bake the potatoes on the middle rack for 30 minutes. Check from time to time that the surfaces are not burning. Then spread the rest of the marinade on the potatoes, place the rosemary sprigs between the potatoes and sprinkle the chopped hazelnuts on top and bake for another 10 minutes. Check if the potatoes are done. Depending on the size of the potatoes, the baking time can be extended by 10 minutes.
Wellcuisine-Tipp
If the surface of the potatoes is too dark and they are not cooked through on the inside, then switch the oven to top and bottom heat and continue baking until they are done.