At the moment I'm taking a little vacation at home. A dear friend is visiting and we spend our days in the garden, in the evenings we go to the beach and later we go for dinner or we make a barbecue under the starry sky. Recently a journalist asked me what my perfect vacation would look like. The answer was not difficult for me: "Going for a walk on the beach, swimming, being outside a lot, reading, eating well, laughing, looking at the stars". Yes, summer could always be like this for me! I don't need anything to recharge my batteries and to feel really good. I've always enjoyed spending my vacation on islands. What I like about islands is the spatial limitation.
Once someone said that boundaries define spaces, that can be explored creatively. This is exactly what happens to me when I'm on an island. The space around me may be limited, but my thoughts and ideas are not. What's great about islands too is the sea, that is never far away and of course the food, that most often consists of vegetables and fish (at least on the mediterranean islands). I now live on an island for six months. That's why I don't go anywhere else on my summer vacation, but stay at home. It's warm here, you can gaze at the stars, the sea isn't far away and best friends like to come over and stay for some days, so it will definitely never be boring.
Yesterday I remembered a particularly beautiful summer on an island. I was 16 years old and went there with my mom, my boyfriend and a few family friends. It's been a long vacation. We spent 4 weeks on the Canary Island of Gomera. And for those four weeks we ate the same dinner every day: Canarian boiled potatoes with green mojo, combined with some kind of grilled fish. For me it's a meal that tastes like summer, the sea and warm nights under the starry sky. You can eat it as a main course and simply combine it with a green salad. Or it works as a side dish for a piece of grilled fish or meat. I hope you will try the recipe and associate it with a similarly beautiful memory of unforgettable summer evenings, with good friends, a feeling of freedom and a happy little smile on your face.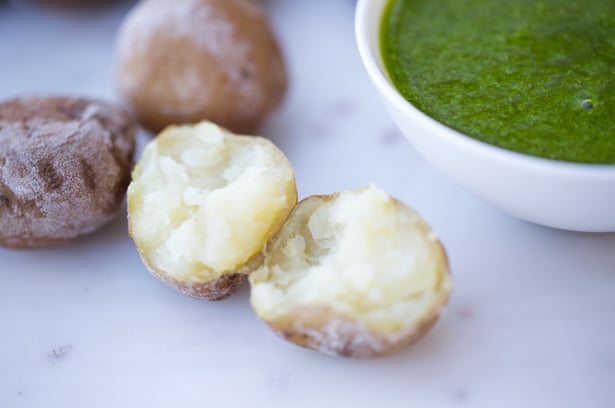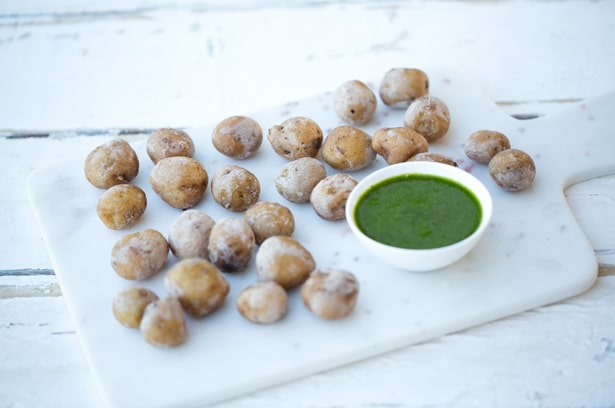 CANARIAN BOILED POTATOES WITH GREEN MOJO
Ingredients
For the boiled potatoes:
Instructions
Wash the potatoes, cover with water in a saucepan and bring to a boil. As soon as the water boils, add the salt and cook for 15 to 20 minutes until al dente, depending on the size of the potatoes. Drain the potatoes in a sieve and allow to evaporate well. This is how the salt crust is formed.

Puree all the ingredients for the green mojo in the food processor. Fill into two bowls and serve with the boiled potatoes.