I think you can't eat enough oven fries, can you? Lately I've been particularly fond of this red and white variety made from sweet and regular potatoes. I marinate them with a little olive oil, polenta and cornstarch to make them extra crispy. Combined with my homemade ketchup from last week they are just … yumm!
To be honest with you, I have a kind of Pavlovian reflex: when you say "fries", I think "television". Fries just taste the best when eaten on the couch with a good movie on. That's why I feel obliged to give you a few movie recommendations as a side dish to my delicious french fries recipe.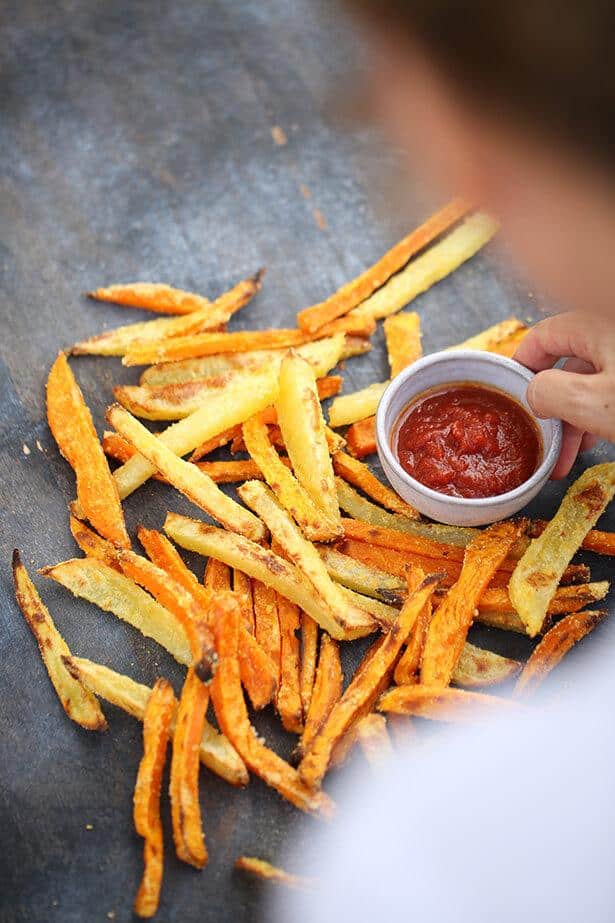 My husband and I have a ritual: I choose the film and give him a brief summary before we watch it. Because you can't give big lectures with french fries in your mouth, my descriptions are mostly single-lined and a bit unsexy. That's why Thomas usually doesn't want to see the film, but he has no choice because I already have the remote control in my hand. Afterwards we agree that the film with the worst summary was the very best.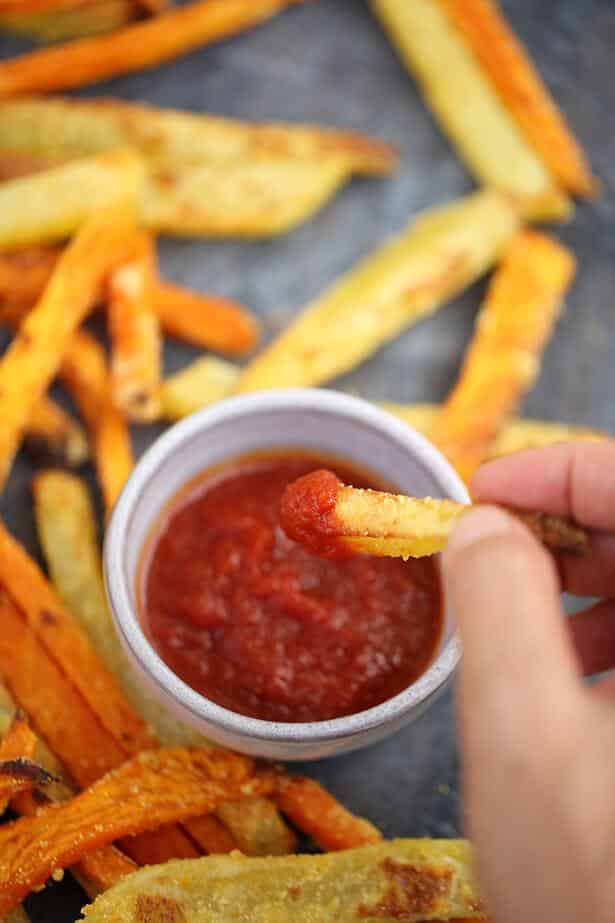 I try to put the best films I've seen lately (with or without fries in my mouth) in a one-liner for you. So don't be put off ;-):
Disabled youth and his carer go on a road trip together and learn to pee standing up: The Fundamentals of Caring (Netflix)
A friend of police officers sells shit for bucks to pay for her mother's retirement home: Mama Weed (Amazon Prime)
A 16-year-old finds a new dress and herself in 1950s Sydney: Ladies in Black (Amazon Prime)
A genius little boy is the leader of a family that doesn't grow up until he dies: The Book of Henry (Netflix)
Petty criminal becomes hero of the Parisian banlieus when he has to take care of a group of troubled young people: Bad Seeds (Netflix)
Two best friends sleep with each other's son on a remote beach in Australia: Adoration (Amazon Prime)
African American intellectual and white redneck cruise through the racist southern states of the 1960s: Green Book (Netflix)
This film features Johnny Depp. Do I have to say more ?: The Professor (Amazon Prime)
Father gets out of society and into the hippie motorhome, where he raises up his children: Captain Fantastic (Netflix)
A gay love story was still taboo in 1970s Italy – but all the more beautiful: Call me by your name (Netflix)
14-year-olds steal a car, drive through the German countryside and become seriously cool: Tschick (Amazon Prime)
And now my question for you: which film should I watch the next time I make french fries? I'm  looking forward to your tip in the comments below this post!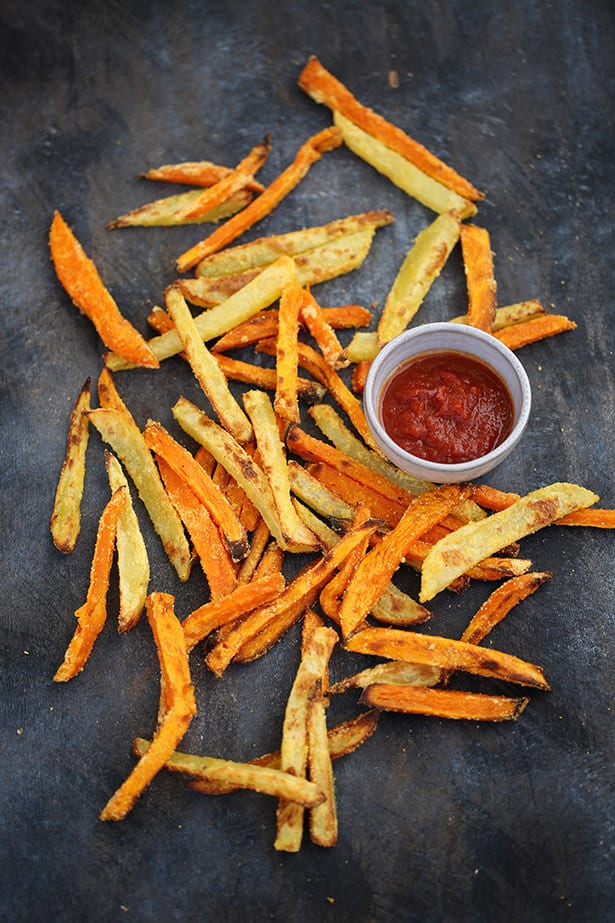 FRENCH FRIES RED AND WHITE
Instructions
Preheat the oven to 220°C fan oven and top heat.

Peel the sweet potatoes and waxy potatoes and cut into sticks (approximate french fries size). Transfer to a large bowl.

Add the olive oil, salt, polenta and cornstarch to the potatoes and mix well with your hands.

Place the fries evenly and preferably without overlapping each other on a baking sheet lined with baking paper and bake in the upper third of the oven for about 20 minutes. Turn the fries over and bake for another 10 minutes until well browned.