Last weekend I felt like cooking a menu. And so I stood in the kitchen from morning on and prepared a wide variety of dishes, including homemade bread and two types of dessert. Part of the main course were mashed potatoes, whose recipe I have continued to develop over the years. Their key components are water instead of milk, a splash of fresh lemon juice and horseradish to finish them off. For the most airy consistency possible, I prefer to puree the boiled potatoes with a potato press instead of using a masher. This is how I end up with mashed potatoes that are perfect for me.
Well, that weekend I put a lot of effort into preparing the courses. Compared to the rest of the menu the mashed potatoes were the least labor-intensive dish. When Thomas and I happily put the dessert spoon down at the end of the evening, I asked him what he liked best. Without thinking twice, he replied (you already guessed it): the mashed potatoes! Even though I wasn't expecting it, I wasn't really surprised by his answer. Because the perfect dish of mashed potatoes brings two things together: homely childhood memories and the unbeatable charm of a well-made simple meal. For me, mashed potatoes are like Proust's famous Madeleines: a dish that brings back a multitude of fond memories. For example my grandmothers lunch, that she always prepared for everyone in our multigenerational household. The steaming puree, that she drained while my grandfather made me laugh at the kitchen table. The feeling of security and home that I absorbed with every spoon of puree. The comforting consistency that was good on bad days and made good days a little better. The love that was ingrained in every spoonfull of homemade mashed potatoes. The humility of a dish with so few ingredients.
PS: At some point I cooked the puree for a Peruvian friend and told her that in German-speaking countries everyone has a special childhood memory of mashed potatoes. She took a few bites, closed her eyes with relish, asked for a second serving and told me that she had very fond memories of mashed potatoes too and that in her hometown Lima they had a small, yellow variety of potatoes especially reserved for making the perfect puree.
Oh mashed potatoes, we just love you, no matter where we come from – you are and will always be home to us!
And now my question for you: what memory do you associate with mashed potatoes? I look forward to your comment under this post!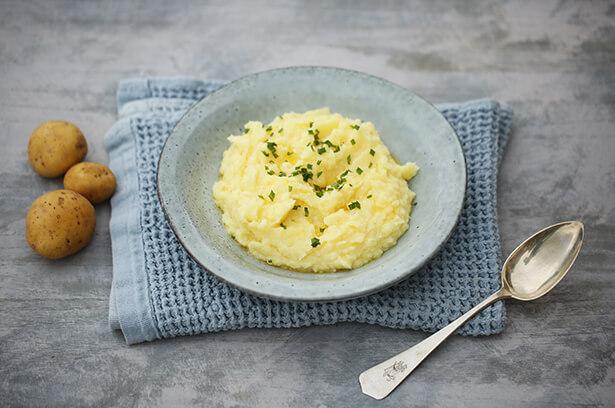 THE PERFECT MASHED POTATOES
Equipment
potato press or potato masher
Instructions
Peel and dice the potatoes. Cover with water in a saucepan and bring to a boil. Add salt and simmer for about 15 minutes until the potatoes are soft. Pour into a sieve.

Process the boiled potatoes into a puree with a potato press. This makes the puree fine and fluffy. Alternatively, you can use a potato masher. However using this the consistency might not be quite as evenly creamy.

Mix the mashed potatoes in a saucepan with butter and lemon juice. Stir in hot water until the desired consistency is achieved. Season to taste with salt and, if necessary, with horseradish cream. Serve hot.