It's no secret: I'm a huge fan of granolas. In my kitchen there is always at least one (sweet) variety waiting to be eaten in the morning with some almond milk and berries. I can't even write a new cookbook without adding at least one granola recipe. And here on the blog there are already some recipes (for example here and here ).
On our last retreat in Mallorca we set up a salad buffet for the participants at lunchtime. Since we ate plentifully in the morning and in the evening, such a light meal in the middle of the day was perfect. I do believe, however, that a salad should be a bit more substancial if served as a main meal. Some people then grab the bread, others the cheese or meat, and I (of course) the granola. But this time in a savory version. So every lunchtime a bowl of freshly baked granola stood beside the green salad. It has a piquant taste and can also be sprinkled over cold soups (for example this one). The last portion that I made for test purposes only (that's a lie) went straight from the tray to my mouth quite unpretentiously, because this granola also tastes wonderful as a snack.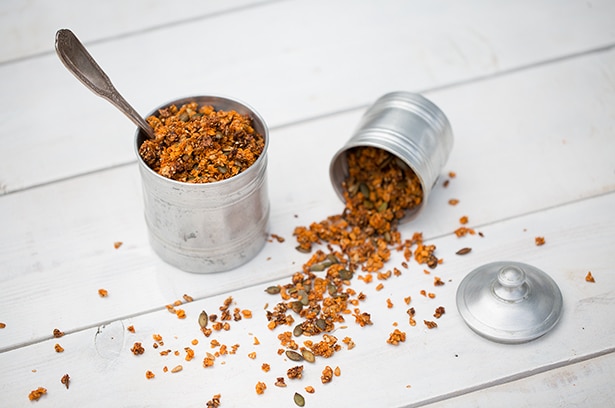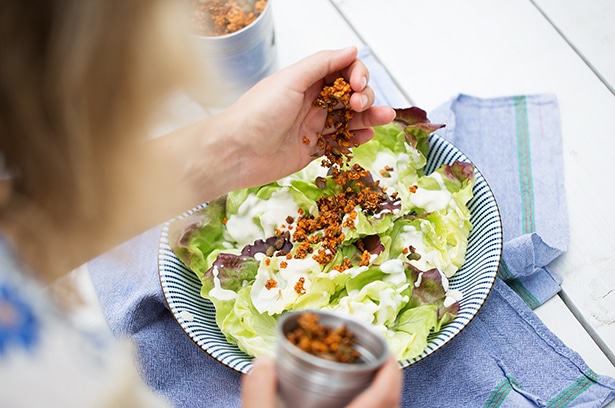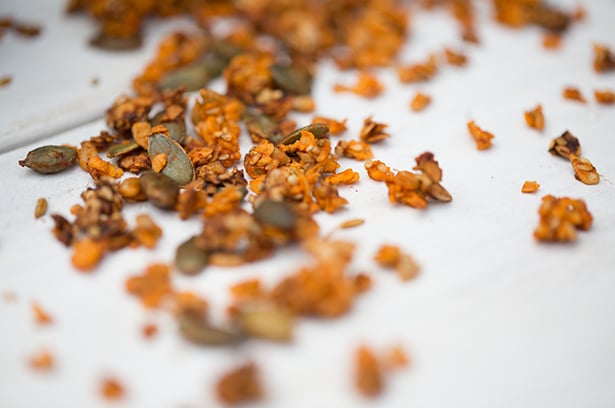 SAVORY GRANOLA
Instructions
Preheat the oven to 180°C top and bottom heat.

In a large bowl, mix the oatmeal, pumpkin and sunflower seeds, sesame and fennel seeds together.

In a small bowl, stir together the olive oil, tomato paste, maple syrup, mustard, paprika powder, salt and pepper until smooth. Add to the dry ingredients and mix well with a spoon.

Place the mixture on a parchment-lined baking sheet and distribute it evenly. Bake for about 20 minutes until the granola is browned. After 15 minutes, check whether it is browning evenly and turn with a spoon if necessary. Take out and let cool.

The granola will keep for about 3–4 weeks in an airtight container.