Granola is a standard in our house. You can always find a jar of it on our kitchen counter. Most mornings you can watch us sprinkling granola over our joghurt or spooning it out of big bowls combined with almond milk and berries. Therefore, my recipe of the week is neither the first nor the last granola that you will find on this blog or in my books. It's just such a practical (and healthy) fast food that is always there for you when you need a quick breakfast in the morning. A friend, visiting us for a couple of days, mused over his bowl of coconut granola, that it is so good, he would even leave his girlfriend for it. Unfortunately, she was sitting at the table, and what was intended as a compliment for the granola, created quite a bit of trouble in the relationship. However, the tense atmosphere dissolved again after we had printed out the recipe and gave it to the two to take home. From then on they shared the granola with each other and today – years later – are still happy together. Because in truth, granola is a connecting food and not one that should separate. After all, most people, young and old, like it.
Of course you can buy a ready-made granola in the stores. But it usually contains large amounts of sugar and is more expensive than the homemade version. Once you've noticed how easy it is to make granola yourself, you probably won't want to go back to the variants from the store – just as a word of warning before it's too late.
FOOD PHARMACY COCONUT GRANOLA
This coconut granola is full of healthy fiber, which is essential for our intestinal health and lowers blood sugar levels. The granola has a prebiotic effect due to the almonds and desiccated coconut it contains, which means that it supplies our good intestinal bacteria with nourishment. The medium-chain fatty acids in coconut stimulate the metabolism and make you feel full longer, so that they even help you lose weight.
And now my question for you: what's you favorite healthy and quick breakfast? Let me know in the comments below!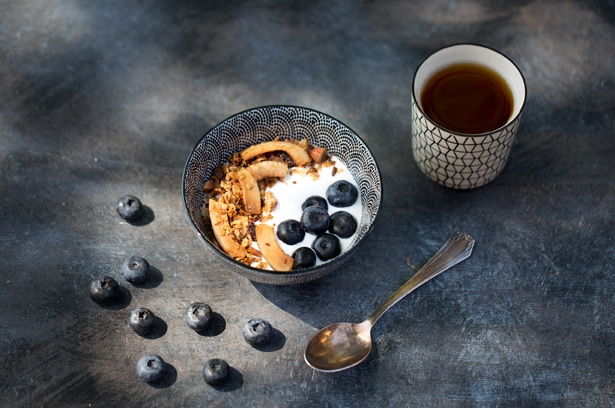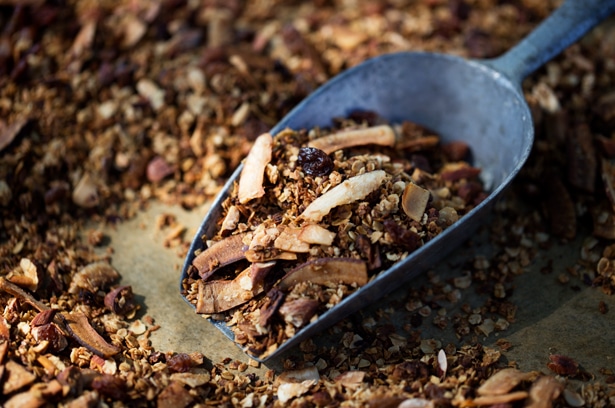 COCONUT GRANOLA
Instructions
Preheat the oven to 180°C degrees top and bottom heat.

In a large bowl, mix together all of the dry ingredients except for the dried fruits. Melt the coconut oil in a small saucepan over low heat and mix in the maple syrup and lemon oil. Add to the dry ingredients and mix well with a spoon. Place the entire mixture on a parchment-lined baking sheet and distribute evenly. Bake for about 15–20 minutes, until the granola is golden brown. Turn with a spoon every now and then so that it browns evenly. Take out and let cool.

Only when the granola has cooled down, mix in the dried fruit.

The granola will keep for about 3 weeks in an airtight container.
Wellcuisine-Tipp
You can eat your granola pure with unsweetened almond, oat or rice coconut milk or you can sprinkle it on your chia pudding, yoghurt or porridge. And some people nibble it right out of the jar 😉