It's the 1st Advent in one week. That's why it's not too early to give some thought to how we can get through the Christmas season in a healthy and enjoyable way. As you can probably guess, I'm not a fan of indiscriminately shoveling everything into yourself in December and then only drinking green juices in January. For me the keyword is: balance. This simply makes us feel better, the body can do its work, our nerves are more resilient (very important, especially at Christmas time) and we have more energy. But how do we maintain our natural balance? Do it yourself and counteract .
Do it Yourself
The Christmas season has a clear flavor, and it's sweet. If we're not careful, you eat several spoons of industrial sugar a day without even realizing it: the cookies and Christmas chocolate that someone has brought to work, the mulled wine at the Christmas market, the Advent tea at your best friend's … All in itself not bad at all, but 4 weeks in a row quite a strain on your body. So: do it yourself! After all, it's really easy to make healthier treats that are better for your blood sugar and made from wholesome ingredients. You can nibble on them at home on the sofa, but you can also bring them to work and events and thus naturally lower your industrial sugar consumption with a lot of enjoyment.
My rum truffles from our book "Süß & Gesund Weihnachen" are perfect for this purpose. They are made from dates and without added sugar, easy to prepare, have a long shelf life in the refrigerator and, thanks to the raw cocoa, even contain a superfood that has a cell-protective effect. For me they are a much-loved snack all year round. I sometimes prepare them with brandy instead of rum, or even completely alcohol-free with orange juice. At our last retreat they were a hit and were nibbled as a nightly dessert while standing in the kitchen with a last sip of red wine, listening to good music ;–).
Counteracting
Especially at Christmas time, it is good to counteract the higher sugar and alcohol consumption so that the body regains its natural balance. The easiest way to do this is with bitter substances and lots of vegetables. That means: on the evenings when you are at home, you simply put a tray of vegetables into the oven and serve it with fresh herbs. Because herbs and green leafy vegetables contain bitter substances that support the liver and bile in their work. I prepare a super quick green herb sauce from 1/2 avocado, 1 bunch of herbs of your choice (for example coriander, parsley, tarragon or a mixed bag), some water, a small amount of apple cider vinegar, a dash of olive oil and a high-quality salt. I puree all of this creamy, and a delicious sauce is ready that your body will love. You can also take it with you to work in a screw-top jar and pour it over a lettuce with some feta for lunch. Here and here you can find more recipes for green sauces. And here is my favorite alkaline detox soup, my "winter green smoothie". This is also suitable to take to work. Simply mix raw like a smoothie, fill into a screw-top jar and just warm up for lunch.
So you can enjoy the Christmas season with a good gut feeling and above all with a clear conscience!
And now my question for you: what do you do to stay energetic and healthy during Christmas season? I'm looking forward to your comment below!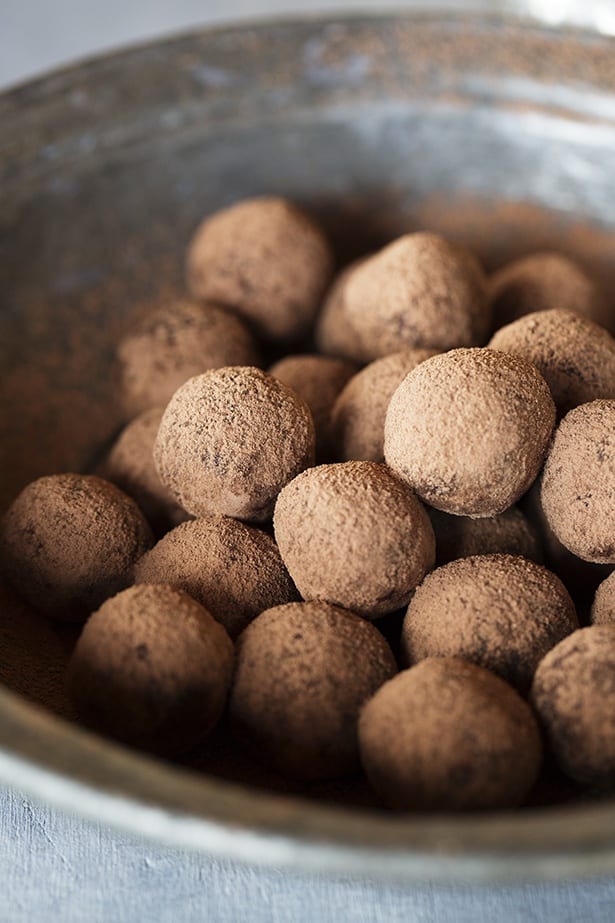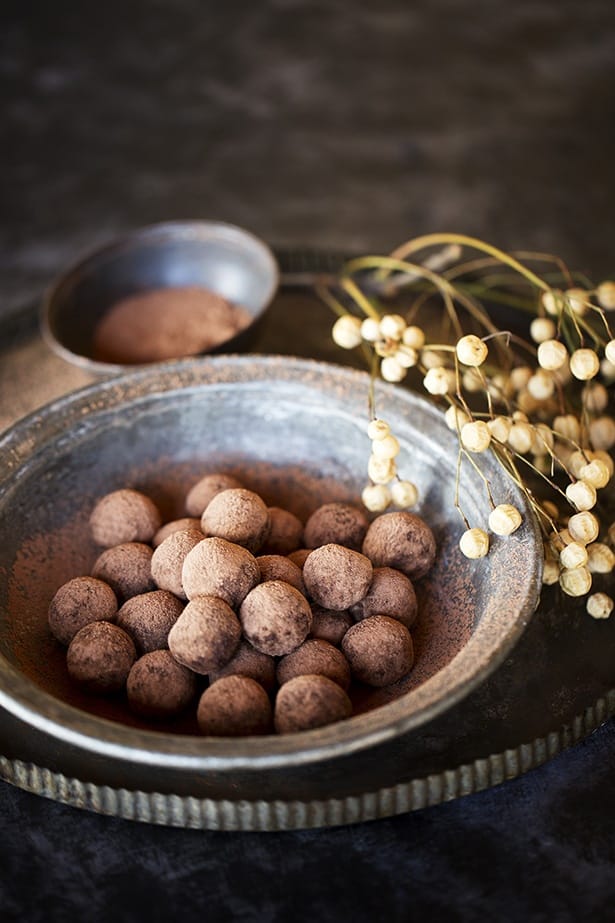 RUM TRUFFLES
Instructions
Core and roughly chop the Medjool dates. Puree together with the other ingredients in the food processor until creamy. In between, scrape the mixture off the sides of the food processor with a spoon until everything is processed into a fine cream.

Take teaspoon-sized portions of the truffle mixture and shape into balls, place in a flat container (do not layer on top of each other, as the mixture is still soft now and should not be pressed in) and put in a cool place for at least 4 hours.

Put the remaining tablespoon of cocoa powder on a plate to dust and roll the balls in it. Store the rum balls in an airtight container in the refrigerator. They last for at least 4 weeks.
. . . .
In our book "Sweet & Healthy Christmas" you will find another 34 favorite recipes for the Christmas season – completely without white sugar, wheat flour, cow's milk and eggs.
For more information about the book click here.