For some time now there has been a food trend on Mallorca that is guaranteed not to be a short-lived thing, but will stay fresh and modern for a long time to come. That is: "para compartir". It means "to share" and is the way of eating that makes a 3-course meal look ancient. When you eat "para compartir", there are different plates and bowls on the table and everyone helps themselves. If one dish will end up on the table earlier and the other later, it is only because it takes different times to prepare. Everything else is completely casual, relaxed and of course incredibly delicious. 2020 is not a year like any other one, so I thought our Christmas dinner should also be different than usual. For the past few years I've always cooked a menu, see here and here . But this year everything is "para compartir".
For this Christmas dinner I wanted to combine colors and flavors that complement each other well. There is pink hummus, which is a festive eye-catcher just because of its great color. In addition, a little bread or cracker should be on the table. Then a warm salad or two, like my beluga lentil and roasted Brussels sprouts salad. The whole thing is rounded off with lemon potatoes from the oven. Dessert can also be served "family style" on a large plate, for example my Christmas chocolate.
I wish you a Merry Christmas, no matter how you celebrate it this year. Whether alone, as a couple or with the family. Put some nice bowls of good food on the table and it will be a good evening. Promised.
And now my question to you: how are you celebrating Christmas this year? And can you imagine serving "para compartir" instead of a Christmas menu? I look forward to your comment under this post!
Christmas dinner "para compartir"
LEMON POTATOES
Instructions
Preheat the oven to 200°C top and bottom heat.

Place the potato wedges in a bowl. Mix the other ingredients together in another bowl, pour over the potatoes and marinate them evenly with the liquid.

Line a baking sheet with baking paper and distribute the potatoes and the liquid evenly on top. Bake on medium heat for 30 minutes. Switch the oven to fan-assisted and top heat and bake for another 20–30 minutes until the potato wedges are browned and crispy.
ROASTED BRUSSELS SPROUTS SALAD
Instructions
Preheat the oven to 180°C.

Wash the Brussels sprouts, cut off the stalk and cut in halves. Wash the apples, remove the core and cut into small cubes together with the skin. Peel and dice the onion. Place the Brussels sprouts, apples and onions on a baking sheet lined with baking paper and mix with the olive oil, maple syrup and salt. Bake for 20 minutes.

Put buckwheat, water and 1/3 teaspoon salt in a saucepan and bring to a boil. Reduce the heat and cook the buckwheat "al dente" for about 8 minutes. Put in a sieve and rinse with warm water. Put aside.

Hold the pomegranate over a bowl and use a wooden spoon to knock out the seeds. Set the seeds aside.

Mix all ingredients for the dressing until smooth.

Mix the buckwheat, baked vegetables and dressing together. Mix in 2/3 of the mint. Serve sprinkled with the remaining mint and pomegranate seeds.
WARM BELUGA LENTILS SALAD
Instructions
Put the beluga lentils in a sieve and wash. Then bring them to boil with the water in a saucepan. Reduce the heat and let it simmer with closed lid for about 30 minutes until the lentils are firm to the bite. Only at the end of the cooking time add the salt. Drain into a sieve, return to the saucepan and keep warm.

While the lentils are cooking, prepare the carrots: wash the carrots thoroughly and trim the ends. Cut in half lengthways. Then cut each half into thirds lengthways, then cut into approx. 6 cm long sticks. Bring a saucepan of water to the boil, season with salt and simmer the carrot sticks for about 6 minutes. Drain, return to the saucepan and keep warm.

Mix freshly squeezed lemon juice, olive oil, tahini, maple syrup, salt, cumin and hot water in a blender until creamy. That's the salad dressing.

Heat a small pan and stir-fry the sesame seeds for approx. 2 minutes without fat, until they start to smell.

Mix the beluga lentils, carrots and dressing in a bowl. Add 2/3 of the herbs and fold in. Arrange the salad on plates, sprinkle with the remaining herbs and roasted sesame seeds and serve.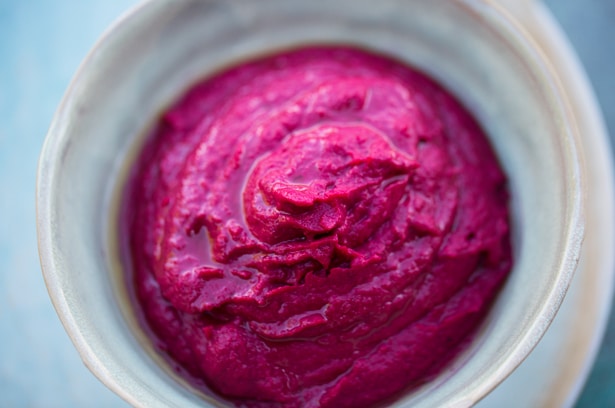 PINK HUMMUS
Instructions
Put the chickpeas in a sieve and wash thoroughly.

Puree together with all other ingredients in a blender or with a hand blender.