Every beginning of December my thoughts revolve around festive soups, salads, main dishes and desserts for my Wellcuisine Christmas menu. This year I was mainly guided by the thought that in almost every family there are vegans, vegetarians and / or allergy sufferers who have only been allowed to eat the side dishes at Christmas for years or who have to bring their own Christmas dinner to avoid going empty-handed. That doesn't feel really good, because Christmas is supposed to be the festival of love after all. Since I generally think that vegetables should be the center of our plate and meat and fish are sides, I took this as the basis for this years' Christmas menu. It can be prepared vegan or vegetarian, optionally gluten-free and – if you want – can be supplemented with fish or meat (I always put a recommendation at the end of the list of ingredients). So there is something for everyone and nobody goes empty-handed. And because Christmas is also the festival of traditions, my Christmas menu brings together a lot of nostalgic dishes: potato pancakes for the starter, gravy for the main course and aromatic chocolate cake with gingerbread spices for dessert.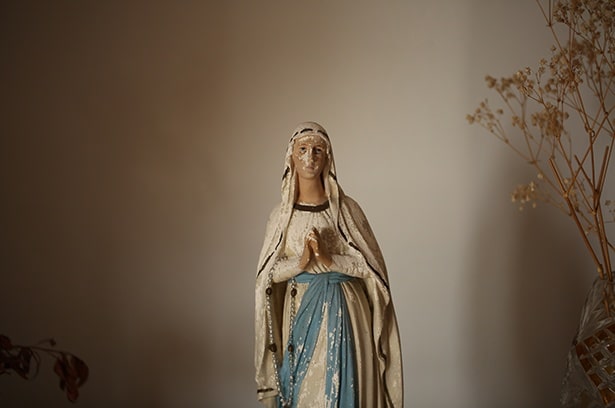 Since probably nobody wants to stand in the kitchen the whole of December 24th, you can prepare a lot of my menu in advance. You can find the notes on this at the Wellcuisine tip at the bottom of each recipe.
STARTER
Beetroot Salat with Potato Fritters and Horseradish Cream
FOR CHRISTMAS PLANNING: The beetroot salad and the horseradish cream can be prepared the day before and kept tightly closed in the refrigerator.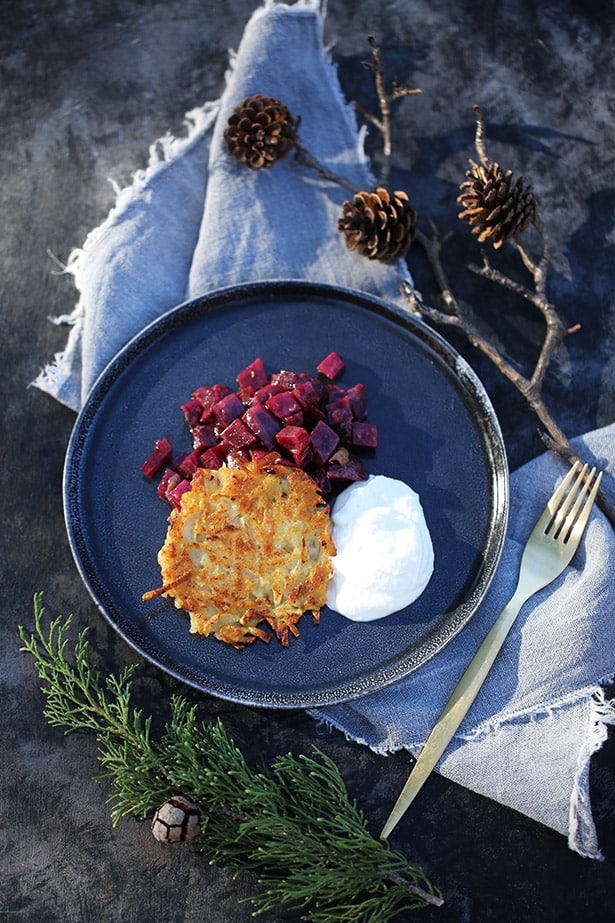 BEETROOT SALAT WITH POTATO FRITTERS AND HORSERADISH CREAM
Ingredients
Beetroot salad:
450

g

pre-cooked beetroot from the vacuum pack

2

tbsp

olive oil

1

tbsp

apple cider vinegar

1

tsp

maple syrup

1

tsp

Dijon mustard

3/4

tsp

salt

1

tsp

capers

finely chopped

Freshly ground black pepper
Horseradish Cream:
250

g

thick natural yoghurt

from sheep, goat or vegetable

2

tsp

table horseradish

3/4

tsp

salt
Potato pancakes: makes about 6 pieces (4 people)
500

g

waxy potatoes

40

g

chickpea flour

3/4

tsp

salt

3

tbsp

olive oil
Instructions
Place a large plate in the oven and preheat the oven to 100°C. Switch off after approx. 10 minutes. This is where the potato pancakes will be kept warm later.

Dice the beetroot for the salad. Mix in a cup of olive oil, apple cider vinegar, maple syrup, mustard, salt, chopped capers and freshly ground black pepper until smooth and mix with the beetroot.

For the horseradish cream, mix all the ingredients together until smooth.

For the potato pancakes, peel and roughly grate the potatoes. Take hand-sized portions of the grated potatoes and press them together firmly with your hands to squeeze out the potato water. Pour the pressed potato flakes into a new bowl. Mix with chickpea flour and salt.

Heat 1 tablespoon of olive oil in a non-stick pan. Remove tablespoon-sized portions of the grated potatoes, shape into a ball in your hands and press flat. Put two to three of them in the pan and flatten again if necessary. Fry for about 3-4 minutes, until the underside of the pancakes is browned. Then turn and fry for another 3 minutes. Keep warm in the oven until the remaining pancakes are done.

Arrange the beetroot salad, horseradish cream and 1 potato pancake on each plate and serve immediately.
MAIN COURSE
Mushroom Bourguignon with Polenta
FOR CHRISTMAS PLANNING: The vegan gravy for the mushroom bourguignon can be prepared the day before. This means that everything can be prepared in the recipe, including step 2. Then keep the sauce tightly closed in the refrigerator.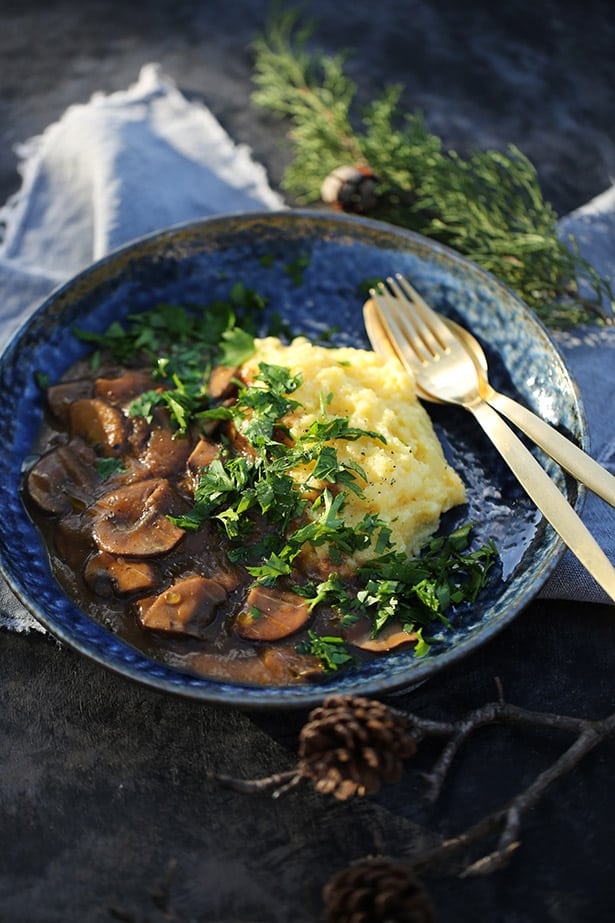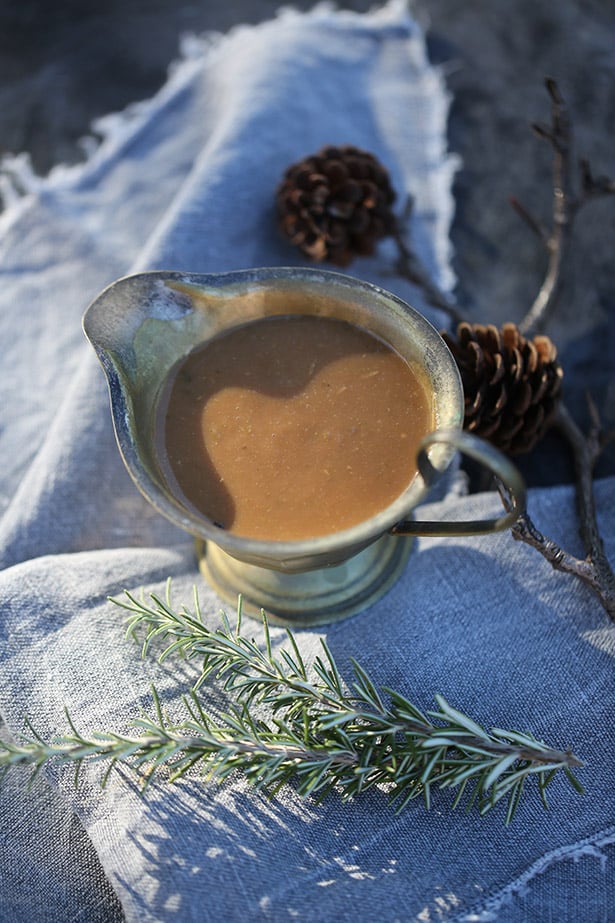 MUSHROOM BOURGUIGNON WITH POLENTA
Ingredients
For the mushroom bourguignon with vegan gravy:
4

tbsp

olive oil

1/2 tablespoons for frying the mushrooms

1

large red onion weighing approx. 300 g

peeled and chopped

1

clove

garlic

peeled and chopped

1

small potato

approx. 120 g, peeled and diced

2

medium-sized carrots

approx. 120 g, sliced

1

tbsp

chopped rosemary

1

tsp

salt

use more accordingto your taste

1

tsp

Dijon mustard

100

ml

red wine

use more accordingto your taste; alternatively: 1 tbsp balsamic vinegar mixed with 50 ml red grape juice and 50 ml water

1

liter

hot water

450

g

brown mushrooms

cleaned and patted dry and sliced

1

tbsp

soy or tamari sauce

freshly ground black pepper

4

tbsp

chopped flat-leaf parsley
For the polenta:
1

l

water

240

g

quick-boiling polenta

5

tbsp

olive oil

1.5

tsp

salt
Instructions
Heat half of the olive oil in a deep pan or in a saucepan and stir-fry the onion and garlic for about 3 minutes. Add diced potatoes, carrots and rosemary and stir-fry for another 3 minutes. Add salt and mustard and deglaze with red wine. Allow the red wine to evaporate, then add hot water and simmer for about 20 minutes or until the liquid is greatly reduced (about 1/3 of the previous amount of liquid should now be left).

Puree the entire contents of the pot in a blender until creamy. If there is not enough liquid, add something if necessary. Pour the sauce back into the saucepan and season with 1–2 tablespoons of red wine, salt and black pepper.

Heat the other half of the olive oil in a pan and stir-fry the sliced mushrooms for about 8 minutes, until the mushrooms are browned on all sides. Then add the soy or tamari sauce and mix carefully with the mushrooms. Finally mix in the chopped parsley.

Add the bourguignon sauce to the mushrooms in the pan and simmer gently for about 5 minutes with the lid closed and low heat.

In the meantime, prepare the polenta. To do this, heat water in a saucepan. Add the quick-boiling polenta while stirring, reduce the heat, continue stirring and simmer for about 3 minutes. Remove from heat and stir in olive oil and salt. If necessary, add a little more hot water until the desired consistency is achieved.

Arrange the polenta and mushroom bourguignon on 4 plates and serve immediately.
DESSERT
Christmas Cake
FOR CHRISTMAS PLANNING: The cake should be prepared on the same day, however, it can be baked in the morning.
CHRISTMAS CAKE
Ingredients
100

g

spelt flour type 1050

alternative: my gluten-free flour mixture

50

g

ground almonds

2

tsp

tartar baking powder

20

g

cocoa powder

1

tsp

gingerbread spice

1

tsp

cinnamon

1/4

tsp

salt

1

grated zest of untreated orange

50

g

virgin coconut oil

melted (plus a little more to grease the springform pan)

100

g

unsweetened applesauce

80

ml

maple syrup

grade A or C

3

tbsp

brown rum

alternatively: freshly squeezed orange juice

50

g

dark chocolate

chopped
For the decoration:
1

untreated orange

finely sliced

1/2

the seeds of a pomegranate

3

small sprigs of rosemary

some ground birch powdered sugar or other powdered sugar for dusting
Fits to:
vanilla or cinnamon ice cream
Equipment
17 cm springform pan

kitchen chopper
Instructions
Preheat the oven to 180°C top and bottom heat.

Mix all the ingredients for the cake together in a bowl.

Grease a 17 cm springform pan with coconut oil. Pour in the cake dough and bake for about 25-30 minutes. The cake is completely baked when a toothpick poked into the dough comes out fairly clean (some chocolate from the chopped chocolate will probably always stick - just not too large amounts of dough should stick to the toothpick).

Let the cake cool completely. Decorate just before serving. To do this, place the thinly cut orange slices on the cake, twisting each other, sprinkle with pomegranate seeds and garnish with small sprigs of rosemary. Finally dust lightly with birch powdered sugar (birch sugar/ xylitol ground to powdered sugar in a chopper) and serve (optionally) with vanilla or cinnamon ice cream.