How are you doing today? Good? Not so good? I often get the answer "quite okay" (sometimes from myself) and then I think: But that's not enough. "Quite okay" is real progress if you were previously depressed … but otherwise? My yoga teacher Yogi Bhajan always said: "To be happy is your birthright". And there is still a long way to go from "quite okay" to "being happy".
I believe that most of us have a tendency to be overly cautious. Instead of embracing life in its abundance, we would like to just pick the little raisins from the cake of life. We prefer to avoid anything bitter and unpleasant. We are afraid of pain, uncertainty, loneliness, grief. Therefore we try to avoid these feelings, to compensate for them, or to run away from them. Unfortunately, every uncomfortable feeling has a gift in its luggage that we only discover if we pause and let it wash over us.
When I feel bad, I ask myself which of my needs are currently unsatisfied. Because that is exactly what our feelings are: they are our built-in navigation system that tells us whether we are still on our way or whether we have already gone astray. Like the friendly female voice on our GPS, our internal navigation system always offers new routes that we can take to get back on our path.
Often enough we try to numb our uncomfortable feelings with food and drink, with medication, with drugs, with work, etc. In my opinion, this is the real cause of all kinds of addictions. Medical professionals often say that mom and dad's genes determine our addictive behavior. But I tend to believe that the way mum and dad dealt with problems is more decisive in determining whether we get addicted to something or not. Whether we have learned that negative feelings come and go and that they always (always!) offer us a crucial lesson that ultimately makes our lives better. Or whether we cover our ears and eyes as soon as a problem arises and try everything in order not to perceive it. In this way, our emotions can become a creeping but deadly poison. They permanently poison us from within and we don't even notice it. Only our charisma decreases, we compromise, lower our expectations and come to terms with the fact that life doesn't have much to offer.
Not only do we have to digest our food, we also have to digest our emotions. The good as well as the bad. This means that we have to take our time, stay alert and take a deep breath in between when it hurts. Incompletely digested food leads to all kinds of diseases and can trigger allergies. Undigested feelings block our energy. It is therefore no wonder that allergies and digestive disorders are on the rise, as is depression.
It's my constant goal to embrace life to the fullest, even when it hurts sometimes. Because I know that after every low comes an even higher high. So I try to celebrate life as best as I can in every moment.
And how can we celebrate life better than with a good meal? Food that gives us energy, that tastes good, that looks beautiful and that we share with others? My winter salad, which I would like to recommend to you today, is colorful, delicious, and really good for you. It shows how shamelessly nature deals with its abundance and juiciness. If you want to know what a full life looks like, just take a look at a pomegranate or a pumpkin. Nature has always known how to live properly. And with a salad like this we can find it and enjoy it: the full life. Enjoy!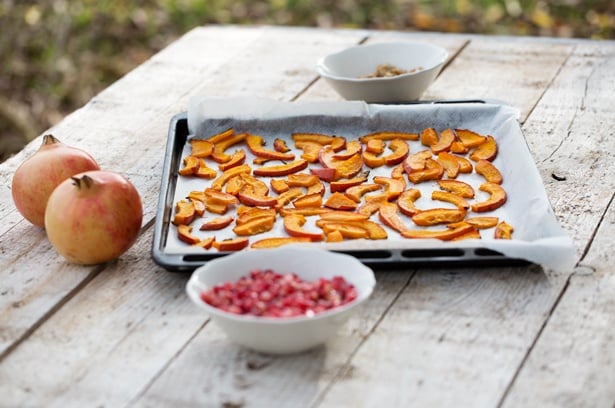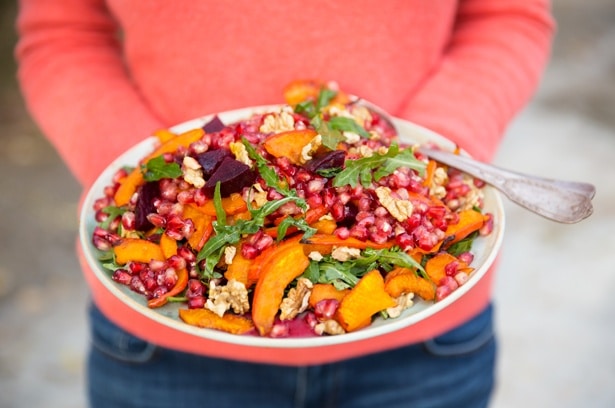 WARM WINTER SALAD WITH PUMPKIN AND POMOGRANATE SEEDS
Instructions
Preheat the oven to 180°C.

Cut the Hokkaido squash into thin wedges and mix with the melted coconut oil, maple syrup and salt in a bowl. Spread on a baking sheet lined with baking paper and bake for about 15 minutes. Then bake for another 5 minutes on top heat and fan-assisted.

Divide the pomegranate. Hold the cut surface over a large bowl and use a wooden spoon to knock out the seeds. Set the seeds aside.

Mix all ingredients for the dressing.

Place the rocket and beetroot in a bowl or on a plate and mix with the dressing. Arrange the baked pumpkin wedges on top and serve sprinkled with pomegranate seeds and walnuts.
Wellcuisine-Tipp
If you want to serve a side dish with your winter salad, you can serve vegan falafel balls (see recipe here) or a fried piece of organic goose, chicken or duck.