I have a confession to make: I am a woman, but I can't multitask. When I try to do more than one thing at the same time I end up running around like a headless chicken. With this (not particularly beautiful) picture in mind, I  remember my teacher Yogi Bhajan, who during his lifetime gave several weeks of seminars every year for women only. One of these seminars he started like this: "Do not forget, you are not chicks, you are eagles." Isn't the thought of an elegant eagle, always on top of things, much more pleasant than that of an excited chicken running around? Then why do we find it so desirable to always do everything at the same time instead of really focusing on one thing after the other?
I am the best example myself: I have so many different interests that I would like to pursue at the same time. I want to write books, teach yoga, do interesting jobs for customers, plan workshops, do research, maintain this blog, go on business trips, and have a good love and private life. Sometimes I catch myself resembling a chicken more than an eagle again. Then my sleep becomes restless, things fall out of my hands and I stumble over doorsteps. All signs that I have too many plates in the air. I then catch myself sitting down at the computer in the morning, writing emails, even though I haven't finished my breakfast yet. Or I am talking on the phone and browsing the Internet at the same time. That wouldn't be a bad thing if it weren't for the fact that things are simply less enjoyable if you give them only a small part of your attention. A conversation remains emotionally superficial if we are not completely present, a meal becomes bland if it is eaten unconsciously. So my new mantra is: one at a time. Because it's just an illusion that we can do more if we do everything at the same time. In truth, things are usually done easier and faster if we can devote ourselves to them for a while and then check them off. There is a nice little budhist story about this: A teacher offers his student tea. The teacher pours the drink but doesn't stop pouring when the cup is full, so the tea is spilling on the table. The student, astonished, asks the teacher why he is doing this. The teacher says: your head is like this cup. It's so full that nothing can fit inside. You have to empty your cup first to be able to fill it again. I will think of this story in the future when everything seems too much again. And then I'll go into the kitchen and make lunch. Because for me, preparing food is the best focus I can imagine.
My recipe of the week
I've always loved falafel, but I've always felt bad after eating it. My stomach did not agree with the often cheap fats from the deep-frying and was still grumbling hours later. For this reason, I was very motivated to create my own falafel recipe that is easier to digest and still tastes good. My falafels are first baked in the oven and then pan-fried in a little coconut oil. Together with a salad of cucumber, cherry tomatoes, crunchy romaine lettuce, feta and a yoghurt dressing, it becomes a nutritious main course that goes well with the last warm summer days.
Food pharmacy chickpeas
Chickpeas are small nutrient bombs because they are rich in protein, minerals, B vitamins and fiber. Two thirds of their fiber is insoluble and passes through the digestive tract unchanged. On their way they stimulate the intestinal peristalsis and clean the intestines. The bacteria in the large intestine break down the indigestible fibers into short-chain fatty acids, which the large intestine wall uses as a source of energy. The chickpeas thus help to keep the intestinal mucosa healthy in the long term and even prevent the risk of developing colon cancer.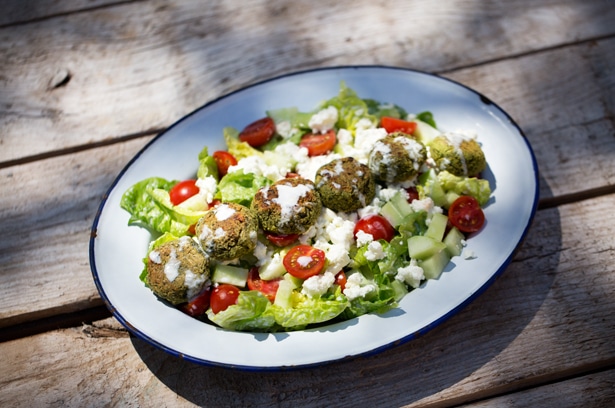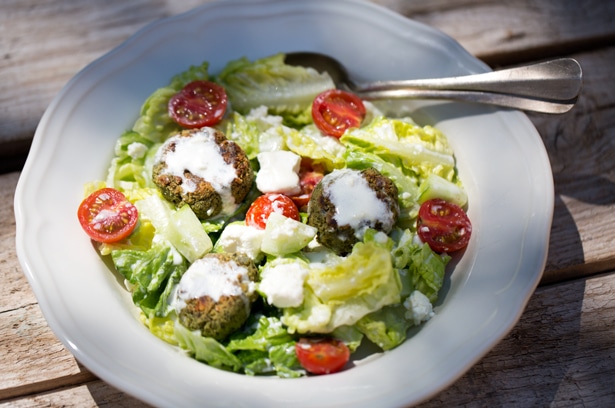 Falafel Salad
Equipment
food processor or hand blender
Instructions
Preheat the oven to 180°C.

For the falafel balls, coarsely puree the oat flakes with the herbs in the food processor or with the hand blender for 20 seconds. Then add the remaining ingredients, except for the coconut oil, and puree briefly. The mass should remain a bit lumpy.

Line a baking sheet with baking paper and shape tablespoon-sized portions of the falafel dough into balls with your hands, place on the baking sheet and flatten a little. Bake for 6 minutes on one side and 6 minutes on the other.

In the meantime, mix all the ingredients for the dressing together until smooth.

Heat the coconut oil in a pan and roast the baked falafel for about 2-3 minutes on both sides until they are lightly browned.

Mix all salad ingredients except for the feta in a large bowl with the dressing. Garnish with feta and falafel balls and serve immediately. The falafel should always be eaten warm.