Next week is Valentine's Day again. As always, this day inspires me to reflect on love. After writing about love in relationships last year (click here to read the post), I dedicate this Valentine's post to self-love. Because for me, self-love is not only the key to fulfilling relationships, it is also the basis of good health and healthy nutrition. However, self-love can usually not be approached head-on, according to the motto "I have to love myself from now on". Self-love is rather the result of many small steps that we can take every day:
Step 1: stop criticizing yourself.
How would you like it if a friend or colleague described you as "fat", "stupid" or an "idiot"? You would be upset! And rightly so. You should be just as upset when you abuse yourself. Stop doing that right away!
Step 2: love "simple" things.
Love is love. Therefore, in order to train the "self-love muscle", you can start with things that are easy to love. Look around and appreciate everything you like. Your cup of coffee, the neighbor's dog, the sun shining through the window, good music … The more you value your life, the more you fill it with love and the easier it is for you to look at yourself with the same appreciation.
Step 3: don't compare yourself.
One of the main reasons we often find it difficult to love ourselves is because we compare ourselves to others. The comparison has never been easier, because we not only have our environment as a reference, but the whole world, which appears very close through social media and television. When you look at the lives of others, it often seems that they have already achieved what you long for. You don't know any details and you don't see how they actually live and how they feel about it. So try to rely on your own goals and your own feelings and only use these as a compass for your life.
Step 4: make loving more important than being loved.
It's so nice to be loved, isn't it? Unless the person who loves you is having a bad day or something else on their mind. Then love quickly turns into pain or worse. There is nothing wrong with enjoying the love that others show you, but don't make your self-image dependent on it and cultivate the love and appreciation that you can really influence at all times: your own.
Step 5: gain your trust.
Do you stick to agreements with yourself? Do you take good care of yourself? Do you eat food that makes you feel good? Do you allow your body enough sleep? Self-confidence is based on the fact that you can trust yourself. The better you take care of yourself, the more comfortable you feel in your own company and the easier it is for you to love yourself.
Step 6: take time for yourself.
Relationships get better when you spend quality time together. The same goes for your alone time. Create times that belong only to you and do something that is good for you. For example, just sit and breathe deeply, listen to music, have a cup of tea in peace or read a chapter in a beautiful book. These little moments are not only good for you, they also train you to enjoy being alone.
Step 7: make peace with yourself.
We are all "work in progress". Nobody is perfect, including you, so don't ask yourself to be. You can't help but grow every day and have new ideas and goals. But just because you have a new goal doesn't mean you have to struggle with the present. Make peace with the fact that you are where you are and tell yourself, "it's all good." Then continue your way, have fun, and before you know it you will have reached your goal – only to find that you are already on the way to new goals.
Step 8: give yourself a gift.
Small gifts maintain friendship. They are a sign that the other is important to us. For me, the best gifts for ourselves are the little things. For example, a good meal or a homemade candy. On Valentine's Day, the loved one is given something sweet. And so I thought that this year we could dedicate this delicious brownie recipe to ourselves and our loved ones as a token of our love and friendship. The brownies are made from sunflower flour and contain only 8 ingredients in total. I serve them frequently as dessert after dinner with friends. A scoop of vanilla ice cream goes really well with them. My various attempts to veganize the recipe unfortunately went wrong, but luckily I still have this brownie recipe to offer for those who don't eat eggs (for the recipe, click here).
SHARE THE LOVE: at the bottom right under this post you can now find a few small icons that you can use to easily share this post by email or on social media.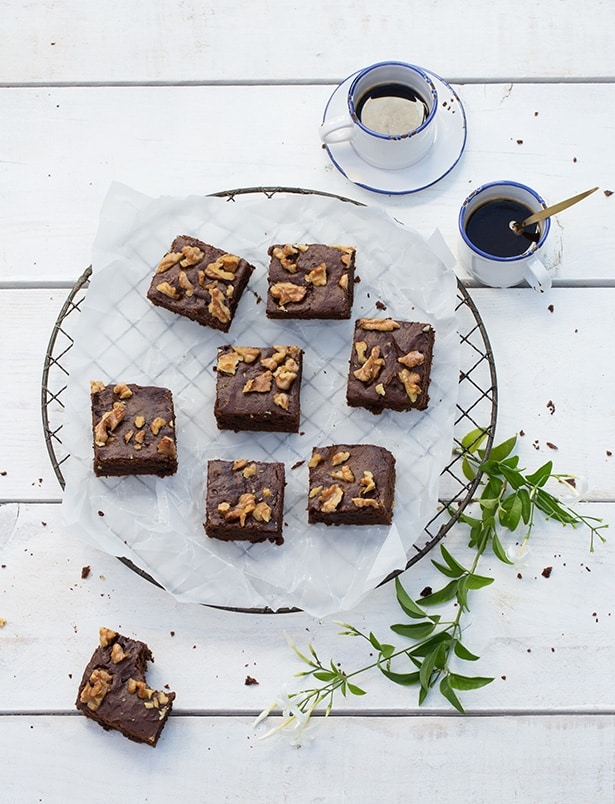 SUNFLOWER BROWNIES
Instructions
Preheat the oven to 180°C top and bottom heat.

Roughly chop the chocolate, set half aside and melt the other half with the coconut oil in a water bath.

Mix the eggs and coconut blossom sugar together in a large bowl. Add the chocolate and coconut oil mixture and mix.

Add sunflower flour, tartar baking powder and salt and mix to a smooth dough. Finally mix in the rest of the chocolate.

Line an approx. 20 x 20 cm square baking pan with baking paper and fill in the dough. Smooth the surface of the dough with your moistened hands.

Roughly chop the walnuts and spread them on the surface of the dough.

Bake for 20-25 minutes, until a toothpick poked into the dough comes out clean. Take out of the oven and let cool down completely. Then cut into approx. 6 x 6 cm squares and serve.