In my world spring has a sound: it hums. That's because of the wild beehive next to our house. Kissed awake by the spring sun, the bee colony is currently moving very happily and, at first, hums slightly tumbling and dazed through the mild spring air, looking for the first juicy buttercups. On cool evenings, a few bees sit on our terrace, slightly hypothermic and disoriented, and can no longer find their way into the beehive, which is only a few meters away. At a moment like this, you can see my husband wandering around the garden in the onset of darkness, holding a tupper bowl in which he collects the bees. A net is then placed over it so that they cannot fly away, and then the whole buzzing bee swarm spends the night in the warm house before Thomas puts them back in the warming morning sun the next day, from where it goes back to the beehive – or to the next delicious flower. After all, my husband is the son of a beekeeper and there must be a large amount of honey in his blood.
Food pharmacy bee pollen
We know that honey has been used as a medicine against many diseases and for wound healing since ancient times. It owes its healing properties to its antibacterial and cell-protecting properties. Bee pollen is another wonderful bee product. Bees forage and collect pollen from a variety of plants. The beekeeper catches part of the pollen in a net through which the bees have to squeeze themselves while entering the beehive. The bees use the rest as food and to raise their offspring.
A single grain of bee pollen is about 2 millimeters in size and contains over 2 million flower pollen. Thus, one teaspoon of bee pollen contains over 2.5 billion flower pollen. It is not surprising that such a concentrated load of nature also contains all the essential components of life. Bee pollen is one of the richest sources of vitamins, minerals, proteins, amino acids, hormones, enzymes and fats. In addition, they provide a significant amount of natural antibiotics. Around 97 percent of the constituents of bee pollen can be precisely identified in the laboratory – but 3 percent cannot. It is probably due to this mysterious 3 percent that so far all attempts to imitate bee pollen in the laboratory have failed. Nature is simply the best inventor!
By the way, bee pollen is nature's natural doping agent. The wide range of their nutrients makes them a real energizer. Finnish Olympic athletes consume bee pollen every day and thus increase their strength and endurance by a proven 25 percent. In addition, they accelerate the regeneration of the body and promote rapid recovery after great exertion or illness.
As you can see, there are plenty of reasons to include the little yellow globules in your diet. In my recipe of the week, they give the juicy, gluten-free brownies a spring-like touch. Together with raw cocoa, maca powder, almonds, coconut oil and plums, they turn a cake into a real superfood that, above all, tastes great and just puts you in a good mood– that's definitely due to the 3 percent of mysterious ingredients that you just can't explain …
And now my question for you: did you ever try bee pollen? I am looking forward to reading your comment below!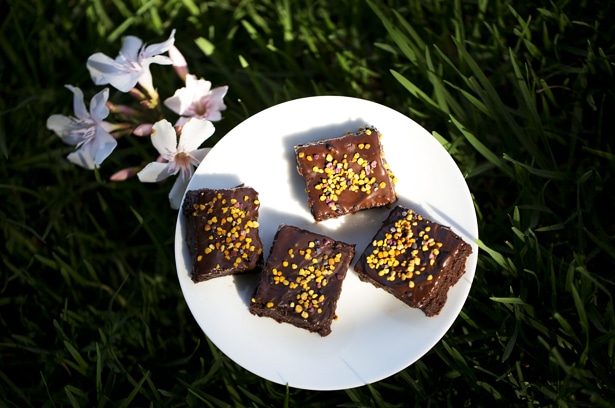 SUPERFOOD BROWNIES
Ingredients
For the dough:
200

g

Medjool dates

you can get it in the Turkish grocery store or in the health food store

150

g

dried plums without a stone

100

g

virgin coconut oil

melted

3

tbsp

acacia honey

alternatively: maple syrup, grade A

200

g

ground almonds

50

g

raw cocoa powder

unsweetened

1

tbsp

maca powder

1

tsp

cinnamon

1

tsp

ground cardamom

1

tsp

tartar baking powder

1/2

tsp

salt
For the coating:
100

g

organic dark chocolate

3

tsp

bee pollen
Equipment
food processor or hand blender

approx. 17 x 20 cm large baking pan
Instructions
Preheat the oven to 180°C.

Coring the Medjool dates and cover with the plums in a saucepan with water and bring to boil. Cook for about 10 minutes until soft. Put the fruits in a sieve, catch the cooking water and let the fruits cool down.

Puree the fruits together with melted coconut oil, maple syrup and 4 tablespoons of the cooking water in the food processor or with the hand blender until creamy.

Mix the ground almonds in a bowl with cocoa powder, maca powder, cinnamon, cardamom, baking powder and salt. Add the fruit puree from the food processor and mix everything together until smooth.

Line a square, approx. 17 x 20 cm large baking pan with baking paper and distribute the dough evenly in it. Smooth the surface with your moistened hands. Bake for 16-18 minutes. Let cool completely, then put in the refrigerator for 1 hour and then cut into approx. 16 rectangles.

For the chocolate coating, melt the chocolate in a water bath. Brush the surface of the brownies with it. Sprinkle with bee pollen and let cool completely. Store the brownies in the refrigerator and consume within approx. 4 days.