My greatest inspiration when cooking and baking is going to the farmers market. There is simply nothing that inspires me more than a vegetable fresh from the garden or a fruit that comes straight from the tree. My way of cooking is all about good, natural foods that I put in the center of the plate. This means that I have to pay a lot of attention to quality and maturity when shopping. Because it's seriously impossible to make a delicious tomato salad out of unripe tomatos or the perfect fruit cake with rock-hard plums.
As we live on the Mallorcan countryside, it is very easy for us to cook seasonally. At the weekly market or in our farmers' cooperative we usually only get what is growing in the area. Often enough, on my morning dog walk, I find a delicious ingredient that grows wild along the way. In winter there are oranges and lemons, in spring tender green asparagus and sweet and sour medlars, in late summer figs and, if you're lucky, a few plums.
I recently discovered a wild plum tree in our garden. You have to know that plots in rural Mallorca are very, very large. That's why we sometimes find something new in our garden that we didn't see before. The plum tree had never borne fruit before, but this year it chose fertility. It goes without saying that I wanted to process the wild fruits appropriately. And what's better than plum cake on a late summer's day? Since rosemary grows right next to our plum tree and the two seem to get along well, the rosemary also came into the mixing bowl. Then a little bit of chocolate, because plums and chocolate make a wonderful combination. I decided to make muffins instead of a cake and freeze a few. I can then defrost the muffins whenever I feel like it, heat the oven to 200°C, moisten them with a little water and bake them for a few minutes.
Food Pharmacy Plums
Plums aid digestion and help relieve constipation. They owe this effect mainly to the pectins that sit in the peel. Pectins are dietary fibers that have a strong ability to swell, thus triggering a stimulus to the intestine and increasing intestinal movement, which leads to better digestion. In addition, pectins help detoxify heavy metals.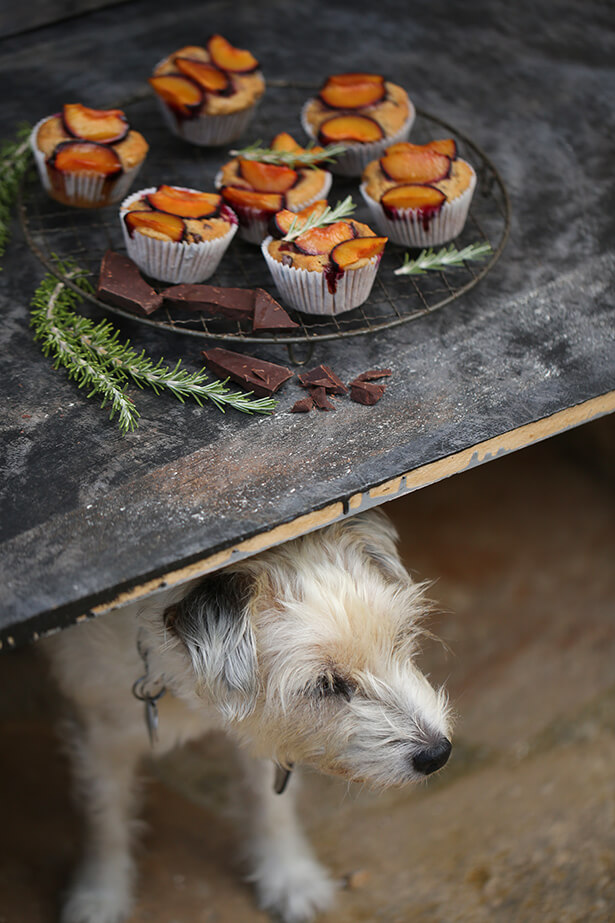 The blue color of the plums indicates that they are rich in phytochemicals called anthocyanins. Located in the peel and pulp of the plum, they have anti-inflammatory effects and strengthen the immune system. Scientists have also found that anthocyanins have a positive effect on gene expression. This means that they activate genes that protect the body and block genes that can cause harm.
And now my question for you: where do you get your inspiration for cooking from? And has a particularly nice piece of vegetables or fruit encouraged you to go straight to the kitchen and start cooking/baking?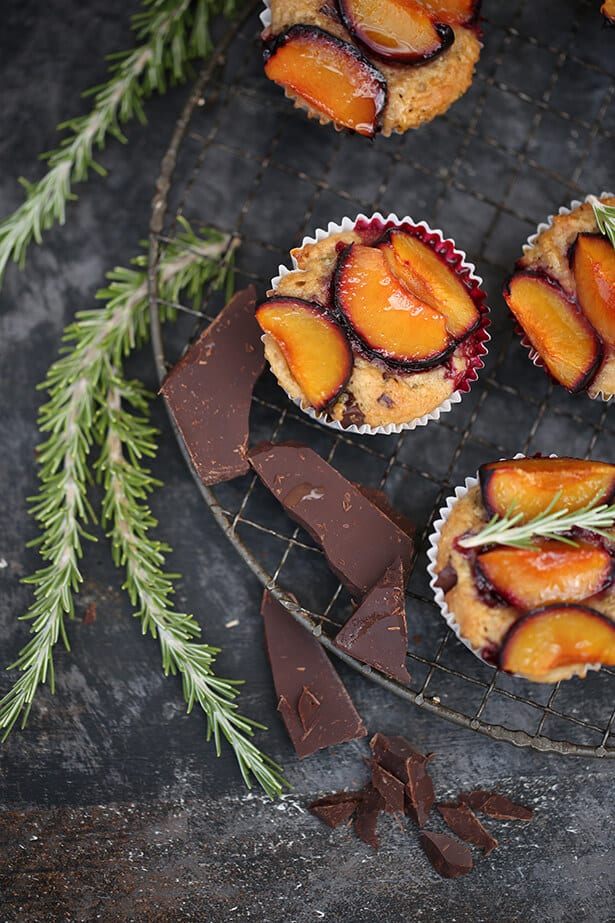 PLUM MUFFINS
Vegan, optionally gluten-free, without refined sugar
Instructions
Preheat the oven to 180°C top and bottom heat.

Mix all ingredients for the dough together except for the plums until smooth.

Cut the plums in half, core and cut into wedges.

Line a muffin tin with paper liners. Divide the dough evenly over the 12 hollows. Spread the plum wedges on the surface.

Bake the muffins on medium heat for 25-30 minutes. At the end of the baking time, a toothpick poked into the dough should come out clean.

Take the muffins out of the oven and brush the surface with maple syrup.

Allow to cool for 20 minutes, then remove from the muffin tin and place on a cake rack to cool completely.