As I stood in the bathroom this morning, washing my face and applying my skin oil, I thought it was time to talk about natural care products. In my book "Schön & Gesund" I have already written a lot about it, because for me our care routine is just as much a part of a healthy lifestyle as our diet. After all, our skin is our largest organ and it absorbs what we nourish it with. So we should nurture it just as consciously as our stomach.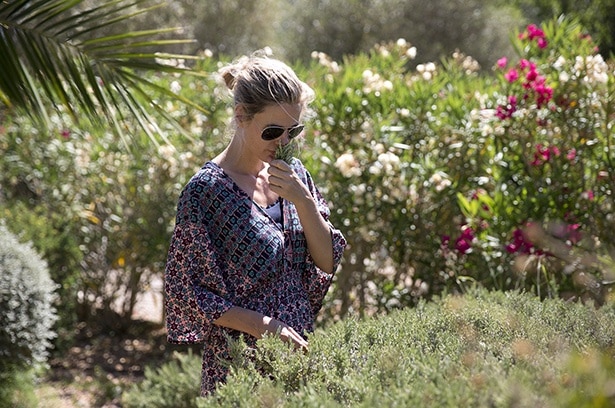 It took me a few years to switch to healthier care products. The process began about 18 years ago. Since I often went to the health food store anyway, I started to buy one or the other cream or body lotion there. At the time, however, I did not really think seriously about what I was putting on my skin or what I was brushing my teeth with. For me it was just too abstract to imagine that at least 80 percent of the care products I use overcome the skin barrier and find their way into my body. So I still used the conventional shampoo recommended by my hairdresser and the strong lemon scented lotion I got for my birthday. After reading terrifying reports about the effects of fluoride in toothpaste and aluminum in deodorant, I first replaced those products with healthier choices. Over time there were more and no less frightening reports about other popular ingredients in our conventional care products. And so, product by product, I switched to healthier alternatives. Sometimes it took me a few trials before I found a satisfactory replacement for my conventional basics. Four deodorants didn't work for me until I found THE deodorant that worked for me. Finding a healthier sunscreen without chemical light filters was especially difficult. One mineral sunscreen made my skin completely white, the next was extremely greasy, and another smelled unpleasant. But no matter how difficult it was to find the "perfect" green product, in the end I always got it.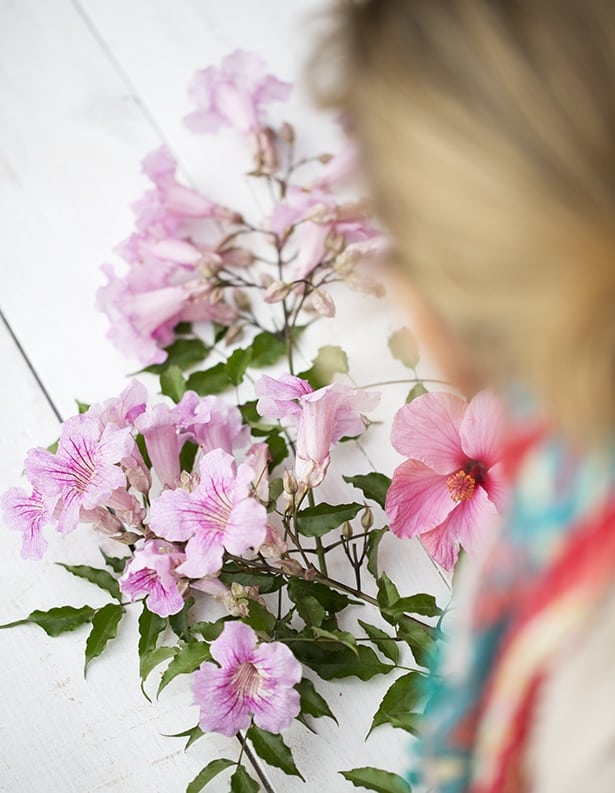 It may take some time, money, and patience, but in the end our body will thank us if we switch to a healthier alternative every time a conventional product is used up. Australian beautician Monique Peters has made a useful list of the products that we should exchange first, as they have the greatest impact on our health:
Deodorant
Toothpaste, lip balm and lipstick
Body lotion
Face cream
Perfume
Of course everyone has a different kind of skin and different needs in general, but maybe it will still help you to see which natural care products I swear by and why:
My favorite natural care products*:
* This post contains links to products and must therefore be marked as advertising in accordance with the latest online guidelines, even if it is actually of a purely editorial nature.
Deodorant
The green claim: Deodorants should not contain aluminum, as aluminum prevents the natural excretion of toxins via the armpit and additionally pollutes the lymph with new deposits of aluminum particles.
To find an effective deodorant without aluminum was difficult for me at first. Until I found the Speick deodorant stick. Of course you have to like the herbal smell of the deodorant – I personally think it's great. Mainly because I know that the Speick plant, which grows at an altitude of 1,800 to 2,400 meters and belongs to the valerian family, is only used in Speick products and is picked by hand. Incidentally, the Speick company has been run according to anthroposophical guidelines since it was founded 90 years ago.
You can find the Speick deodorant stick here: at dm, Müller and in most well-stocked organic shops and health food stores.
Toothpaste
The green claim: Toothpaste should not contain fluoride, because fluoride is so toxic that it was used as a rat poison and as a component of pesticides for a long time. Of course there is only a small dose of it in toothpaste, but who wants to clean their teeth with poison?
I've tried so many different fluoride-free toothpastes, but I got stuck Sante's Myrrh toothpaste. What do I like about it? That, despite the healthier ingredients, it foams slightly, has a pleasant taste and does not contain mint and is therefore also homeopathy-friendly.
Here you can find the myrrh toothpaste from Sante: at dm, Müller and in most well-stocked organic shops and health food stores.
Facial cleansing
I have combination skin with a slight tendency to dryness. Since I like the clean feeling when I cleanse my face with water and a gel (instead of using a cleansing milk, for example), I love the Cleansing gel from Santaverde. I only use it in the evening, by the way. In the morning I clean my face with water only. To remove my eye make-up, I use my homemade facial oil (see below under facial care) or simply coconut oil.
Here you can find the Cleansing Gel from Santaverde: at Müller and online.
Facial serum
Since researching and writing my book "Schön & Gesund" I'm convinced that vitamins and antioxidants ensure beautiful skin both inside and out. That's why I apply an organic vitamin C serum to my face, neck and décolleté after cleansing. I used different brands so far, but was quite happy with the serums from Poppy Austin and Florence.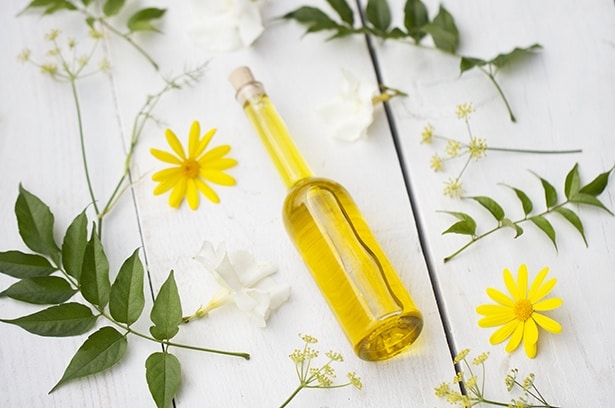 Face oil
After the serum, I apply my homemade face oil. To do this, I mix equal parts of organic jojoba and apricot kernel oil as well as half the amount each of aloe vera oil and evening primrose oil.
Facial scrub
I do a facial scrub once or twice a week. For this I prefer to use one of my self-made peelings from "Schön & Gesund" or the effect peeling from Annemarie Börlind.
Here you can find the effect peeling by Annemarie Börlind: among others at Müller drugstore.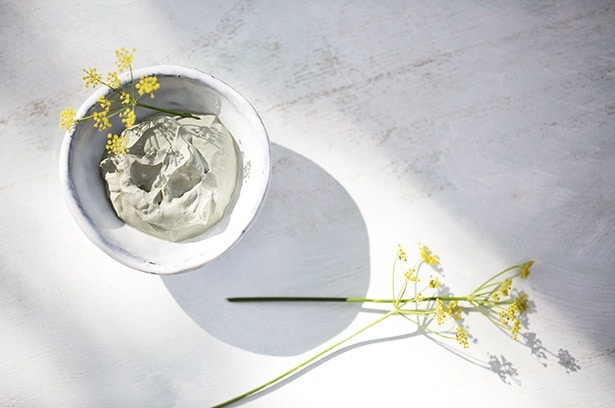 Face mask
Once a week I apply a face mask. Quite often it is one of the face masks from "Schön & Gesund", for example the green cleansing mask. To do this, I mix 1 tablespoon of green mineral clay with 1 tablespoon of water and 1 tablespoon of organic (goat) yogurt, apply the mask to the cleansed skin and rinse it off after 15 minutes.
Sunscreen
The green claim: chemical sun protection filters that are used in conventional sunscreens are suspected of causing skin cancer. The following terms should therefore not be on the list of ingredients in your sunscreen: Oxybenzone, Benzophone, terms with the ending »benzoyl«, 4-MBC, OMC and Bp-3.
Instead of a chemical filter, your sunscreen should contain a mineral filter. The best mineral sunscreen I've tested so far is Alga Maris Sunscreen SPF 30. I use it every day in summer for my face and décolleté. The pleasant thing is that it has a very light consistency, is easy to spread, does not leave a white film on the skin and has a pleasant smell.
Shower gel
My favourite shower gel by far is Weleda's buckthorn shower gel.
You can find it here: online, at dm, Müller and in most of the well-stocked organic shops and health food stores.
Body lotion and body oil
For my body I use either pure coconut oil, my olive coconut butter from "Schön & Gesund" or the citrus refreshing moisturizing lotion from Weleda.
Here you can find the Citrus Refreshing Moisturizing Lotion from Weleda: at dm, Müller and in most of the well-stocked organic and health food stores.
Body peeling
I apply a self-made body peeling once a week. It's a simple mix of Himalayan salt with olive oil which I massage onto my entire body (except for my face) and wash it off with warm water. Afterwards my skin feels velvety soft.
Shampoo
For hair care, I prefer to use products from Annemarie Börlind. As a shampoo, I especially like the Mild Shampoo for every day.
You can find Annemarie Börlind's Mild Shampoo here: at Müller Drogeriemarkt, among others.
Hair conditioner
Since I have dry hair, I usually use Annemarie Börlind's Hair Mask instead of a normal conditioner, but usually only leave it on for a short time. It makes the hair easy to comb without weighing it down.
You can find Annemarie Börlind's Mild Shampoo here: at Müller Drogeriemarkt, among others.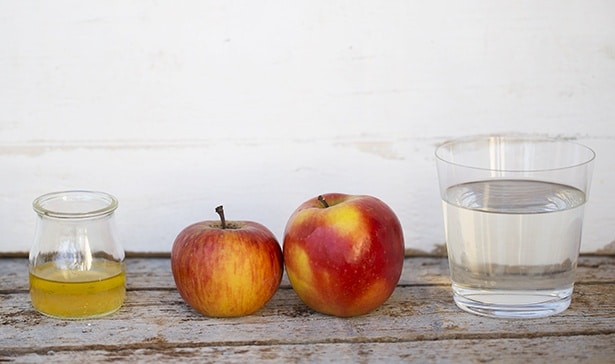 Acid-base treatment for the scalp and hair
If I have the feeling that my hair looks dull and lacks volume and shine, I use the acid-base treatment from "Schön & Gesund". To do this, I mix 1 to 2 teaspoons of baking soda with my normal shampoo and wash my hair with it. This cleanses the hair of all care residues. After washing off, I use a conditioner and then pour a glass of water with 5 tablespoons of apple cider vinegar over my hair upside down (so that nothing gets in my eyes). I leave it in and dry my hair afterwards.
Find more information here
Are you interested in more information about clean skin care and what substances to avaoid? Then you can find more information in my book "Schön & Gesund".
And now my question for you: how do you manage to switch to natural care products? Tell me about it and leave a comment below!