Christmas is the time of angels. I've met a few lately. Mostly in human form. I recently wrote that this year became difficult for me because of an illness in the family. But especially in difficult times, the presence of angels is much more noticeable than on days when everything is going well and easily. Today I made a phone call on a difficult topic and the person I was talking to was so loving and attentive that tears came to my eyes. Afterwards I had to do another phone call with a doctor and she ended the conversation with the comment: "You are an angel!" That made me smile, because it fitted right into my thoughts about angels this morning.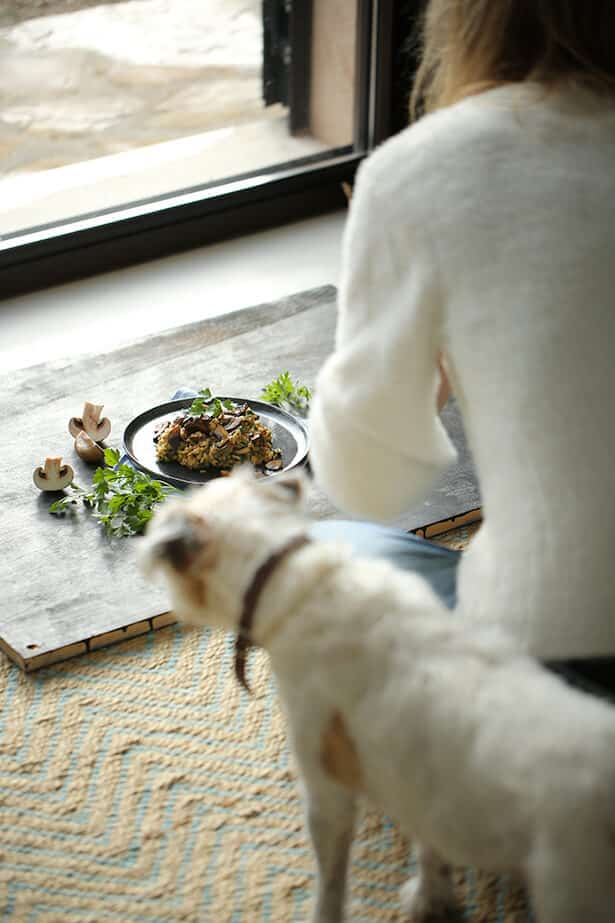 It's for sure that this year might be a tough one for most of us. And especially when we feel discouraged, sad or worried (or all at once), a loving gesture, a word of comfort or just a smile – even if it is hidden behind a mask – feels so good. We should never forget that. Because we are often so busy with ourselves that we forget everything else around us, maybe even the friendliness towards our fellow human beings. We could be an angel to someone else every day. And sometimes a kind gesture can mean the world to somebody else.
My recipe of the week is a classic one which I've been cooking for years. My husband and I discussed the right way to prepare the risotto today. It has to be said that in our relationship my husband has the sovereignty over Italian cuisine. His pastas and risottos always taste fantastic, but they can hardly be put into recipes because the ingredients end up in the pan so quickly that it is impossible to measure them. My husband is also extremely generous with the addition of wine to any savory dish, so that he could only laugh at my small glass of white wine in the recipe. In any case, in the end we agreed that 100 ml of wine should be added to the rice; that the soaking water of the porcini mushrooms is not to be processed; and that the lemon zest is not added at the beginning, but at the very end. Oh, sometimes recipes can be angels too. Because they bring us together with the people we love. To either discuss about the right amount of wine or to just sit together and enjoy the taste, the smells and the company. Isn't that divine? Now let's have risotto!
And now my question for you: when was the last time you met an angel or when could you be one for someone else? I look forward to your comment under this post!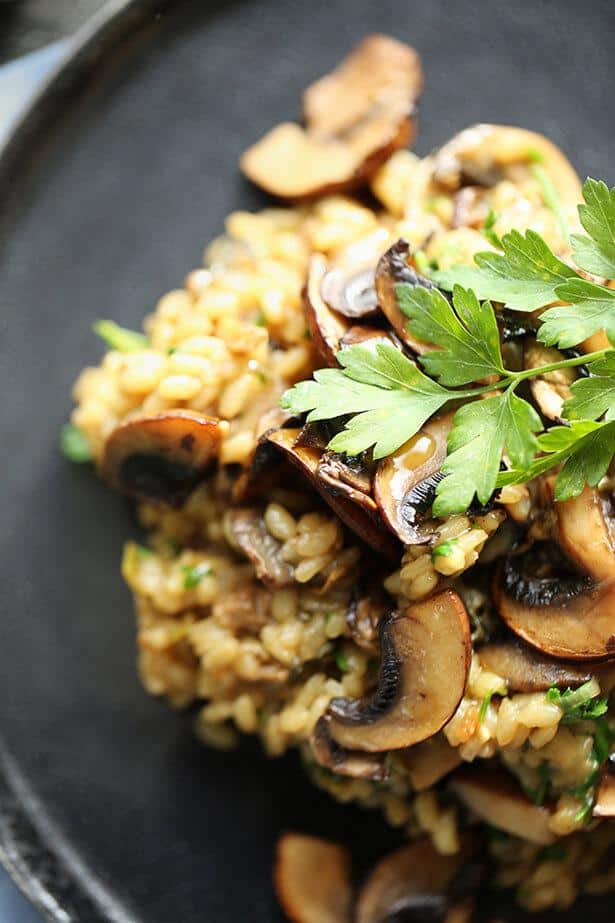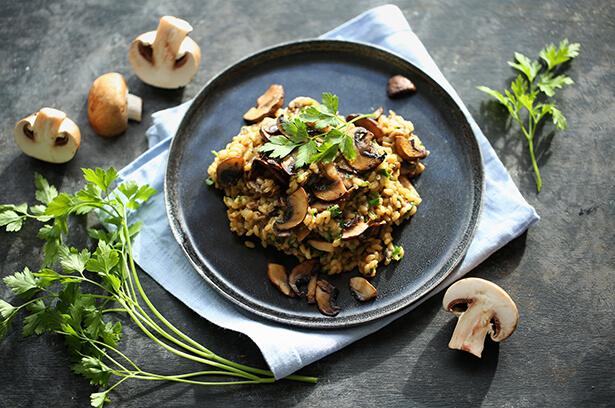 MUSHROOM RISOTTO
Instructions
Pour boiling water over the dried porcini mushrooms in a bowl and let them steep for 30 minutes. Then drain, wash briefly and chop.

Pour light vegetable stock - which shouldn't be too salty - into a saucepan and keep warm.

Heat the olive oil in a large saucepan and fry the spring onions and garlic in it. Add the rice and cook until translucent. Deglaze with white wine. Add the vegetable broth, ladle at a time, and let the rice absorb it while stirring. The rice should be firm to the bite after about 20 minutes. The consistency of the risotto should be creamy. If it is too dry, add more stock.

In the meantime, heat the rest of the olive oil in a pan and fry the mushrooms over a high heat for about 4 minutes until they are lightly browned. Add soy sauce and stir-fry for 2 more minutes. Take it off the stove.

Put stir fried mushrooms, grated lemon zest, parsley and butter (or olive oil) into the risotto. Season with salt and freshly ground black pepper. Optionally serve with parmesan.
Wellcuisine-Tipp
Goes well with a green salad.
There are also angels with four legs. But you probably already knew that!