I first ate this wonderful red pepper dip from Syrian cuisine at my friend Ling's, who supports us on our Wellcuisine retreats and who, together with Thomas, is responsible for breakfast and lunch. Our way of cooking is very similar and we have been inspiring each other for almost 10 years now. We laugh a lot, mix up tarot cards and talk in a wild mix of German and English, because Ling comes from New Zealand. When Ling prepared this dip for the first evening of our Mallorca retreat, there was a murmur at the first bite – it is that good! – and at that moment we decided to prepare it again a few days later in the cooking class so that everyone could take the wonderful recipe home with them. The nice thing about such a dip is that it is not a "one-man-show", but goes well with many meals and enhances them. A simple vegetable from the oven with this dip? Delicious. Raw vegetable sticks with it? Yes!! This dip goes well with flat bread, crispy oven potatos or with a piece of meat from the barbecue. Isn't that the real point of friendship? That the sum is better than the individual parts? That one supports the other to make him shine?
With that in mind, you may say, that Muhammara is a really good friend, because it makes everyone around him taste a bit better. One of its closest friends is the popular Baba Ganoush – a smoky cream made from roasted aubergines. Together they turn a loose collection of lettuce, roasted vegetables and flatbread into a table of 1001 nights. A toast to friendship!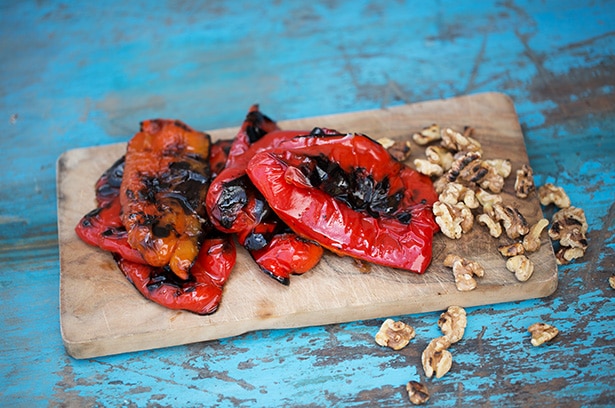 MUHAMMARA
Equipment
food processor or blender
Instructions
Quarter the peppers lengthways and remove the seeds. Mix in a bowl with olive oil and salt. Place on the preheated grill and grill each side for 10 minutes until the peppers are soft and slightly blackened on the skin side.

ALTERNATIVE PREPARATION IN THE OVEN: Preheat the oven to 180°C and bake the bell pepper quarters for about 25 minutes until they are soft.

Roast the walnuts in the pan until they start to smell.

Puree the roasted peppers together with the walnuts and the remaining ingredients except for the salt in the food processor or blender. The walnuts can still have a bit of bite. Season to taste with salt. Serve with flatbread and / or vegetable sticks.