What's a cookbook author without a kitchen? (fill in the blanks). Yes, the answer is nothing. She's nothing. We moved houses recently and the delivery of our new kitchen took much longer than expected. So I was a cookbook author and foodblogger without a kitchen which proved to be interesting. We bought a mobile stove top that sat on a wobbly table that the sellers of the house left behind as trash – because the rest of our furniture wasn't there either – but that's another story. I tested my recipes on the mobile stove top, but it was pretty uncomfortable, especially because all of our kitchen accessories were still packed in boxes, because there weren't any cupboards in which to put them …
After two weeks we had enough and bought a barbecue. And I've been infected ever since. Before I used to behave like most women and let men handle the barbecue. This time it was different, after all, the barbecue was the only kitchen I had. It was like in those movies where two unlikely partners get stranded on a deserted island and sooner or later fall in love with each other. After all, a limited selection seems conducive to developing lifelong affection. It was the same with the barbecue and me. We are now inseparable. When you come to my house, I can cook all your meals on the barbecue. I even make toast on it. The eggplants for the Arabic dip Baba Ganoush are also particularly tasty when grilled on the barbecue, and get this slightly smoky aroma. But don't worry: if you don't (yet) have a barbecue, you can prepare the eggplants in the oven.
FOOD PHARMACY EGGPLANT
The eggplant has a cooling effect on the body and reduces swellings of all kinds. In naturopathic medicine, it is known for having a positive effect on blood flow and thus helping with diseases that are caused by congested blood, such as certain tumors or diseases of the uterus . In Cuba "eggplant water" is drunk as a remedy for high blood pressure. To do this, an eggplant is washed and cut into small cubes. It's put in a liter carafe with water and left in the refrigerator for 4 days. Then it's drunken glass-wise one a daily basis. After a week, when the aubergine pieces dissolve, they are removed, but the water will still continued to be drunk.
Science confirms that eggplants contain natural ACE inhibitors, which regulate blood pressure, and are a key ingredient in popular antihypertensive drugs.
And now my question for you: do you like eggplant? And what's your favorite eggplant recipe? Please let me know in the comments below!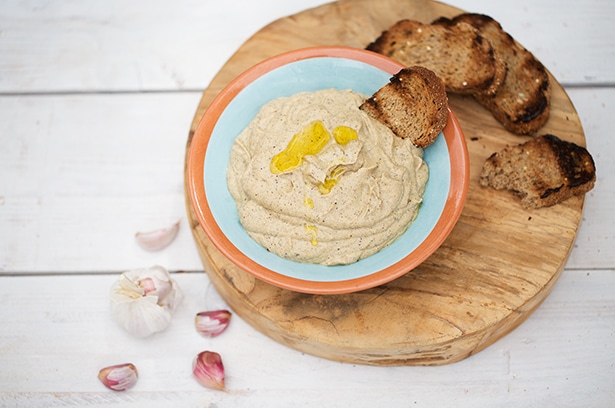 BABA GANOUSH
Ingredients
2

eggplants

1

tsp

salt

plus a little more to sprinkle the eggplant halves

2

tbsp

olive oil

plus a little more to brush the aubergines

1

clove of garlic

peeled

1

zest of an untreated lemon

grated

2

tbsp

freshly squeezed lemon juice

2

tbsp

tahini

sesame paste

freshly ground black pepper
Equipment
food processor or hand blender
Instructions
Halve the aubergines lengthways and sprinkle with salt. Let rest for 10 minutes until water appears on the cut side. Dab the water. Brush the cut surfaces with olive oil.

Preparation on the barbecue:

Place the aubergines with the cut side down on the preheated barbecue and grill for about 10-12 minutes until black grill marks form and the aubergine is soft (prick in with a fork to test the consistency). Then turn over and grill on the skin side for another 3 minutes.

Preparation in the oven:

Bake the aubergines with the cut side up in the preheated oven at 180°C for about 30–35 minutes on top and bottom heat until they are soft. If the cut sides are not browned towards the end of the baking time, switch to top heat and convection for the last 5 minutes.

Let the aubergines cool, then spoon the meat out of the skin with a tablespoon and puree with the remaining ingredients in the food processor or with the hand blender. Place in a bowl and serve drizzled with a little olive oil.