When I look out of our kitchen window, I see green with yellow dots. This is our lemon tree, which is currently bearing a lot of fruit. Every day I pick at least one lemon and use its peel for cooking or baking and its juice for our morning lemon water. For me it is a fact that everything tastes better with lemon. It makes sweet treats more sophisticated, balances creamy sauces and gives main dishes that final kick of freshness. No matter where you put its peel or its juice, it makes the dish more interesting.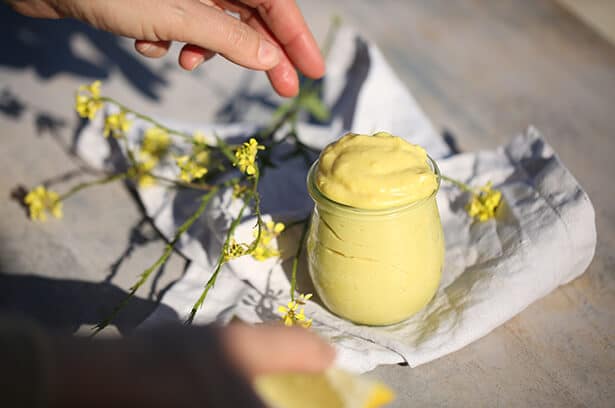 Incidentally, in Mediterranean Europe, lemon zest and juice were already used in late medieval cuisine to refine all kinds of dishes. In addition, the lemon was regarded as a remedy and its peel was used as an important component of plague medication. Even today it makes sense to use the lemon whole for both taste and health reasons. Its juice has a strong antioxidant effect and supplies the body with valuable vital nutrients. The peel stimulates digestion and has anti-inflammatory and detoxifying effects. Since the delicious flavors sit in the peel, it is one of my culinary favorites.
I particularly like the subtle lemon taste in cookies and cakes. Here I mostly use a mixture of peel, juice and lemon oil, that I buy in the baking department in organic food stores. When I tried lemon curd (a sweet and sour lemon cream of British origin) in a restaurant for the first time, I thought I had died and come to lemon heaven. A look at the list of ingredients was sobering, however. Because the cream consisted mainly of white sugar, and lots of it. I didn't eat lemon curd for years. Until at some point I started experimenting to develop my own variant of the sweet and sour cream. My type of lemon curd is vegan, naturally sweetened and is made in exactly two very simple steps: first all ingredients are mixed in a blender, then heated while stirring – done. The lemon muffins are just as easy to prepare. Muffins and lemon curd served together make a wonderful Easter sweet that will make you think of spring, sun and the delicate scent of freshly picked lemons.
And now my question for you: how do you prefer to use lemons? And in which dish do they make your life sunnier? I look forward to your comment below!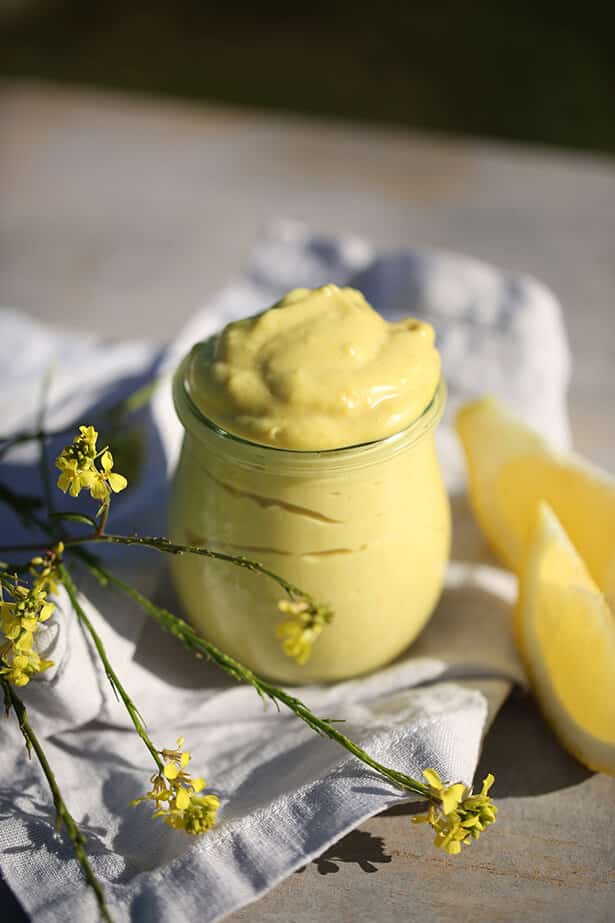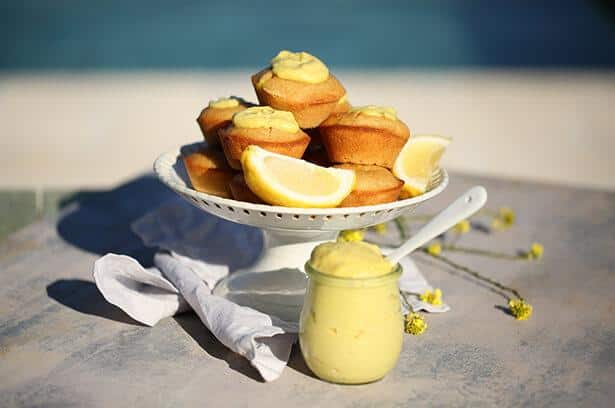 LEMON CURD MUFFINS
Instructions
Preheat the oven to 180°C top and bottom heat.

Mix all the ingredients for the muffins in a large bowl until smooth.

Grease a muffin tray with coconut oil or line it with paper cups.

Divide the dough evenly over the 12 cups. Bake on medium heat for 20-25 minutes. At the end of the baking time, a toothpick poked into the dough should come out clean. If the muffins are not sufficiently browned on the surface at the end of the baking time, bake for about 3 minutes on top heat and fan-assisted.

Mix the topping. Take the muffins out of the oven and glaze them directly with the topping. Let the muffins cool down for 20 minutes, then remove them from the mold and place on a cooling rack to cool completely.

In the meantime, prepare the lemon curd. To do this, mix all the ingredients in a blender and bring to a simmer in a saucepan while stirring. Reduce the heat and simmer gently for another 1–2 minutes, stirring. Let cool down completely. Then stir again well with a whisk.
Wellcuisine-Tipp
The lemon curd makes a larger amount than is needed for 12 muffins. It can be kept tightly closed in the refrigerator for at least 1 week.