When it's cold outside, I prefer to eat a hot breakfast. My favorites lately: oat waffles and latte macchiato porridge. The mixture of warm oats, freshly brewed espresso and foamed milk, sprinkled with a few nuts or with granola, puts you in a good mood on a cool autumn morning and warms you from the inside. If you like porridge and are a coffee fan, this is probably a breakfast that you will already look forward to when you wake up in the morning. I firmly believe that mornings set the tone for the rest of the day. That's why every pleasant thought, every indulgent ritual and every particularly delicious breakfast is just so RIGHT. I was kind of raised on porridge and ate it all through my childhood and adolescence. Today, at almost 70, my mother still eats it every morning and is very fit, still working as a physiotherapist and thus for me living proof that porridge is simply good for us. It is no coincidence that so many peoples have eaten porridge every day for centuries. Porridge makes you beautiful, healthy and relaxed. This is due to its special vital nutrients. Biotin and zinc ensure full, beautiful hair, healthy skin and strong nails. Its silicon content tightens the connective tissue and protects against cellulite. Its B vitamins strengthen the nerves and improve our mood. And its fiber ensures good digestion and a healthy gastrointestinal system – which in turn calms the nerves and strengthens the immune system.
I know that some people don't really like the consistency of porridge – but I'm in good spirits that my latte macchiato porridge can convert some of them. It already worked for my husband. He likes porridge now. But only in this variant.
And now my question for you: what's your perfect breakfast? Let me know in the comments below!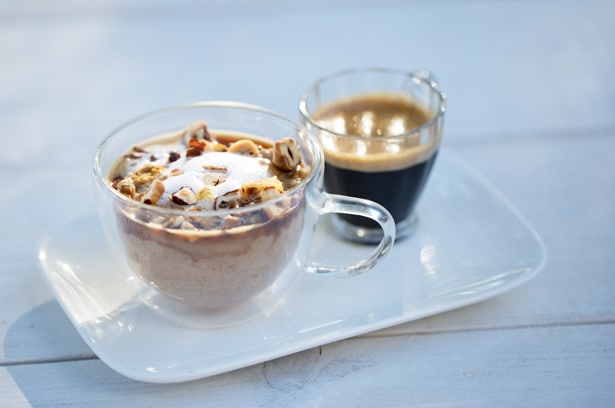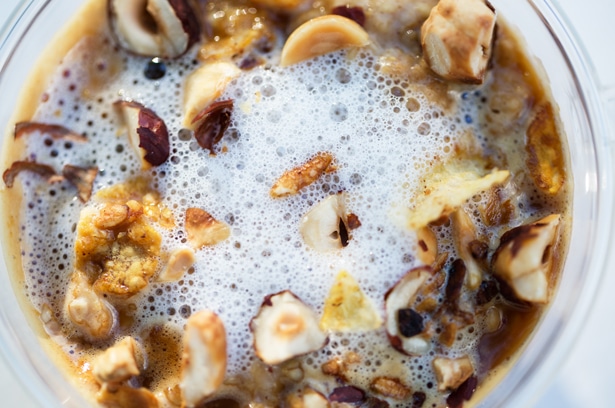 LATTE MACCHIATO PORRIDGE
Instructions
Put the rolled oats and 300 ml of the oat milk in a saucepan and bring to a boil. Add cinnamon and salt, reduce the heat and let thicken while stirring for about 2 minutes.

Heat the remaining 100 ml of oat milk in a separate saucepan and froth up with a milk frother. Brew the espresso.

Divide the porridge into two bowls, pour espresso over them and stir in gently. Serve hot with frothed milk, a teaspoon each of coconut blossom sugar and granola (or one of the other alternatives) and serve hot.
Wellcuisine-Tipp
This goes well with granola, roasted and chopped hazelnuts or chopped banana.