Our new book "Schön & Gesund" will be available in 6 weeks (see the title of the book at the bottom of the article) and I'm slowly starting to count the days until the publication date (for the mathematicians among us: there are still 39 days, 12 hours and – uh – about 6 minutes left). As you can easily see, my mood is similar to that of a child waiting for Santa Claus. For my own sake – because I'm afraid I will burst while waiting any longer – I want to give you one of my favorite recipes from the book in advance: oat waffles! It's one of the only recipes I've probably "tested" 30 times. First, because I wanted to perfect it, and second, because I just couldn't get enough of it. The book is in print now, but I still prepare the recipe at least twice a week (Thomas is shouting from the kitchen: "Tell the truth, you haven't had anything else for breakfast for weeks!"). Even the dog has become addicted to it and gets really excited when the wonderful smell of the waffles wafts through the house.
I know that some of you are waiting for this recipe, because I have already received various emails asking for a good waffle recipe. And yes, this waffle recipe is something special. This is due to the good ingredients that make it absolutely suitable for breakfast. The oat flour they are made of is a real beauty food, because it contains plenty of minerals and trace elements for a radiant appearance: Manganese keeps your hair healthy, iron strengthens the nails, and selenium makes an elastic skin. I like to eat the oat waffles with a homemade raspberry-chiam jam (see recipe below), which provides a good portion of omega-3 fatty acids for a clear complexion.
OAT WAFFLES
Ingredients
150

g

oat flour

alternatively: buckwheat or spelt flour

2

tsp

tartar baking powder

1/4

tsp

salt

180

g

unsweetened applesauce

2

eggs

vegan alternative: 1 tbsp corn starch and 4 tbsp unsweetened applesauce

80

g

virgin coconut oil

melted (plus a little more to rub the waffle iron)
Instructions
Mix all waffle ingredients together until smooth and let rest for approx. 5 minutes.

Rub the waffle iron with a little coconut oil and preheat.

Pour the dough into the waffle iron in portions and bake until the waffle is browned and easily separates from the iron. Then bake the next waffle.

The waffles taste best fresh out of the waffle iron. It goes well with fresh fruit or my raspberry chia jam (see recipe below).
Wellcuisine-Tipp
To save time in the morning, you can also prepare the waffles in the evening, let them cool down and then freeze them. Then you just have to put it in the toaster to defrost it in the morning - and enjoy.
If you don't have a waffle iron, you can also bake small, thick pancakes from the dough in the pan.
RASPBERRY CHIA JAM
Ingredients
200

g

raspberries

fresh or thawed

2

tbsp

chia seeds

3

tbsp

maple syrup

grade A
Equipment
food processor or hand blender
Instructions
Puree all jam ingredients in the food processor or with the hand blender.

Pour into a screw-top jar, close it and let it soak in the refrigerator for at least 2 hours (or overnight).

The jam can be kept in the refrigerator for about 5 days.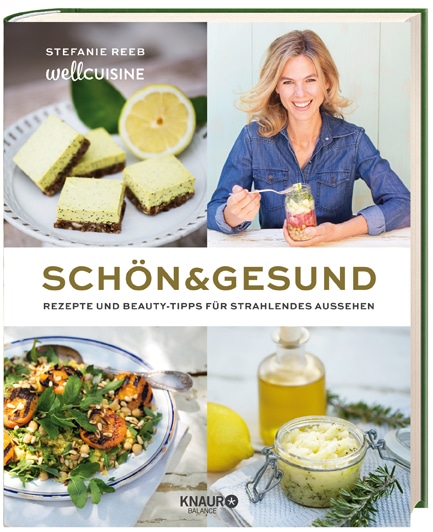 And this is what our new book looks like. It is now available for you to order.