For the last few years I have made it a habit to write about the years' numerology in January. As a quick reminder: in 2020, a year with the number 4, the numerologic topic was about training your neutral mind to stay balanced in challenging situations. Not so easy in a year of the pandemic, when everything around us went into panic mode. The year 2021 with the number 5 confronted us with our human body and with physical freedom and limitation. Appropriate for another year of the pandemic, in which we dealt with health issues as well as many physical limitations like travel warnings and curfews. The year 2022 brought the topic of manifestation into our lives with the number 6. It brought up the question if we are conscious creators of our reality or if we unconsciously create situations and relationships that we may not like. Read more about the basics of numerology and the year 2020 and 2022.
Now the year 2023 has dawned and with it the number 7 (2 + 0 + 2 + 3 = 7). I've been looking forward to this year for a while as 7 is my favorite number in numerology. It stands for spirituality, deep insights and self-reflection. Unfortunately, numerology is not a predictor of the future – that is, the number 7 will not bring us spiritual depth by itself this year – rather, it articulates an issue that we need to confront. We can do this consciously and benefit from the energy of the year, or we can do it unconsciously and feel the challenges and downsides of the year.
A year with the number 7 gives us the task of living more consciously and bringing more spirituality into our everyday lives. On the positive side, this can lead to deeper insights and an exploration of our spiritual side. The downside of a year 7 is that if we remain unconscious it can foster anxiety and confusion.
But what does it actually mean to live more consciously?
There is probably hardly any other expression that is used so often and yet always remains as vague as "living consciously". Perhaps we can approach its meaning by understanding what it is not. You too have certainly had phases in your life in which you were speeding through your days and distracted yourself in the few free moments instead of listening inside. During these times you probably stopped hearing the subtle undertones of life, didn't fully charge your batteries, and lost touch with yourself or the people you care about. Maybe you have created life situations that you didn't like at all, but didn't have the overview or the energy to change them.
Only through consciousness we can become the creator of our own reality, connect with our soul and thus get back into the flow of our own life. Therefore we need to regularly pause to ask ourselves how we are doing and to reflect on our choices, our relationships and our habits.
Awareness is a choice
Living consciously is always a choice. After all, it's easier to just react to what's happening outside. It's easier to rush through life at full speed. It's easier to blurt out your words without thinking. It's also easier to let your thoughts run free, no matter how bad they let you feel. Being conscious, on the other hand, is more difficult and requires more effort and, yes, more consciousness ;–). Of course it's harder to consciously stop a thought processes that we know is not good for us. It's harder to be silent until we find the right words. It is harder not to react immediately, but to react carefully. Therefore awareness is always a choice. One that we have to make anew every day.
Consciousness makes spirituality possible in the first place
I know that many people think of flowing silk scarves, weird esoteric practices and incense sticks when they hear the word spirituality. In truth, of course, spirituality has nothing to do with any of this. Spiritual accessories or practices do not constitute spirituality. Of course, neither is everything spiritual that pretends to be.
For me, spirituality means being connected to your own soul and thus also connected to everything that exists, the visible and the invisible. And it means to accept that there is a divine, life-giving force that we are a part of.
If you want to bring more spirituality into your everyday life, you have to learn to listen, to surrender to silence, to do nothing and to be receptive. In meditation and in stillness, we lose our form. And in this formlessness we feel our inner truth.
Bruce Lee, whose personal life purpose number was 7, said: "Empty your mind, be formless. Shapeless like water. When you put water in a cup, it becomes the cup. You put water in a bottle and it becomes the bottle. You pour it into a teapot and it becomes the teapot … Be water, my friend."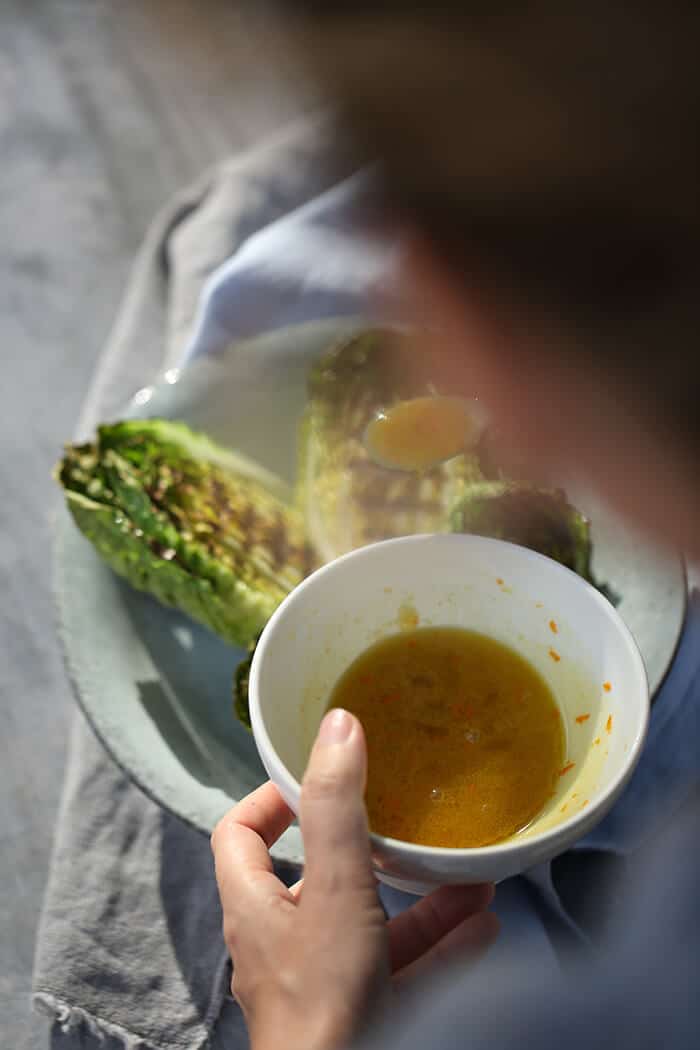 My recipe of the week
For me, eating and cooking have a lot to do with consciousness. Because the right choice of food and the way it is prepared have a strong influence on our feelings and our energy. When we nourish ourselves with vital food that has been lovingly prepared, we consciously raise our energy to a higher frequency. Therefore, preparing food can also be a spiritual act.
I like to think about the energetic effects of food. In the cold winter, warm food is a good choice. That's why I like the idea of lightly grilling my beloved salad so that it's slightly warm and gets that delicious barbecue flavor. Grilled mini romaine lettuce with a simple orange dressing tastes so good that Thomas and I have hardly eaten normal salads anymore lately.
However, the preparation MUST be done in a grill pan. Alternatively it can be prepared on the barbecue. In this case you have to  possibly shorten the times a little, since the barbecue is hotter than the pan.
And now my question to you: Have you ever grilled a salad? Or do you intend to do so? I look forward to your comments below!
Grilled salad with orange dressing
Instructions
Stir together all the ingredients for the dressing in a bowl so that the watery and oily components combine smoothly.

Roast the pine nuts in a pan without oil, then set aside.

Halve the mini romaine lettuce lengthways. Do not cut off the stalk completely, otherwise the lettuce will fall apart. Heat a grill pan (you can't do this with a normal pan!) and rub with olive oil. Place the lettuce halves cut-side down in the skillet and sear until brown grill marks appear on the surface, about 3 minutes. Turn and sauté for about 1 more minute.

Arrange on plates, drizzle with the dressing and serve sprinkled with toasted pine nuts.
Wellcuisine-Tipp
The salad can only be prepared in a grill pan or on the barbecue (the latter may speed up the times as it is hotter). You can't use a regular pan as the result will be very different.