Our blog is 7 years old this year (editor's note: refering to the German version of the blog) and so much has happened in that time. We've been through ups and downs in life and the blog has always been by our side. Thomas and I started blogging because we just felt like it. For us it felt creatively inspiring to deal with food, recipes, food photography and design. And then you came, readers of our blog, and suddenly there was a new dimension, an exchange, a togetherness, a community. Something you can't even plan – a relationship. And then I developed the recipes not just because I felt like it, but because I wanted to share them with you. Thomas took his photos because he wanted to show you what he saw. Over the years, a sense of community has developed between people who have mostly never met, often live far away from each other and yet share a common passion for good food and a good life.
I'm rather old-fashioned, so if you had asked me 7 years ago if it's possible to have deep conversations and connections with people through a website, I would have said straight away: never! This blog proved me wrong. When my mother was still alive, she once said to me, "Reading the comments on your blog makes me feel so safe in a community of lovely and wise people." And yes, I feel the same way. I am always deeply touched, inspired and often just have to laugh out loud when reading your comments. And it doesn't matter if it's a short message about a recipe, or a deeper insight about a topic – it is always the depth and the trust that touches my heart. I could tell you so many stories. For example about the reader who reported about a serious illness and then a short time later asked to delete the comment again (which of course we did) because her family didn't know about it yet. Or I could tell you about sharing moments of great loss after reporting on my mother's serious illness and death.
Many years ago, when Thomas and I were doing our yoga teacher training, I once said to him: "I want to create a place where people can feel safe and relax. Where they are inspired by health topics and nourished by good food for body and soul." At the time, I would never have dreamed that this place would be digital. And I never thought that it would become such a great source of inspiration, not only for others but also for myself. A place where only the owner lives is a castle. A place where curious, relatable, inspired people meet is my personal Shangri-La, and that's what this blog is for me.
That's also the reason why I am so happy about every of your comments. Because when I write, I speak to you. When I come up with recipes, I include you in my considerations. And then it's nice to hear your feedback in the comments. I know that it doesn't seem quite normal to comment on an article "on the internet". I rarely do that either, but you should know that we gratefully accept every comment, and that very often just one comment has ensured that I still took the time, even in a stressful week, to write a new post where I would otherwise have said: oh, let's just leave it!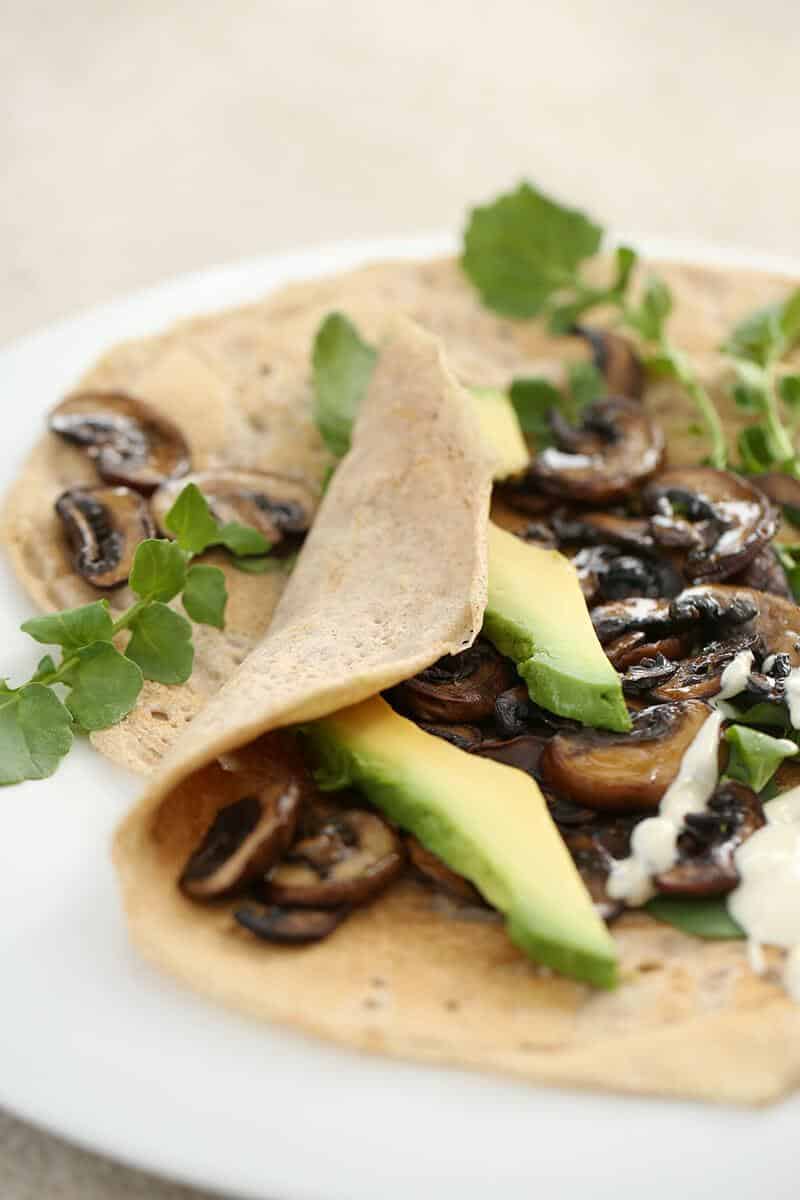 Our new Wellcuisine home
For the last few months, I have been cleaning, ventilating and tidying up our digital Wellcuisine home (aka this blog) with a small team. It looks a little different here and there, and functions have been added to make cooking and enjoying even a bit easier for you. For example, you can now easily adjust the quantities of our recipes to the number of people you want to cook for. And if you have a celery root lying around at home that absolutely has to be used, then you can enter the word "celery root" in the search bar at the top of our page and all the appropriate recipes will be displayed (the same applies, of course, to all other types of ingredients). I hope that you will feel comfortable in our new home and that you will continue to take a seat at my virtual kitchen table to eat well, laugh, maybe shed a little tear and just be together.

My recipe of the week
This week I have a recipe for you that Thomas and I very often eat for dinner: buckwheat crepes with mushrooms. The crepes are very easy and quick to prepare with just a few ingredients. The mushrooms don't need much work either, and everything else is negotiable. Since we had some leftover tahini yoghurt dressing from the roasted celery root, we used it for the filling of these crepes. And it tastes sensationally good. So if you want to kill two birds with one stone, prepare both dishes within a week and make a larger batch of the dressing at the same time. Avocado slices make the crepes a little richer, but can be left out if necessary. A few leaves of arugula or watercress freshen things up a bit and add that pleasantly pungent flavor note.
And now my request to you: please write us a comment under this post! I look forward to reading from you!
Buckwheat crepes with mushrooms
Ingredients
For the buckwheat crepes:
For dressing and filling:
Instructions
Preheat the oven to 100 °C top and bottom heat. Place a flat plate in the oven. This is where the crepes will be kept warm later.

Mix all the ingredients for the crepes.

In a bowl, mix together the yogurt, tahini, lemon zest, lemon juice, water, and salt until smooth. That's the dressing. Wash the rocket or watercress, spin dry and set aside. Drizzle the avocado slices with a little lemon juice and set aside as well.

Heat a large pan, add 1 tsp OIL. Only when the pan is really hot add 1 ladle of the crepes batter and immediately swirl the pan in a circular motion so that the batter is evenly distributed in the pan. Bake for approx. 1-2 minutes and as soon as the dough pulls away from the edge of the pan, turn with the spatula and bake for another 1-2 minutes on the other side. Turn off the preheated oven and keep the crepes warm in it. Bake the batter into crepes.

For the mushrooms, heat the olive oil in a large pan and sauté the mushrooms, stirring, for about 3 minutes until the mushrooms have shriveled up a bit. Add soy sauce and stir well. Sauté for a further 5 minutes until the mushrooms are lightly browned.

Now fill the crepes: cover one half of each crepe with mushrooms, sprinkle with rocket/watercress, top with avocado slices and finally drizzle with dressing. Close the crepes and serve immediately.