For years, people have been talking about self-love everywhere (including here). And as beautiful as it is, I know that it causes a lot of stress for some of us. If we don't feel great, for instance, it can be difficult to hear that we can only be happy / successful / healthy if we love ourselves. That's why I like to break this big mountain called self-love a bitt down to the level of a hill that you can climb without mountaineering equipment. Because I believe that self-love begins in everyday life. For example in the way we eat. A good, healthy and enjoyable diet is the personified friendliness towards ourselves. You have probably already had the impression that a friend's meal, which was lovingly prepared for you, felt like a warm hug. And yes, we can cook for ourselves in the same way. I often hear that people don't like to cook for themselves because they think "it's not worth it". However, if we want to turn our diet into an act of self-love, then we have to think about it very differently. Because it's not only worthwhile to cook for ourselves, it is essential.
When I say cook, I don't necessarily mean that we have to use a stove. Self-love can be quick and warm to the touch, even when we eat cold. It's more the attitude that counts than the time we spend in the kitchen. Some water filled in a beautiful glass and refined with a splash of lemon can be a greater sign of love than an elaborate, but heartlessly cooked meal.
In my opinion, simple and quick recipes that are healthy and tasty are "friendly" recipes that make our everyday lives more beautiful and loving. And one such recipe is my 5-minute hummus. It is prepared in a flash and works as a delicious snack with some raw vegetables (e.g. carrot sticks, paprika strips, etc.) or together with oven vegetables as a filling meal. You can store it in the fridge for a few days, ready-made and tightly closed, so that it is always there for you when you are hungry.
These little recipes are self-love in action. And even if they don't change your attitude towards yourself from one day to the other, they will leave an impression that becomes more and more noticeable over time: the feeling of being well nourished and cared for. The trust that arises when we consider ourselves important. And yes, those little moments of well-being and self-confidence are the stuff that self-love is made of. Simple, right?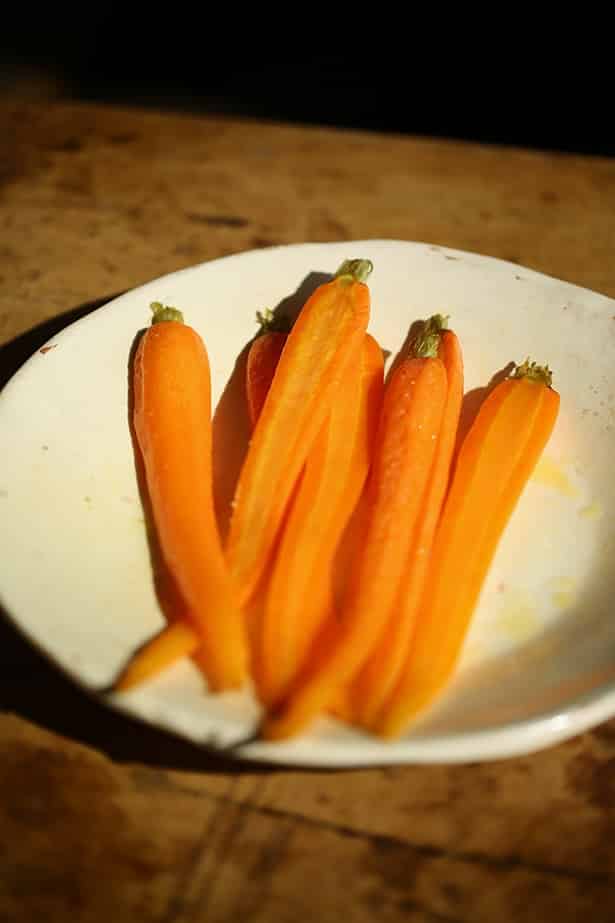 Food Pharmacy Chickpeas
Chickpeas are largely made up of insoluble fiber that travels through the digestive tract unchanged until it reaches the colon. On their way, they stimulate the intestinal peristalsis to cleanse the intestine and thus maintain a healthy gut environment. In the last section of the intestine, the bacteria break down the indigestible fiber into short-chain fatty acids, which are used by the intestinal wall as a source of energy. Incidentally, while the good intestinal bacteria break down the fiber, it is quite normal for light gases to develop. Normally, however, these should hardly be noticeable. If you develop severe gas after eating legumes, this indicates that either the food was not chewed well enough and too few digestive enzymes were produced to digest the food. Or it can indicate a general digestive weakness. In this case, legumes should only be consumed in small quantities and the intestines should be cared for and built up, for example through a balanced diet with lots of vegetables and sufficient bitter substances.
And now my question for you: how do you show yourself some love? And did you ever consciously practice self-love through cooking for yourself? I'm looking forward to your comment below this post.
5 MINUTE HUMMUS
Instructions
Put the chickpeas in a sieve and rinse thoroughly with clean water.

Put together with the other ingredients in a food processor and puree until creamy.

Serve drizzled with a little olive oil.
Wellcuisine-Tipp
Goes well with roasted carrots from the oven. To do this, preheat the oven to 200°C top and bottom heat. Peel approx. 250 g carrots per person (as a whole meal) and cut lengthways in half. Marinate with olive oil and salt and place on a baking sheet lined with baking paper. Bake for 10–15 minutes, depending on the thickness of the carrots, until the carrots are al dente.