When Thomas and I met 15 years ago, we went through a kind of make-love-not-war-flower-power-hippie-gipsy phase in our infatuation. We listened to Chet Baker, Nina Simone and Nick Drake – on vinyl of course – walked through Berlin in long leather coats, made little trips to the countryside in Thommi's 1970s Mercedes, drank cider in forest clearings and tea on flokati carpets. We wrote long love letters, moved to the Cote d'Azur with a suitcase each, rented a writer's apartment by the sea, drove through wintry Provence and went to jazz concerts in a small pub in the evening. We did photo projects together, painted over photographs, exhibited Thomas's pictures.
Here are some pictures of that time:
When we were in Berlin, we often went to the restaurant "Goldener Hahn" in Kreuzberg. There we sat at the bar, shared a bottle of red wine and a warm spinach salad, and listened to the music the DJ was spinning behind the bar. Sometimes I wondered what it was about that music – mostly '70s singer-songwriters – that fascinated me so much. And I always got the same answer: because it was heartfelt, powerful, because it had a message and this strong will to be free, independent, and real. Blame it on my dad, who I used to dance with in the living room, listening to "We don't need no education", but the free spirit thing felt always familiar and at the same time fascinating to me. And that's when I met Thomas, who felt the same way and – boom! – the attitude to life multiplied.
In my memory, warm spinach salad is inevitably linked to this attitude towards life. But in fact it was also fashionable in the 70s and was on the menus of every self-respecting Italian restaurant. And even today, together with the right music, a flower in your hair and freedom in your heart, this dish can make the world around you a little more colorful and bright.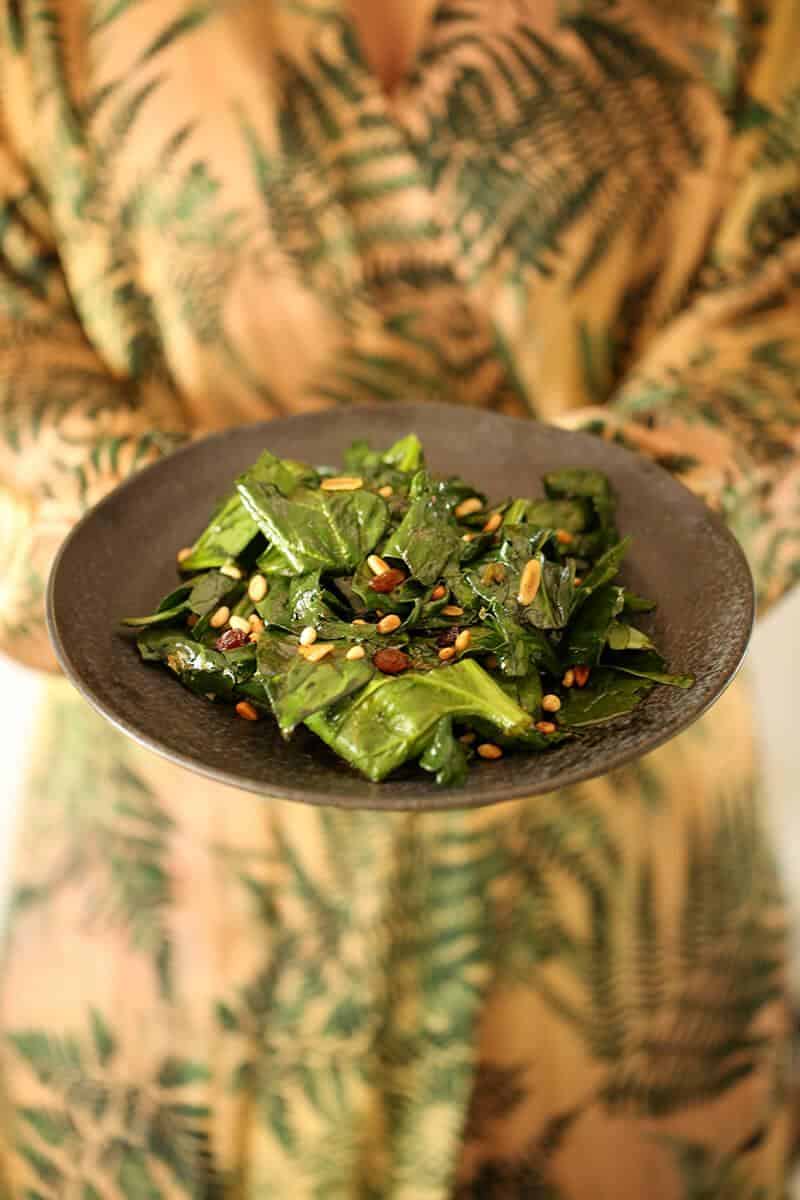 Warm spinach salad
Instructions
Heat a large frying pan and toast the pine nuts without oil, stirring, until lightly browned. Pour into a bowl and set aside.

In the same pan, heat olive oil and sauté garlic while stirring. Add the raisins, salt, chilli and balsamic vinegar and stir.

Remove the pan from the heat and add the spinach. Using two wooden spoons, toss the spinach in the warm marinade until the spinach is completely coated and just beginning to collapse slightly in the residual heat of the pan. Then immediately put on two plates and serve sprinkled with the pine nuts.