What is a unicorn salad? A unicorn salad reflects all the colors of the rainbow. It contains pink noodles. It is crunchy and soft at the same time. You can find salted peanuts in it. It makes you happy because irrational things like unicorns, rainbow colors, peanuts and pink pasta have been scientifically proven to lighten the mood.
"When someone told me I lived in a fantasy land, I nearly fell off my unicorn." (from Unknown)
This week the unicorns have piled up in my life. First I sent a friend a laughing unicorn emoticon that I had never seen on my phone instead of the WhatsApp message that I actually wanted to send. Then I came across the quote above, and finally I made this salad that practically screamed "unicorn". Maybe it was all a backlash to an article I read in one of Germany's major daily newspapers earlier this week. The author of the article headlined: "Waldorf schools promote irrational thinking". I thought: "What's the problem about that?"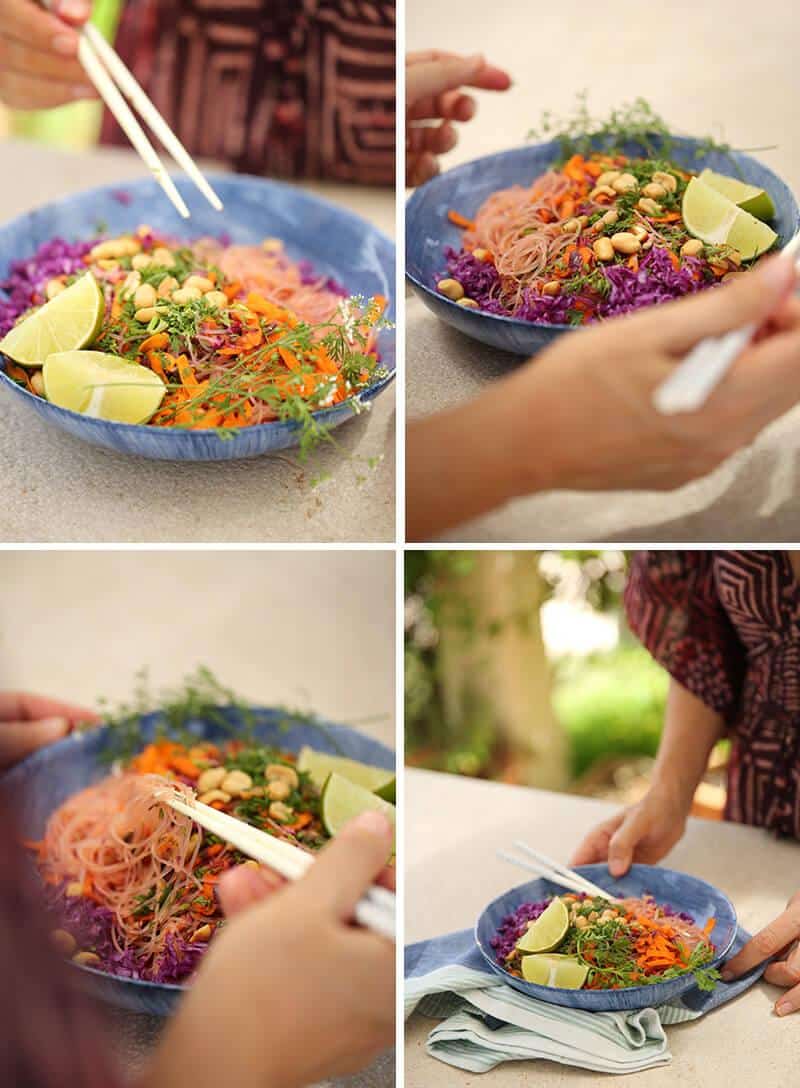 I read the article to Thomas. In his Waldorf critique, the author referred to schools teaching such concepts as spirituality, the existence of an "unseen" world, and the idea of karma. So more or less all topics that seem totally normal to Thomas and me. Afterwards I couldn't help but make a unicorn salad for lunch. Because I think we need more imagination and irrationality (if you want to call it that) and not less. After lunch I started googling the meaning of unicorns. I found out that unicorns have been spiritual power animals since ancient times, standing for freedom, purity and innocence. They are a symbol of staying true to yourself, freeing yourself from constraints and going your own way, even if that means swimming against the tide.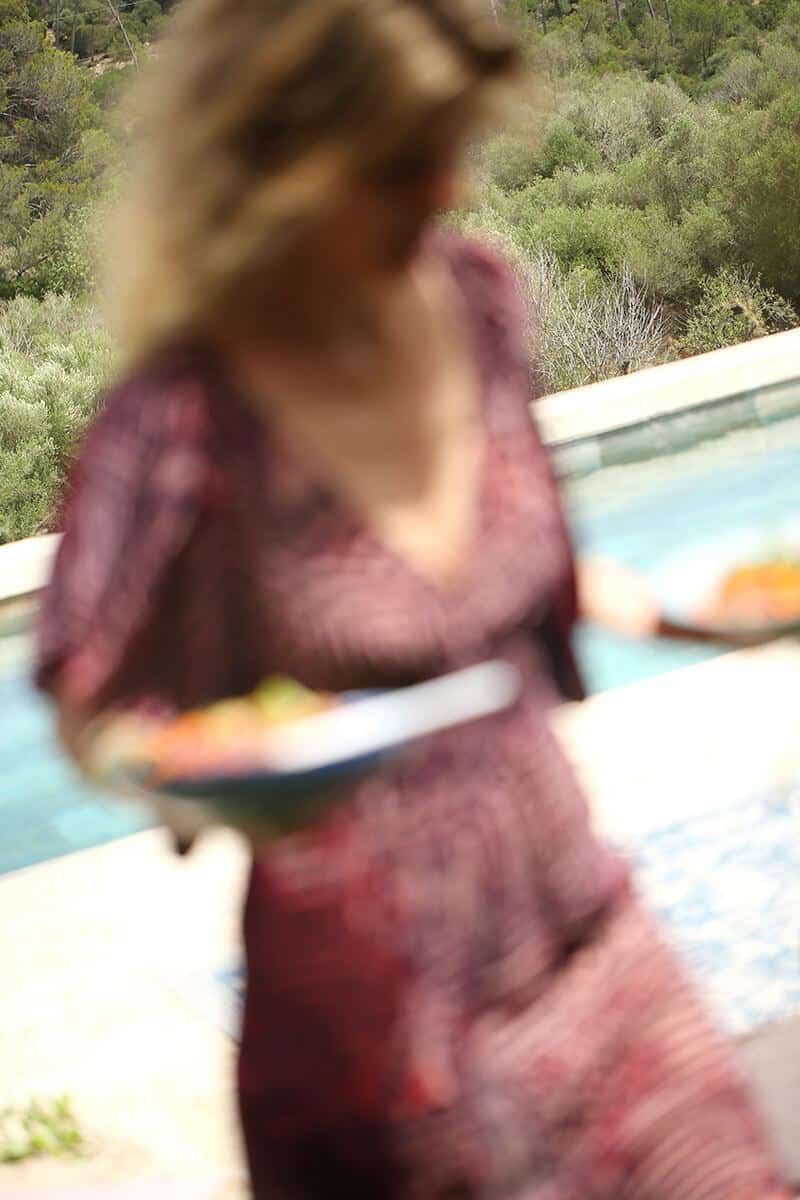 Incidentally, Hildegard von Bingen mentioned the unicorn in her medical book "Physica". She wrote: "The unicorn is more cold than warm, but its strength is greater than its warmth, and it eats pure herbs, and when it walks it makes little leaps." She even describes various healing recipes using parts of the unicorn – for example its liver, that you can use to male ointments that should cure all kinds of skin issues. I found her comments on how to catch a unicorn very interesting. According to von Bingen, unicorns don't like men. So when a unicorn sees a girl, it wonders why she doesn't have a beard. If several girls stand together, the unicorn is so confused that it is easy to catch.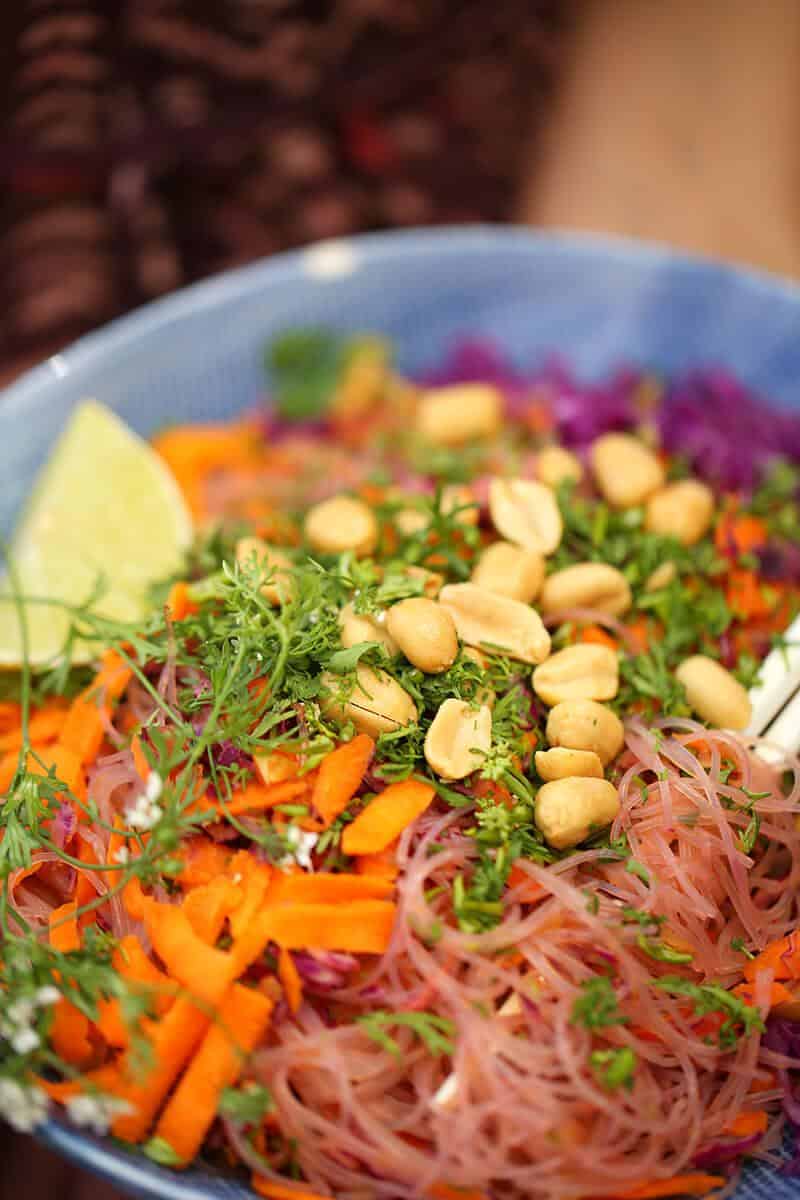 One source mentioned that the mythology of the unicorn probably stems from the fact that the first human drawings were one-dimensional and that a side view of an ox with two horns was accidentally interpreted as a unicorn. However, I find this explanation so depressing and badly rational that the whole magic is lost and I wonder whether the author of the Waldorf article is also behind this thesis.
But rather than getting mad about it, I make a unicorn salad for lunch and switch on the rainbow.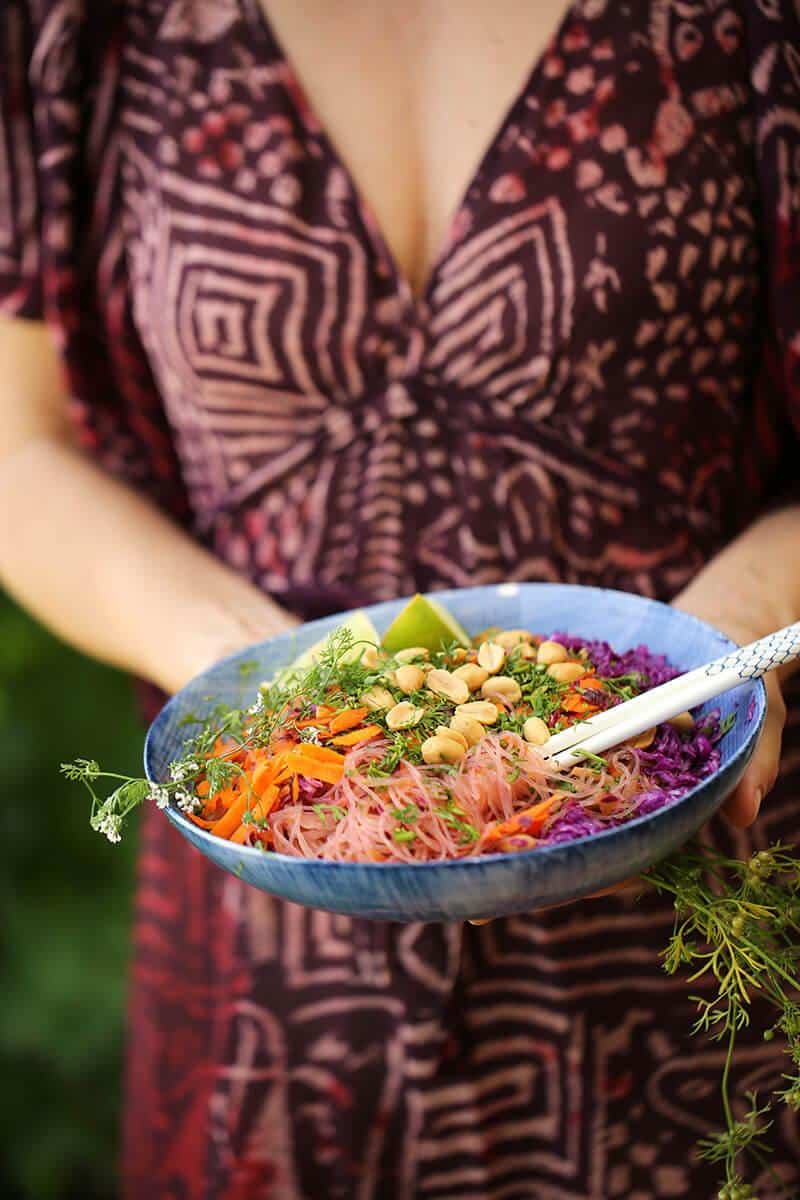 My recipe of the week
You could have called this unicorn salad glass noodle salad, but that wouldn't have been irrrational enough. I like glass noodles made from pea starch best, or I recently found some made from sweet potato starch in an Asian shop and was extremely enthusiastic. But this salad also tastes wonderful with normal rice noodles. Its secret lies in the beautiful colors that come from carrots, coriander and red cabbage, which also gives the pasta its pink glow. Strong colors in vegetables always mean that they contain lots of vital substances, which make the salad interesting on a purely physical level too. The secondary plant substances anthocyanins, which have a positive influence on our blood and have anti-inflammatory, antibacterial and antioxidant effects, are responsible for the intense color of the cabbage. Incidentally, red cabbage was first mentioned in the writings of Hildegard von Bingen – and so the semicircle of the rainbow closes again. The dressing gives the salad the necessary kick and a very clear Asian touch that I could lie down in like on a bed of soft moss in a forest clearing at dusk. And wasn't there a unicorn scurrying through the thicket?
And now my question to you: do you think the world needs more unicorns? Then I look forward to your comment below!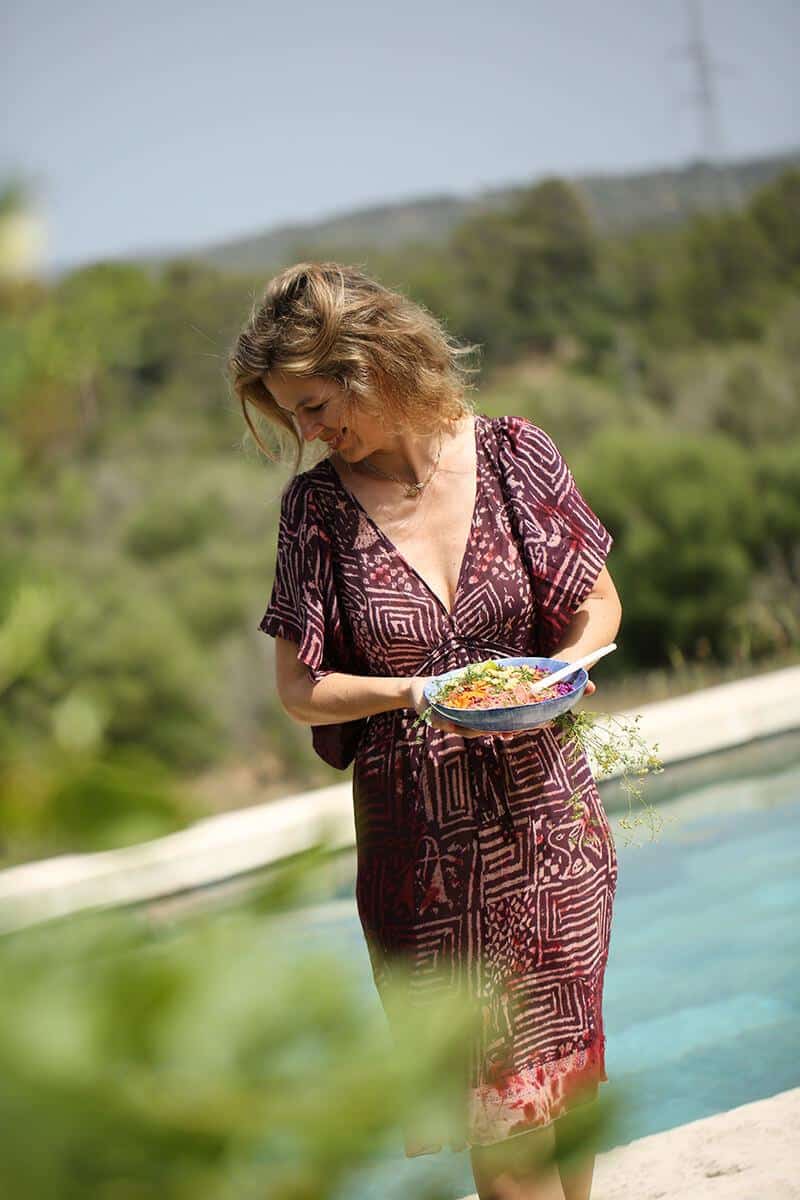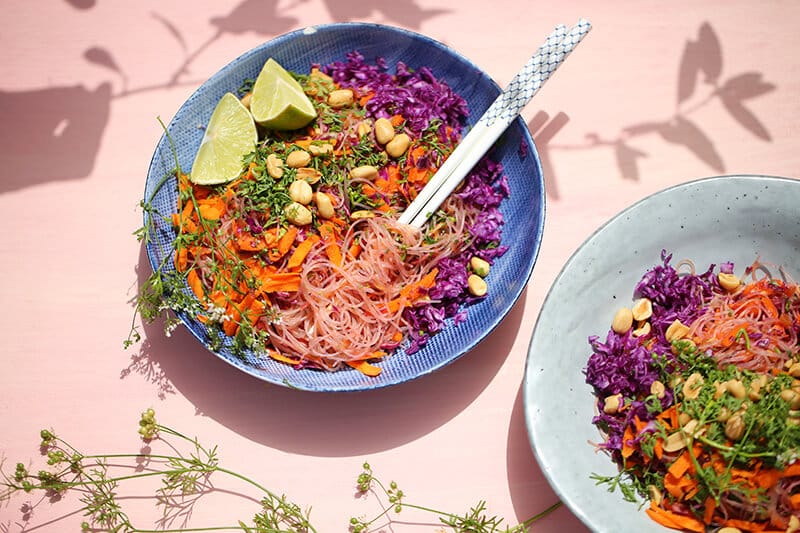 Unicorn salad
Instructions
For the dressing, heat coconut oil and sauté onion and ginger. Remove from heat and add maple syrup, lime juice, soy sauce, sesame oil, and salt.

For the salad, soak or cook the glass noodles in hot water according to package directions. Drain, rinse with cold water and cut a little shorter with kitchen scissors (otherwise the noodles will be very long and difficult to eat).

Mix the shredded red cabbage, carrots and coriander leaves in a bowl. Mix in the glass noodles, dressing and peanuts and serve.