Summer is known in our house as "the season of cold soups". Because as soon as the days get longer and the temperature rises, we have a cold soup for lunch at least twice a week. Cold soup is ultimately a salad in liquid form, because it is prepared raw and is bursting with vital nutrients. At the same time, it is ready as quickly as a smoothie and that is quite sensational for a main meal. Add a slice of bread and lunch is served.
I try to vary my cold soups again and again, so it's not getting boring. Since cucumbers are particularly suitable for preparation, I thought: why not try out some kind of tzatziki soup? I can't claim that my flashes of inspiration always lead to a fantastic recipe, but in this case, imagination and reality fit together seamlessly. Tzatziki soup is really yumm!
Cucumber: the water bottle of our garden
It's good to eat cucumbers quite frequently in summer, because our body needs a lot of fluids in the heat, and cucumbers are the most water-rich vegetable of all, consisting of 97 percent of water. On the one hand, they supply the body with the necessary fluids and, on the other hand, they help to remove unnecessary body water (deposited in the legs, for example). This dehydrating effect is due to the cucumber's electrolytes, including sodium, potassium, calcium and magnesium, which have a regulating effect on the body's water balance.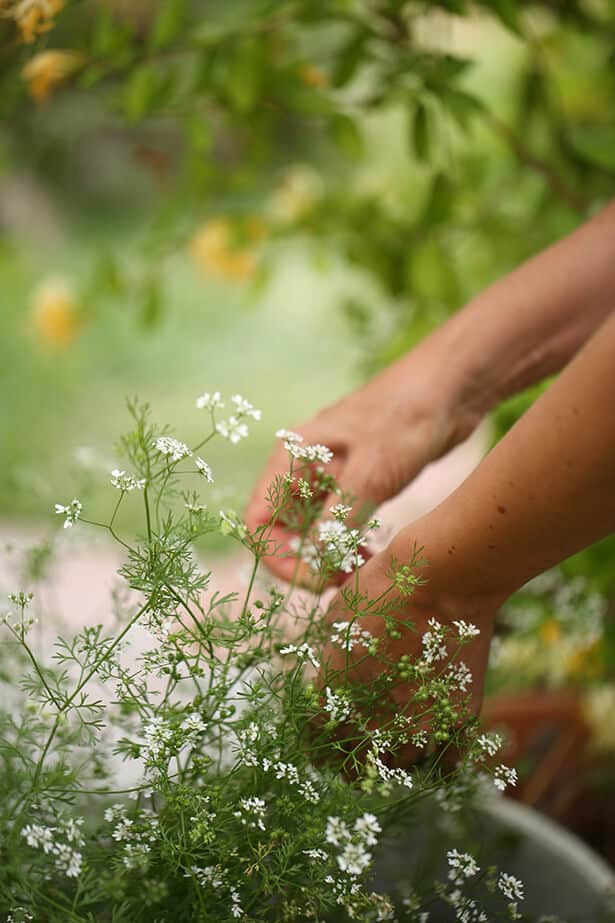 The vital nutrients in cucumber
The plant water of the cucumber contains a veritable hodgepodge of vital nutrients that can be absorbed particularly quickly and easily by the organism. After a short period in the stomach, they quickly move on to the intestine, where the bioactive substances are absorbed through the intestinal mucosa and passed on into the blood. Now they are available to the body wherever it needs them most.
The cucumber as a remedy
The cucumber has been used as a remedy in traditional medicine in many countries for thousands of years. In Indian medicine, it is used preventively and curatively in skin disorders, for example sunburn or generally against the aging process of the skin. In traditional Chinese medicine, it is used for detoxification and as a cure for diarrhea. Modern western medicine has also found out in research that cucumber has a cell-protecting and antibacterial effect, which helps to regulate blood lipid levels and counteracts the widespread disease diabetes.
And now my question for you: how do you like to eat cucumbers? And have you already made friends with cold soups? I look forward to your comment under this post!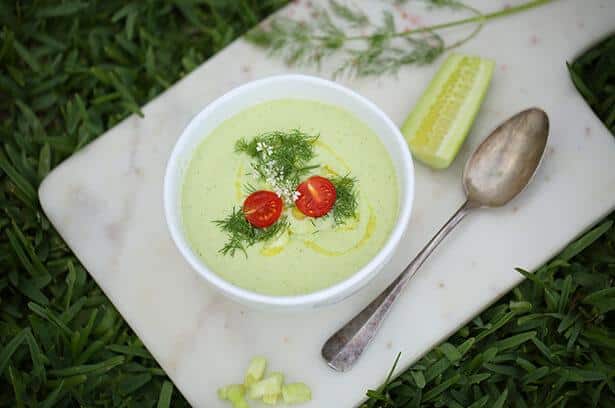 TZATZIKI SOUP
Instructions
Puree all ingredients except the olive oil and cherry tomatoes in a blender until creamy. Either serve straight away or refrigerate until ready to serve.

Fill into soup bowls, drizzle with olive oil and serve with diced cucumber, cherry tomatoes and dill.
Wellcuisine-Tipp
The soup can be prepared wonderfully in advance and kept in a cool place until it is consumed. For example, it can be prepared in the evening and taken to work the next day for lunch.