Even today, when there is a recipe for everything, there are still culinary challenges that could make one despair. For me it was the sweet potato fries. I've only ever eaten them in restaurants, where they were deep-fried and thus crispy and golden brown. One day I had the glorious idea to make sweet potato fries at home, but in a much healthier way, namely in the oven instead of in a deep fryer. Two days later, the sweet potato fries were browning in the oven and looking really good. Full of anticipation wee tried them … and were bitterly disappointed. The fries weren't crispy at all, but rather soft and limp. Of course, they tasted good, because baked sweet potatoes are always delicious – but the consistency was a complete disaster.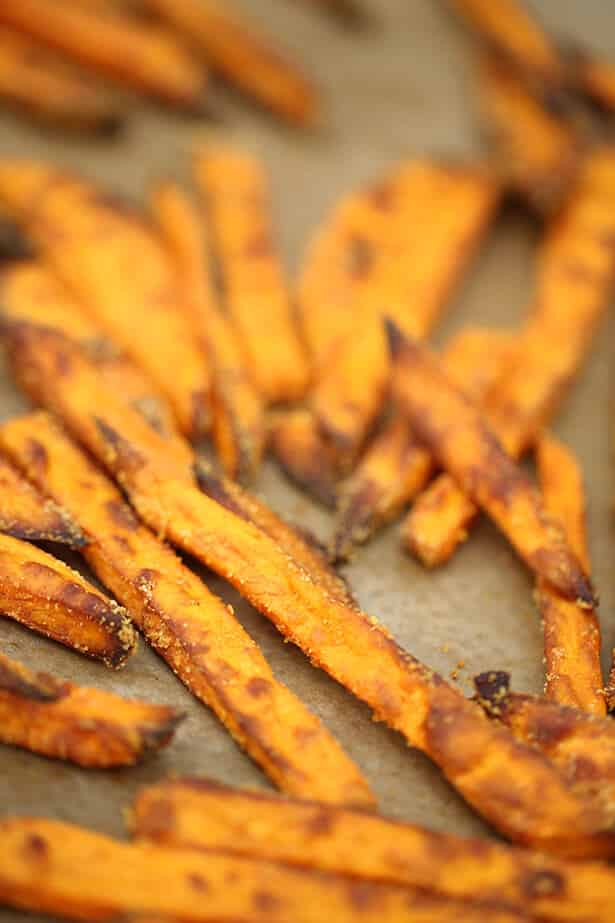 I started a series of tests. I marinated the sweet potatoes with polenta and the fries got a little better, but weren't perfect yet. Next time I added a spoonful of cornstarch: even better. Then I left out the salt and only added salt after baking: even better, as the salt draws moisture and therefore makes the fries softer. Then I switched the oven from top and bottom heat to convection, which had a drying effect – now I was really satisfied. With this method I even baked a portion of sweet potato fries that was too crispy for me because it was a little too long in the oven. But well, that's moaning at the highest level now. In any case, I am happy to have taken this culinary milestone, and now I want to share it with you.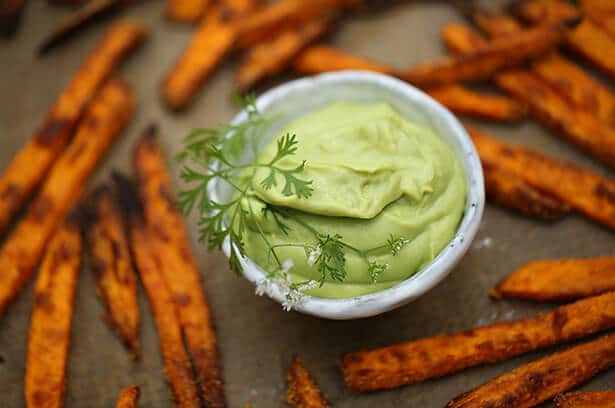 I like to eat the sweet potatoes with an avocado dip, because it compliments the sweet taste of the potato very pleasantly with its green freshness. If you want to serve the sweet potato fries as a main course, combine them with a green salad and / or a piece of grilled salmon (I recently served them with both and that was really delicious). Enojy!
And now my question to you: Do you also like to eat sweet potatoes? And how do you like them best? Leave your comment below. I'm looking forward to it!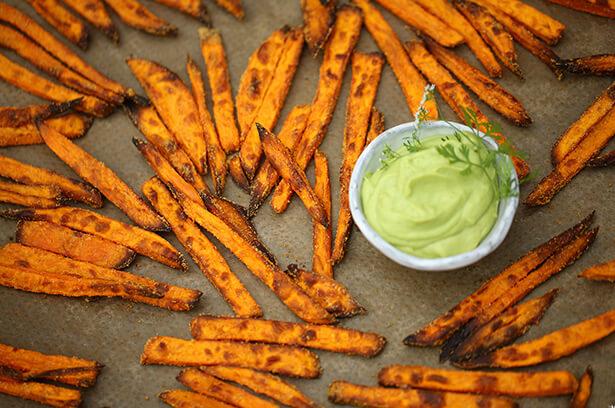 SWEET POTATO FRIES WITH AVOCADO DIP
Ingredients
For the sweet potato fries:
Instructions
Peel the sweet potatoes and cut into sticks (approximate french fries size). Transfer to a large bowl.

In a small bowl, mix the polenta, cornstarch, smoked paprika, and olive oil to a paste. Add to the sweet potatoes and mix well with your hands so that the sweet potatoes are evenly marinated with the paste.

Place the fries evenly and preferably without overlapping each other on a baking sheet lined with baking paper and bake on the middle rack for about 20 minutes. Move or turn the fries and bake for another 5–10 minutes until they are well browned. At the end of the baking time, the fries are still a bit soft, but they get crispy as soon as they come out of the oven and onto the plate. Take the fries out of the oven and season with salt.

In the meantime, prepare the avocado dip. If you don't tolerate raw garlic, you can briefly fry the chopped garlic in a pan with a little olive oil and then process it together with the avocado pulp and the other ingredients in the food processor to a fine cream. Serve the dip in a small bowl with the fries.