I've loved chocolate-coated ice cream for as long as I can remember. In any form. It started with the so-called ice cream "bombons", which I bought in the quaint Spanish bodega near my aunt's house with my first pocket money. These were ice chocolates from the large freezer in the shop, which smelled strongly of wine and cork, and at that time was still the focal point of the small town on the coast of Barcelona. Because there you bought your red wine and of course the "Bombas", which were large round water bottles that you could heave onto your water dispenser and thus have fresh drinking water for a few days. A wonderful deposit system that unfortunately no longer exists today. On the way back to my aunt's house, I strolled extra slowly through the small lanes, past blooming gardens that smelled of pine and jasmine. I turned a wider bend around the hedge, through which the neighbour's dachshund liked to break out surprisingly, frightening unsuspecting walkers to death. I ate my ice cream in peace and with great pleasure. Knowing full well that there would be nothing left in now time once I got to the house. After all, my aunt's house was always full to the roof with family visiting from Germany during summer holidays. That's what happens if you live in the south, close to the beach and have a pool in your backyard.
At that time, my aunt lived mainly in a large armchair in the middle of her living room. There she drank her Ricard without ice, read one crime novel after another and over the edge of her reading glasses eyed the hustle and bustle of her family, which mainly moved from house to beach, from beach to house and back again. My aunt hated the beach. As far as I know, she never made it further than the terrace of the little Chiringuito bar, where she sat, drinking wine, waiting for us to get back home. My aunt would much rather sit at home than on the beach, with a cigarette in hand and surrounded by her dogs, turtles and parrots. The fact that the parrots could perfectly imitate the sounds of fighting cats and thus regularly drove the dogs insane only added to the anarchic mood of the house. My grandmother, my aunt's mother, tried every summer to bring some structure into the wild household. She always succeeded for some time, but not without one or the other dramatic argument, which often ended with either my aunt or grandma packing her suitcase and announcing her departure in front of the assembled crew. The whole thing then usually ended at the garden gate, where a family member regularly managed to calm the refugee and maneuver her back into the house. My grandmother then announced that she would definitely not be coming back next summer, which the rest of the family only acknowledged with a little smile. Because one thing was certain: my grandma would come again. Just like the rest of us.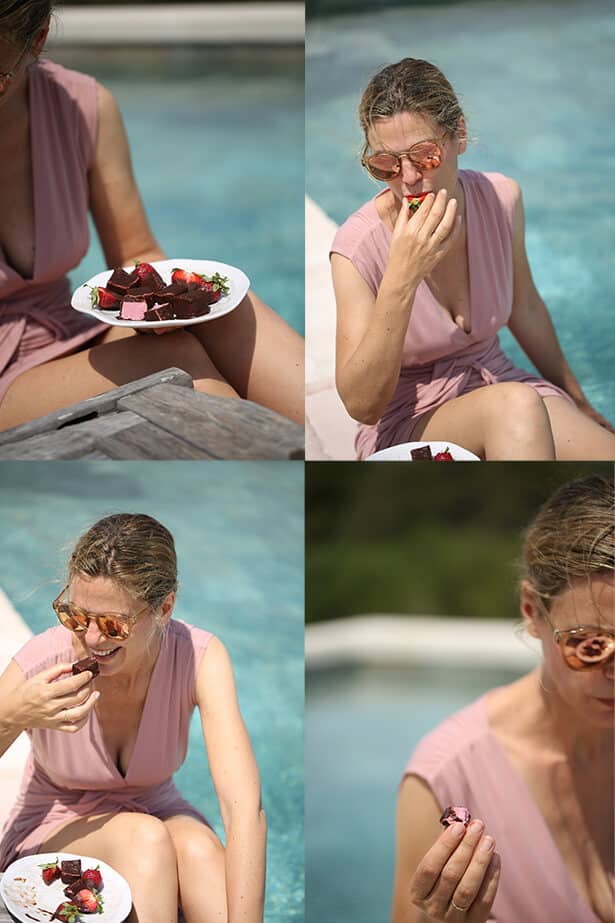 My aunt passed away many years ago. But the stories about her, her house, her animals, and her crazy jazz musician husband who sometimes played with Miles Davis still make me smile. And ice cream "bombons" are part of this beautiful, anarchic childhood memory forever.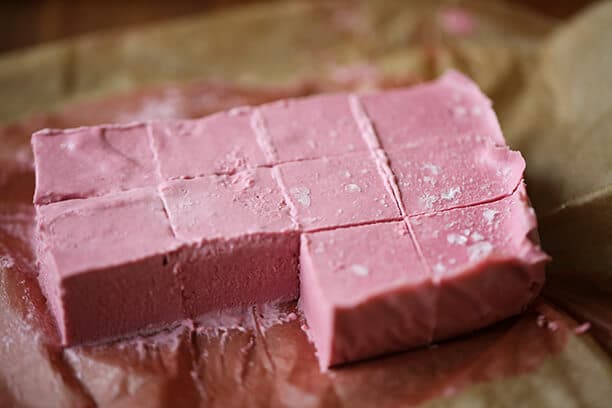 The recipe of the week
I made the ice cream confectionary with a filling of strawberry ice cream, because we are currently getting such beautiful strawberries on our farmers market. The strawberry ice cream is made quite simply, but requires a powerful blender so that the structure is really fine. So it is better to puree a little longer! Then the ice cream is processed further without an ice machine, namely simply filled into a Tupperware jar and frozen for a few hours. Then comes the only part that needs a little practice: the ice cream has to be coated with a homemade dark chocolate. Why homemade chocolate? Because it becomes more fluid as it melts and the ice is so much easier to coat. However, if you prefer to use store-bought chocolate, add at least 1 tablespoon of coconut oil to dilute it. So you cut the strawberry ice cream into cubes, pour the cooled (but still liquid) chocolate into a deep plate, place each ice cube in the chocolate with two tablespoons and use the spoons to completely coat the ice cream with a layer of chocolate. Then the confectionary can be eaten straight away or goes back to the freezer until serving.
And now my question for you: do you also have a weakness for chocolate-coated ice cream? And do you have a fond childhood memory of it? I look forward to your comment under this post!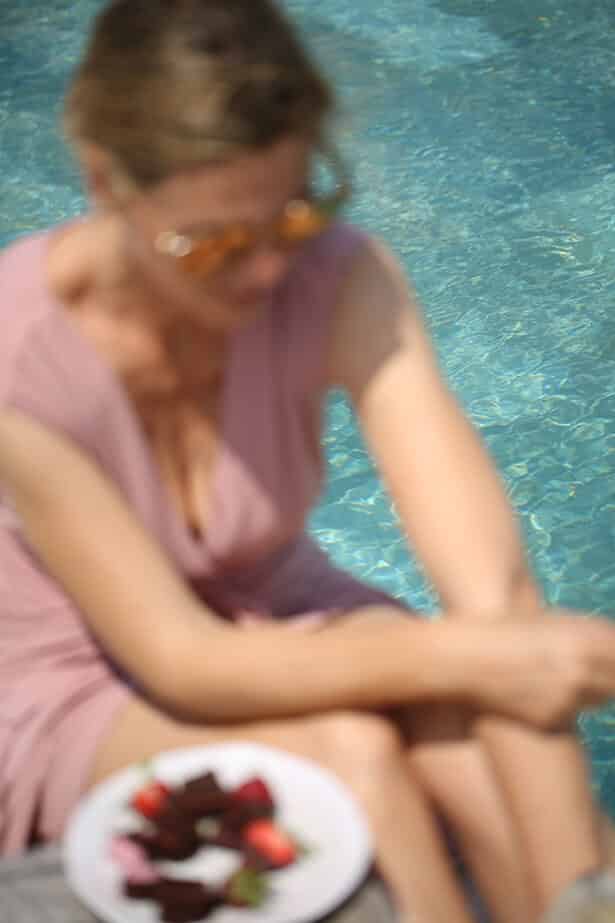 STRAWBERRY ICE CONFECTIONARY
Ingredients
For the strawberry ice confectonary:
Instructions
Put the cashew nuts for the strawberry ice cream in a bowl and pour hot water over them. Let it soak for 30 minutes. Then drain and rinse with fresh water in a sieve and drain. Puree together with the other ice cream ingredients in a blender and use the highest speed for 2-3 minutes.

Line a 15 x 25 cm Tupperware jar with baking paper and distribute the ice cream evenly in it and freeze for at least 6 hours.

For the chocolate layer, melt cocoa butter in a water bath. Mix with cocoa powder and maple syrup until lump-free. Put in a deep plate and let cool lukewarm.

Take the strawberry ice cream out of the Tupperware box along with the baking paper. Place on a cutting board and cut into 3 x 3 cm cubes with a sharp knife and remove from the baking paper. Use two tablespoons to roll in the chocolate and place in a larger Tupperware box freshly lined with baking paper. Either serve immediately or refrigerate until ready to serve. Take out of the freezer 10 minutes before consumption.