Last night, while I was sitting in an Italian restaurant with a friend, my husband saw a television report about happiness at home. This morning he came into my study with a piece of paper in his hand and wanted to share his notes with the most important findings from the show. Shortly afterwards we were already deeply involved in a conversation about how we define happiness ourselves, what makes us happy and what doesn't, and what we have done for our happiness in recent years. In doing so, I realized that first I have a great husband and second it somehow makes me happy to think about happiness. Try it:
Happiness sometimes comes incognito.
Most of us have a very specific idea of what happiness is (and what is not) and often we do not even notice that happiness has many facets and sometimes comes incognito. For example like this:
when we are positively excited or stimulated.
when we feel a strong motivation to do something.
when we feel inspired.
when we are in the flow and completely absorbed in the moment.
Happiness lies in the eye of the beholder
.
I am not particularly fond of the many happiness guides that try to teach you happiness through various exercises. But I still believe that happiness can be trained like a muscle. Because mostly happiness is a question of perspective and your own assessment. Usually we have a tendency to find the one area in our life that we are unhappy about and stare at it until it (hopefully) disappears on its own. Unfortunately, problems have a stupid habit of getting bigger if we focus on them. For me, happiness is when we manage to focus our attention on what is beautiful and good in our life.
Happiness is a natural state.
Happiness is actually nothing special, but a completely natural state. So we don't have to look for happiness, but we have to stop putting obstacles in its way. During my yoga teacher training, I meditated daily for many months. It struck me that I automatically felt happy when not thinking about anything in particular. A meditation teacher once said: our happiness is like a cork that we pull under water with our thoughts and worries. If we let go of it, it will automatically rise to the surface. Being still and breathing deeply for a few minutes a day is a very small price to pay for a very good feeling.
Happiness is unconditional.
Happiness researchers say that money and things don't make you happy. I would go a little further and claim that there is nothing in the world that can make us happy in the long run … except ourselves. We do many things in life because we expect them to make us happy. But we could just as easily be happy now, without doing anything in particular. The greatest freedom in life lies in the truth that we can choose our own happiness, no matter what others think of it, no matter what else is going on around us, and no matter whether we have already achieved our goals or not.
Find happiness in small things.
The greatest happiness is often found in the small things of life. Drinking tea in the morning sun, going for a walk with a person you love or preparing a delicious meal. Homemade bread is high on my happiness list. I like fresh bread in all possible forms, and this oregano bread has a Mediterranean touch and a nice, sunny aroma, which even now, when it's still cold, stokes the anticipation of warmer days. And exactly this thought, this taste, this scent and this feeling – that's happiness.
And now my question for you: do you have a few tips and tricks for being happy? Then leave a comment below!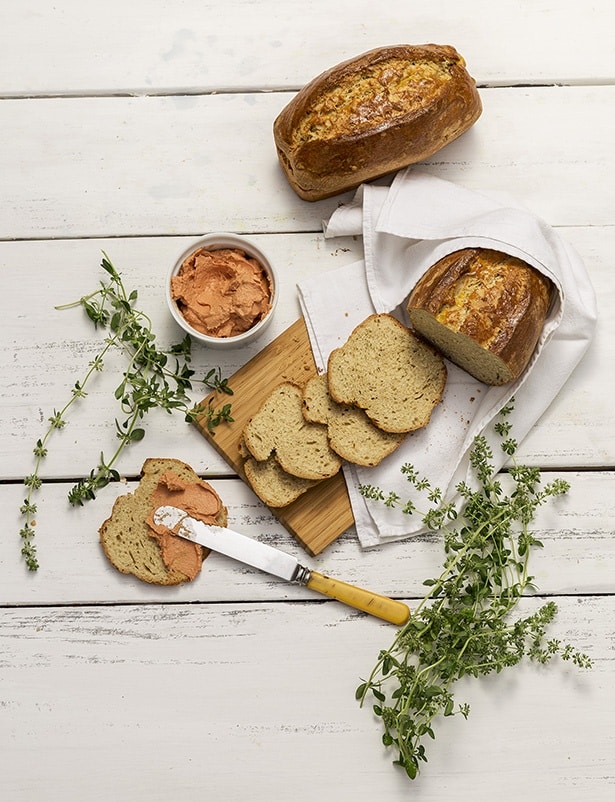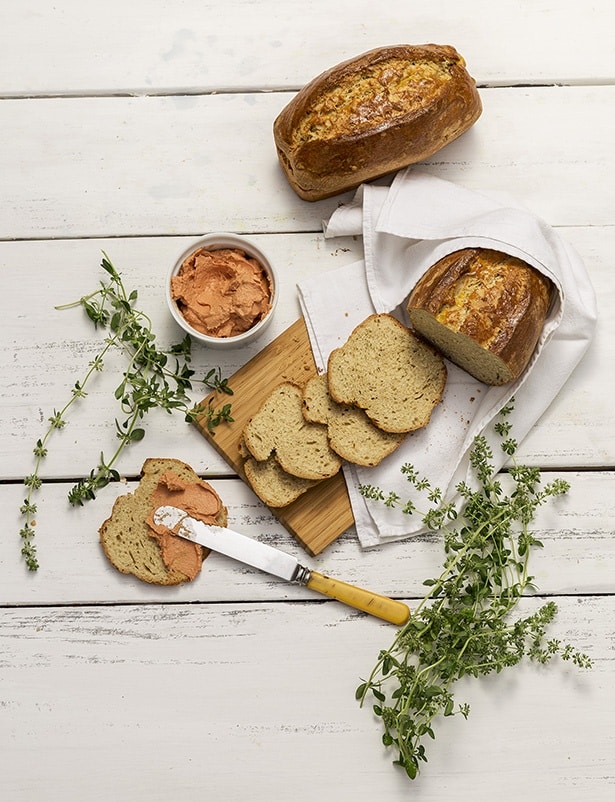 SPELT OREGANO BREAD
The bread can also be made without a loaf pan. Then simply form a loaf and bake on a baking sheet lined with baking paper and shorten the baking time if necessary.
Instructions
Heat the almond milk lukewarm. Place in a bowl, crumble in the yeast and mix with the maple syrup. Let sit for 10 minutes until a few bubbles form on the surface.

Mix the spelt flour with oregano and salt in a bowl. Add the mixed yeast and the olive oil and knead well first with a wooden spoon, then with your hands for 2 minutes.

Shape the dough into a ball, cover the bowl with a clean kitchen towel and let rise for 1 hour in a warm place (for example in the oven that has been slightly preheated and switched off again).

Preheat the oven to 240°C. Place an ovenproof dish (preferably not made of glass) on the bottom rail in the oven.

Knead the dough briefly, put it in a greased loaf pan and cover it for another 20 minutes.

Optionally, brush the surface of the bread with egg yolk. Pour hot water into the oven pan in the oven (be careful not to burn yourself from the hot steam!). Place the loaf pan with the dough on the middle rail, turn the oven down to 220°C and bake the bread for about 35 minutes.
Wellcuisine-Tipp
The oregano bread tastes very delicious with tomato cream cheese (as you can see on the pictures). Simply mix 250 g of cream cheese of your choice (for example from the goat or vegan) with 1 tablespoon of tomato paste and some freshly ground black pepper and serve with the bread.