There are ingredients that you just cannot imagine cooking without. Because they make every dish more interesting, fresh and aromatic. For me, lemons are such a beloved and widely used ingredient. Fortunately, I live in an area where the nearest lemon tree is only a few meters away. Lemons are there in abundance, and since we only have one small lemon tree that can barely keep up with our consumption, friends often bring us a bag of lemons from their own garden. You could say that a sack of lemons is Mallorca's bouquet of flowers. My love for lemons also regularly infects our retreat participants. A participant recently wrote to me that she always thinks of me when she sees or smells a lemon 😉
My worst time – at least when it comes to the yellow fruits – is autumn, when my lemon supply is about to run out. Autumn is the only time of year when the lemon trees take a break. Otherwise they keep producing new fruits from winter to summer. During this time I always get a little restless, because a life without lemons is just so bland … When I discover a stand at our farmers market where some old grandpa is selling his last lemons of the season, you can watch me walking home, swaying slightly under the weight of as much lemons as I could possibly squeeze into my bags.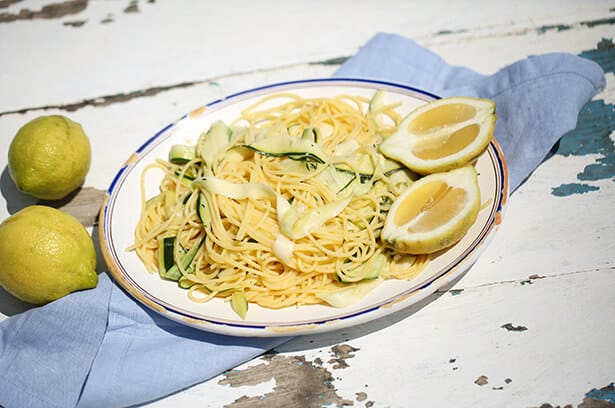 In a pasta al limone, the sour fruits play a major role. It is a classic Italian recipe, but I interpret it in my own way. I love my spaghetti al limone with a creamy lemon sauce, refined with fresh thyme and given a special freshness by adding zucchini ribbon noodles (yes, you read that correctly, the zucchini ribbon noodles are only an addition to the pasta and not a substitute). Since my husband Thomas has celiac disease, I use gluten-free pasta, which I now almost like a little better than conventional pasta. By the way, our favorite gluten-free spaghetti at the moment are those from Barilla (this is not an advertisement, just a personal recommendation from me).
And now my question for you: are you a lemon fan too? And how do you like them best? I look forward to your comment under this post!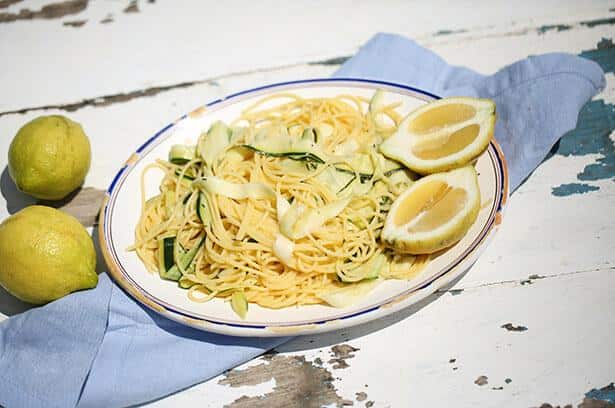 SPAGHETTI AL LIMONE
Instructions
Make all the preparations for the sauce, such as chopping the garlic, plucking the thyme leaves, cutting the zucchini into ribbon noodles with the peeler, etc.

Cook the spaghetti in plenty of salted water until al dente.

While the spaghetti is cooking, prepare the sauce. To do this, heat the olive oil in a pan and sweat the garlic, thyme and grated lemon peel while stirring. Reduce the heat and add the cream, salt and spaghetti cooking water. Keep warm.

Just before the spaghetti is ready, add the lemon juice and the zucchini noodles to the sauce and leave them to warm for 1-2 minutes. Do not let it boil anymore, otherwise the cream can curdle through the lemon juice.

Drain the spaghetti, add it too and mix everything together.

If necessary, season with salt and lemon juice and serve (optionally) with freshly grated parmesan.