For me, the change into the new year is always a magical moment. I imagine it to be a gateway from the old to the new, where I can pause for a moment and think about what I want for the year to come. Therefore I am grateful that I am not working between Christmas and New Year, so that I can just let my thoughts run free. The last days of the old and the first days of the new year have been known for centuries as the "rough nights". The term "rough nights" derives from the German term "Rauhnächte" that is believed to derive from the Middle High German word rûch, meaning wild and hairy, which might refer to the appearance of ghosts and demons, that people in old times believed to be more present in those nights between old and new year. Other sources believe that the term comes from the German "Rauch" (smoke) that refers to the tradition of smoking the house during that period of time. The rough nights are also called the holy nights, because they hold a unique, magical and transformative energy. Time almost seems to be standing still in those nights and I always look forward to this time of year that seems to be moving along without a real feeling of space and time. The rough nights are dedicated to inner contemplation, in which you set "the tone" for the New Year by asking yourself what you want to invite into your life in the next 12 months and what you want to let go of. I think this is a wonderful tradition and initially has nothing to do with the "good intentions" that we don't stick to for long anyway.
These days I have a great urge to muck out and to create order and structure in my cabinets and in our house. My plan is to start today, which fits perfectly to the rough night's motto of the day: "Let go of the old". What I definitely don't want to let go of, but rather expand on, is this blog. It gave me and Thomas, and hopefully you too, many wonderful moments in the past year. It's the kitchen table where I talked to many of you. For me it is living proof that digitization not only alienates us, but can also create new connections that are nourishing and beneficial. And not only here on the blog, but also "in real" I got to know some of you again this year, namely on our retreats. Our retreats are sacred to me because they are a very special time of inner contemplation and community at the same time. For me they are the pause button in hectic everyday life, which simply stops time and makes it possible to take a deep breath and get some rest. It goes without saying that there is a lot of laughing, cooking and even dancing (here you can find a review of our retreats 2019).
Your 5 favorite recipes 2019
It's always exciting to find out which recipes you like the most. This year the everyday Thai soup was your absolute favorite, closely followed by the apple and cinnamon muffins and the red lentil dhal. The mild morning smoothie was not only a hit on our retreats, but also in your kitchen at home. The banana bread is a loyal friend on my breakfast table and apparently on yours too – how lucky that we have the same taste! I very seldom write articles that do not contain a recipe. Only when a topic either makes me really mad (here a post on the subject of coconut oil from a little longer ago, but which is still brand new) or particularly interests me (as happened in the post on International Women's Day). At the end of this year I would like to say thank you to each and everyone of you for your enthusiasm, your honest feedback, your clever thoughts and your willingness to tell something from your life within the comments (for english readers: this refers to the German blog that is running a few years longer). I am happy about every single comment and I am infinitely grateful that you are loyal to me and our Wellcuisine blog. Because without you there would be no blog, it's that simple.
My drink for the New Year
I like to have a glass of wine or beer, but because I'm drunk in no time and the hours from dinner to the strike of 12 o'clock on New Year's Eve are quite long, I like to have an alcohol-free alternative on hand. Water always works, but for a party like this it should be something more elegant. Since I've always liked the idea of rosemary in cocktails, my non-alcoholic version had to contain this aromatic, bitter herb. In addition, I wanted to add some freshness due to lemon and apple juice instead of sugar. Carbonated mineral water turns the whole thing into a "drink" that a few ice cubes are also good for. All these ingredients put together make an adult kind of non-alcoholic drink with which the new year can only get off to a good start. Happy New Year!
And now my question for you: which of our recipes or blog posts did you like the most this year? And is there anything you would like to read on Wellcuisine next year? Then let me know and leave a comment below this post.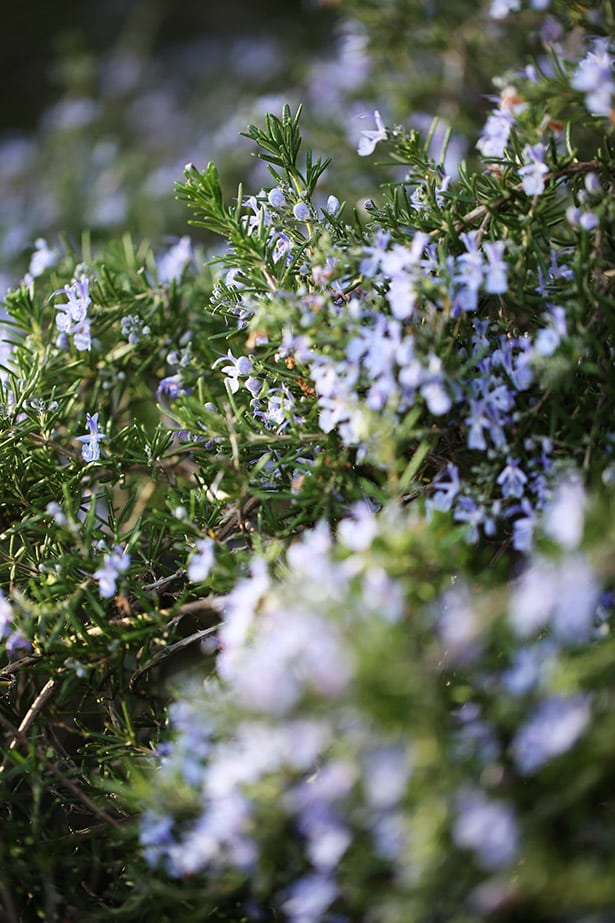 ROSEMARY APPLE DRINK
Instructions
Mix the chopped rosemary and apple juice in a blender for about 1 minute. Pour through a fine sieve and mix with lemon juice and mineral water.

Fill into your glasses, add ice cubes if necessary, and arrange with a strip of lemon peel and a sprig of rosemary and serve immediately.