These are the days at the tipping point from late summer to fall. Some of them definitely feel summery, others don't, and some start warm and sunny and end stormy and rainy. Such a day was last Friday. In the morning we had breakfast outside and at noon it had rained a few tiny drops. In the afternoon I went to town to go to the hairdresser.
When I left the hairdresser it started raining really hard. Within 10 minutes all streets were under water, torrents thundered down the alleys, sewer covers jumped open and sent their floods towards the sea. Roads were closed. People ran blindly in front of cars. It was absolute mayhem. After arriving at the car soaking wet, it took me forever to get out of town. I was pretty annoyed, but when my windshield wiper suddenly gave up, I was also scared. So I drove very slowly in the right lane towards home. The most sensible thing would have been to stop and get help, but I just wanted to go home.
And do you know what I was thinking of while I was nervous and rain-blind looking for my way home? Of food. The thought of food cheered me up immensely. Most of all, I fantasized about a warm soup (and cream-filled chocolate cake – but that will be another post). A soup that would give me some comfort after the scare and would warm me up after getting soaked.
This roasted tomato soup is a great meal for the transitional time between summer and autumn. Because you can still find beautiful, ripe tomatoes on the farmers markets, which you roast in the oven together with warming ginger and garlic. Roasting enhances the taste of the tomatoes and gives the soup a slightly sweet aroma. This will makes you feel very satisfied. Even if it rains. Promised.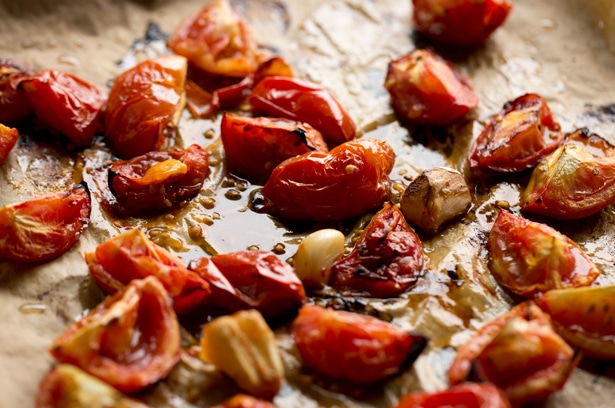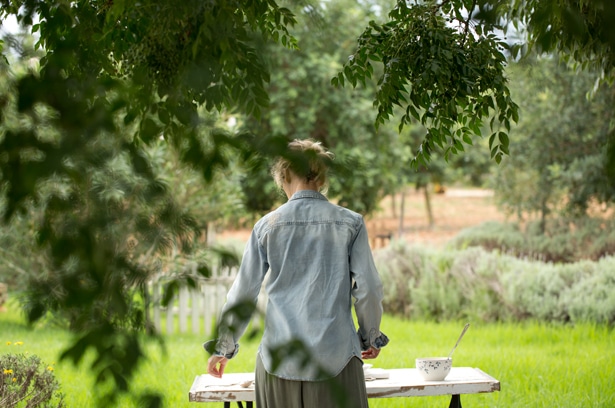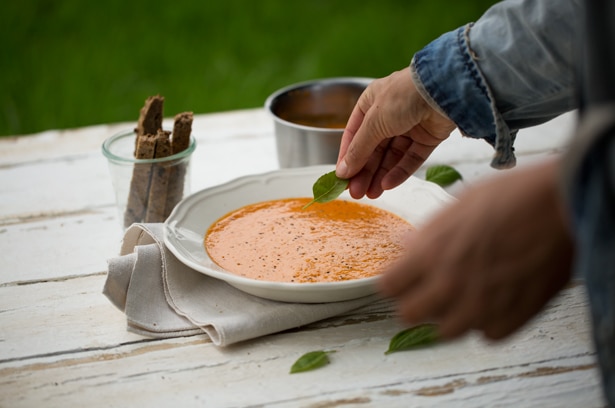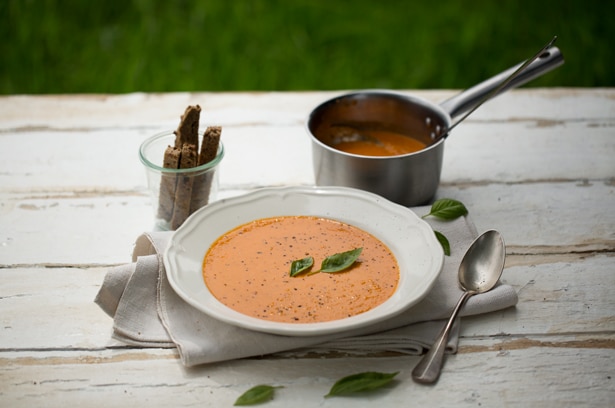 ROASTED TOMATO COCONUT SOUP
Instructions
Preheat the oven to 180°C top heat convection.

Wash and quarter the tomatoes and remove the stalk. Peel the garlic cloves and ginger root.

Place tomatoes, whole garlic cloves and ginger root on a baking sheet lined with baking paper and bake for 15–20 minutes. Check in between that the garlic and ginger are not burning.

Put the tomatoes, garlic and ginger with the remaining ingredients in a blender and puree until smooth. Put in a saucepan and heat. Pour into soup bowls, garnish with basil leaves and serve with a slice of toasted bread.