"People who love to eat are always the best people."
(Julia Child, cookbook author)
While living in Los Angeles I attended a weekend seminar about intuition. The teacher talked about how to deepen your intuition, and that it would be advisable not to drink wine when giving an intuitive coaching. A hand shot up next to me and a woman's voice with a strong French accent spoke up. The lady was noticeably outraged. She complained about Americans always going on about the damaging influence of wine. In her culture, in France, it was an essential part of everyday life and she couldn't imagine that French people were lacking in the intuition business because of that.
I still remember this moment very well, because I admired someone standing up so vehemently for their enjoyment. Sensual enjoyment is something I particularly love European culture for. I could tell countless stories about Europeans and their love of food and drink: The South Tyrolean company boss who only asks me one question after hearing that I write cookbooks: "Does your husband have a bit of a belly too?" (Because healthy cuisine without enjoyment was worth nothing in his eyes). The Mallorcan hotel owner, in her mid-70s, who uses the winter to test all new wines with relish in order to offer her guests the best selection in the next season. All the foodies in my circle of friends who pass a good restaurant or a special grocer on to one another like the most precious information.
Autumn is the main season of enjoyment for me. The Mallorcan wine villages smell of fermenting grapes, the market offers fresh walnuts and dates, and I want to bring the rich flavors of autumn to the table with a good bottle of red wine. A couple of homemade crackers with walnuts, dates, rosemary and olive oil, oven-roasted grapes, goat cheese balls and bowls of walnuts, figs and dates – this is a meal to my liking. It's unpretentious, easy to prepare for when guests arrive, and quite simply makes me happy.
PS: Another favorite quote from Julia Child: "I enjoy cooking with wine, sometimes I even put it in the food."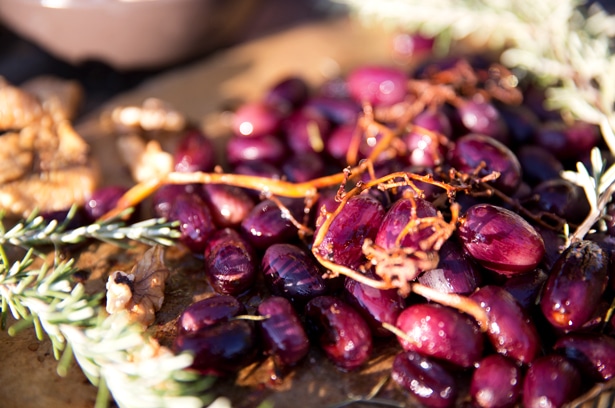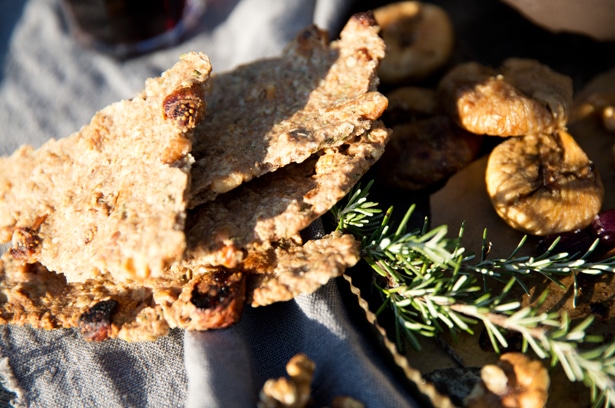 ROASTED GRAPES WITH ROSEMARY FIG CRACKERS AND GOAT CHEESE BALLS
Ingredients
For the rosemary and fig crackers:
200

g

wholemeal spelt flour

100

g

oat flakes

large leaf

100

g

walnuts

chopped (plus a bowl of walnut halves for serving)

4

dried figs

finely diced (plus a bowl of figs for serving)

1

tbsp

chopped rosemary

1

tsp

salt

freshly ground black pepper

200

ml

water

6

tbsp

olive oil
For the roasted grapes:
500

g

seedless red grapes

2

tbsp

olive oil

2/3

tsp

salt

3

sprigs of rosemary
For the walnut and goat cream cheese balls:
400

g

fresh goat cheese roll

160

g

walnuts

finely chopped
Instructions
Preheat the oven to 180°C.

In a large bowl, mix all the ingredients for the cracker dough with a spoon. Line a baking sheet with baking paper. Place the dough on the baking sheet and press flat with your moistened hands until it takes up the entire surface of the baking sheet.

Place the grapes on a second baking sheet lined with baking paper and marinate with olive oil and salt. Cover with sprigs of rosemary. Slide the grapes onto the bottom rail in the oven and the crackers onto the top (if you only have one baking sheet, bake the crackers first and then bake the grapes). Bake crackers and grapes for 20 minutes. Take the grapes out of the oven, turn the cracked dough and bake for another 5 to 8 minutes until it has hardened.

In the meantime, prepare the walnut and goat cream cheese balls: remove the rind from the goat cheese roll and take out teaspoon-sized portions of the cream cheese. Shape into balls with moistened hands and roll in the finely chopped walnuts so that the balls are completely covered by pieces of walnut.

Break the cracked dough into pieces and serve with the roasted grapes, fresh goat cheese balls and the additional walnut halves and dried dates and a good glass of red wine.
Wellcuisine-Tipp
Instead of the goat cream cheese balls, you can also bake goat or sheep feta together with the grapes in the oven. To do this, simply place 2 pieces of sheep feta (180 g each) in a piece of baking paper, drizzle with a teaspoon of olive oil and a teaspoon of maple syrup (or honey) and place 1 sprig of rosemary on top. Then fold up the baking paper at the top and close it with a piece of string or a wooden clothespin. Let it with the grapes stew in the oven for about 20 minutes.