There aren't many foods anymore that are only available in a certain season. And that's precisely why I find them particularly precious. This includes, for example, the rhubarb. When I recently saw it again after a long time when strolling around the market stand of our local farmers market, I greeted it like a log lost friend. I brought it home with me and baked two cakes in the following days – one with gluten and one without. I gave the gluten one to our neighbors, my husband got the gluten free one. Since he doesn't tolerate fructose so well, I prepared his dough with erythritol, so that it has a very low glycemic value and ensures a balanced blood sugar level. Because I found the two recipes so delicious, I'm going to give you both of them.
Rhubarb is an ancient medicinal plant
But back to the rhubarb. Did you know that rhubarb is not a fruit, but a vegetable? Just like asparagus, rhubarb is a spring vegetable with a season between April and June. It originally comes from East Asia, where it was used as a medicinal plant for thousands of years. In one of the oldest traditional Chinese medicine books, the "Shen Nong Ben Cao Jing", rhubarb is described as one of the most important medicinal plants for the treatment of bacterial infections, inflammations and cancerous tumors. Modern studies have found that rhubarb can be used to treat bacterial sepsis and to enhance cell regeneration, as it has a strong antioxidant effect. Its digestive properties also help with constipation and to maintain a healthy gastrointestinal system.
Is the oxalic acid in rhubarb harmful?
Nowadays one often reads that rhubarb should be consumed with caution because of the oxalic acid it contains, which inhibits the absorption of calcium and iron. Oxalic acid is also found in spinach, chard and parsley. However, we can counteract an excess of oxalic acid simply by …
… not eating the rhubarb raw
… buying red stalks instead of green ones
… stop eating rhubarb from June onwards, as the proportion of oxalic acid increases towards the end of the season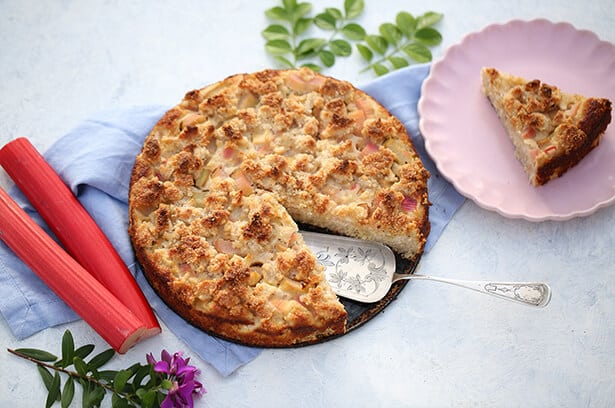 My recipe of the week
For me, rhubarb cake is one of the biggest pleasures of early summer. The mixture of sweet dough (preferably with crumbles!) and sour rhubarb stimulates our taste buds in the most delicious way.
And now I'm curious how you like this cake! If you have tried it, I am very happy to receive your comment under this post.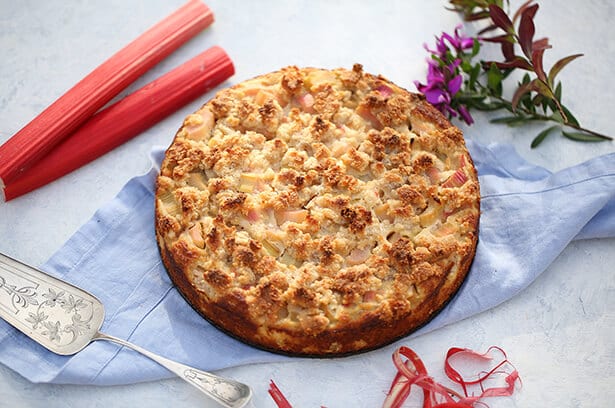 RHUBARB CRUMBLE CAKE
Instructions
Peel the rhubarb and cut into pieces. Pour into a bowl, mix with the maple syrup and let steep for 30 minutes. Then put in a sieve and drain.

Preheat the oven to 180°C top and bottom heat.

Choose one of the dough variants (with or without gluten) and mix all ingredients for the dough until smooth.

Grease a 26 cm springform pan with coconut oil and pour in the batter. Spread the rhubarb evenly on the surface.

Knead all the ingredients for the crumble with your hands and crumble on the surface of the cake.

Bake the cake for about 40 minutes. At the end of the baking time, a toothpick poked into the dough should come out clean.