When I was little my mother would pick me up from school every Wednesday and we would go to the indoor pool. After arriving, we first went to the restaurant to have lunch. I always ordered the same dish: potato fritters with applesauce. It was one of those lovely childhood rituals that I could always count on. As I devoured the potato fritters, I kept in mind that you shouldn't eat anything before swimming because you can drown. But then I took another bite and thought to myself: what the heck, life is dangerous.
Incidentally, the potato fritters in that restaurant were not homemade. Just like the potato fritters that I had on my plate within the next upcoming years. Usually they came from the freezer and were warmed up in the pan. My first homemade potato fritters came out of my own pan. And they tasted so good! While as a child I was ready to accept the frozen version as a last slap-up meal, the homemade ones were a completely different matter. And above all, so easy to make that I was surprised that very few people prepare them fresh. I guess potato fritters suffer a similar fate as pudding. Or do you know a lot of people who make their own pudding instead of pouring brown or yellow powder from a bag into hot milk? Exactly.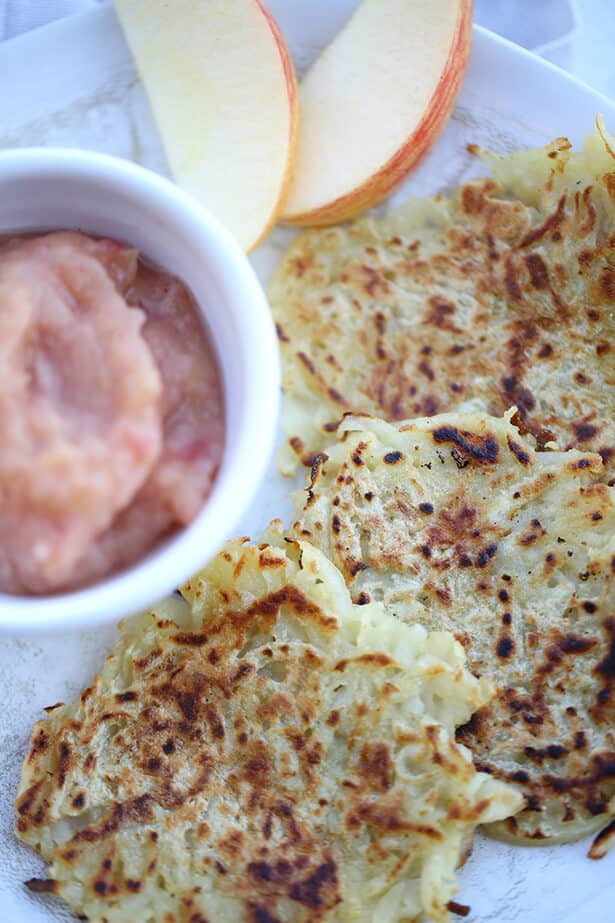 Sometimes we think that cooking is complicated and prefer to grab a convenient bag or grab something from the freezer. Or we think it takes too much time. Even I sometimes catch myself believing that I don't have time to cook fresh. Then I remember the status of my screen time on my smartphone and know that I have enough time and just have to change my priorities. Right now, with so much restlessness and uncertainty in the world, is a very good moment to start making potato fritters with our own hands. Because 30 minutes less screen time and 30 minutes more time in the kitchen, with our hands in grated potatoes and the smell of roasted apples in our nose, may not make us 30 times, but at least 3 times happier. And that's something, isn't it?
And now my question for you: is there a dish that you have only eaten "convenient" for a long time and then homemade for the first time? I look forward to your comment under this post!
POTATO FRITTERS WITH APPLESAUCE
Instructions
Place a large plate in the oven and preheat the oven to 100°C. Switch off after approx. 10 minutes. This is where the potato fritters will be kept warm later.

For the applesauce, put the diced apples with lemon juice, water and cinnamon in a saucepan and heat. Let it simmer for about 15 minutes with the lid closed. Then puree with the hand blender until creamy.

For the potato fritters, peel and roughly grate the potatoes. Take hand-sized portions of the grated potatoes and press them together firmly with your hands to squeeze out the potato water. Put the grated potatos into a new bowl. Mix with chickpea flour and salt.

Heat 1/3 of the olive oil in a frying pan. Take tablespoon-sized portions of the grated potatoes, shape into a ball in your hands and press flat. Put three of them in the pan and press flat again if necessary. Sauté for about 3–4 minutes, until the underside of the fritters is browned. Then turn and fry for another 3 minutes. Keep warm in the oven until the remaining pancakes are done.

Serve the potato fritters with the applesauce.