Many people make New Year's resolutions. And yes, at the end of the old and the beginning of the new year, I also reflect on the past 12 months and think about the areas that I would like to improve. And surely these thoughts lead to a few good resolutions. But more important than a good resolution is the deeper question behind it: "How do I want to feel in this new year? How do I want my body to feel? How am I doing emotionally? Which areas of my life would I like to improve ? What could I do to feel a little more comfortable? Where is my personal "happy place"?
I talked a lot about this "happy place" with a good friend this week. As you might have guessed, I don't necessarily mean an actual place (although places can of course be "happy places"). Rather, I mean an inner sense of well-being that comes from paying close attention to my physical and emotional needs and fulfilling them as best as I can. Then this pleasant feeling arises, which exists relatively independently of external circumstances. That means I don't have to travel to the Caribbean, I don't need to have the body of my dreams, nor do I need to have achieved any goal worth mentioning.
A "happy place" is the way to live my life as I want to. A "happy place" for me can be good food that nurtures me on many levels. It's the feeling of connection when I spend time with my husband or close friends. It's the clarity I feel when I'm in nature. It's the curiosity and enthusiasm when I learn new things that interest me. It's the joy and silliness when playing with my dog. It's the inspiration and sharing I give and receive on this blog. It is the spiritual power of a group of people that attunes to our retreats.
I said to my friend this week: "You can even find your "happy place" in situations that you haven't liked so much lately. You just have to ask yourself what you need to feel better. If you are exhausted, look for a way to reduce the effort or workload, or get more help. When you're bored, think of ways to create variety and pleasant excitement."
And with that knowledge, some good resolutions might emerge. And one resolution might be to cook a wonderful noodle soup. Because it will bring you to your "happy place", spoon by spoon in a soothing and heart-warming way. Happy 2023 to you!
My recipe of the week
This recipe is a "happy place" in soup form for me. The essential ingredients are rice noodles, two types of vegetables, hot water, salt, toasted sesame oil, star anise and egg strips. Everything else can simply be left out or varied if necessary. The soup feels like a good friend as it has brightened up so many dinners for me. If you have never before used star anise except in Christmas cookies, you will be amazed at how good it tastes in this soup. In original Pho recipes, the star anise is cooked whole and removed before eating. I like to finely grind it and use it as a powder.
And now my question to you: Which are your "happy places"? I look forward to your comment below!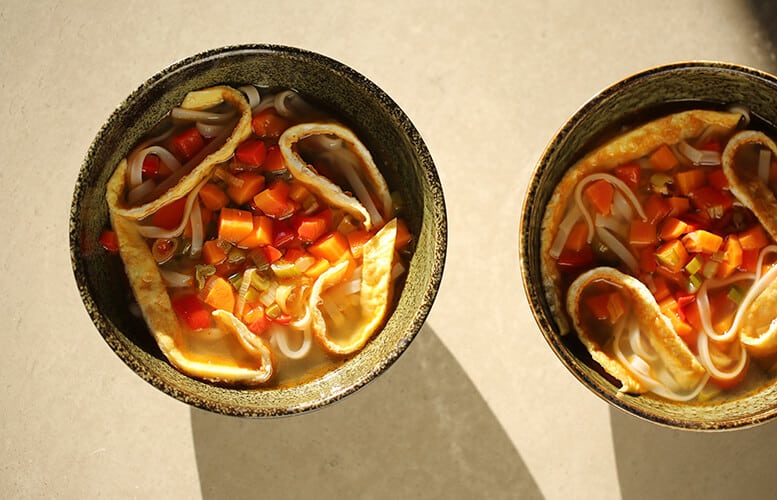 Pho noodle soup
Instructions
Cook the rice noodles according to package instructions. Drain in a colander and rinse with cold water. Put aside.

In a large saucepan, heat the sesame oil and briefly sauté the spring onions, garlic, ginger and star anise while stirring. Add the peppers and carrots and continue to stir-fry. Add hot water, salt and simmer until vegetables are al dente, about 10 minutes.

Meanwhile, lightly salt the eggs in a bowl and beat with a fork. Heat a small pan, add some sesame oil and add the eggs. Wait until the egg mixture has set, then turn and fry on the other side for about 2 minutes. Place on a cutting board and cut into strips.

Season the soup with salt, sesame oil and, if necessary, a little more star anise.

Divide the rice tagliatelle between bowls, fill up with the soup and serve with egg strips.
Wellcuisine-Tipp
Thomas and I eat variations of this soup almost every week. If I'm really lazy, I leave out the spring onions, garlic and ginger. The eggs strips are really good, but if you don't like eggs, you can omit them or replace them with finely chopped tofu. You can add fresh coriander if you like. The vegetables can also be swapped with others. For example, the peppers with chopped broccoli. Or the carrot with sweet potato. If you don't like star anise or don't have it at home, simply leave it out and use a little more of the toasted sesame oil for seasoning. The oil is such an important part of this recipe that I would never leave it out.