There are those recipes that are like breathing – you just breathe in and out, without thinking about the process of it. The same happens with these recipes. Preparing them comes really natural. You cut the ingredients, combine them according to feeling, season them with what you have on hand, and a short time later you put a delicious meal on the table. For me, minestrone is one of those recipes. It's simply a mixture of leftover vegetables, often mixed with beans or pasta from the day before. This is how the minestrone got its name. The Italian word "minestra" means nothing else than "mixture" or "mishmash". We have minestrone in every season. But of course it tastes particularly good in autumn, when soups and stews warm the body from the inside, so that it can better defend itself against the cooler temperatures.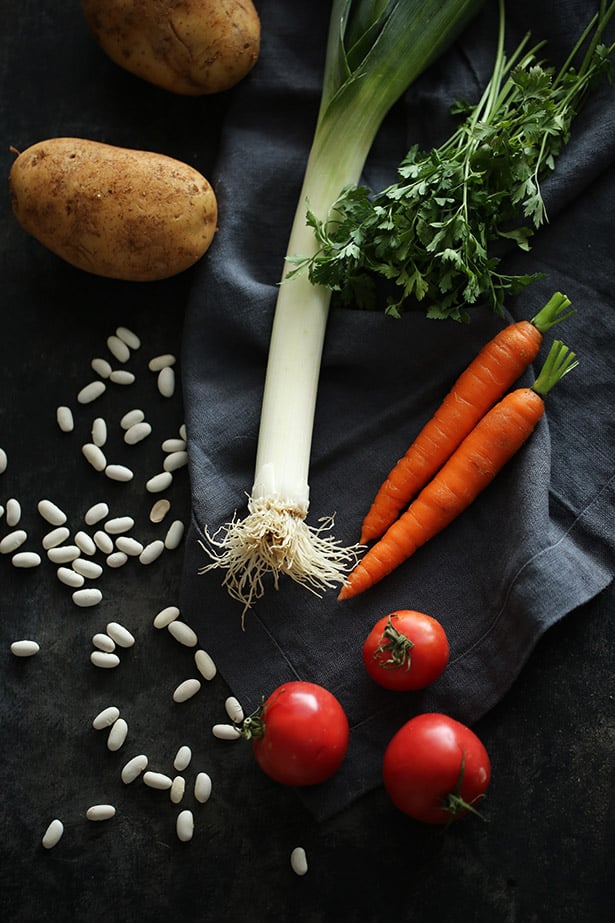 Soups are a real elixir of life. This is the result of a study by Harvard University, which showed that people who often eat soups live longer and have better health. Soups with lots of vegetables provide the body with important vital nutrients, and if they contain legumes, even better! Because legumes strengthen the immune system with their selenium content.
What I particularly love about the minestrone: it can be enriched with anything we like. If we are short on time, we add a few canned beans at the end of the cooking time (although soaked and cooked dried cannelini beans taste much better). You can even add a little organic chicken if you like. And pre-cooked rice, pasta or (if tolerated) some grated Parmesan, give the soup the final kick.
Have fun with the minestrone! And if you try new combinations of ingredients, then I look forward to your comment under this post!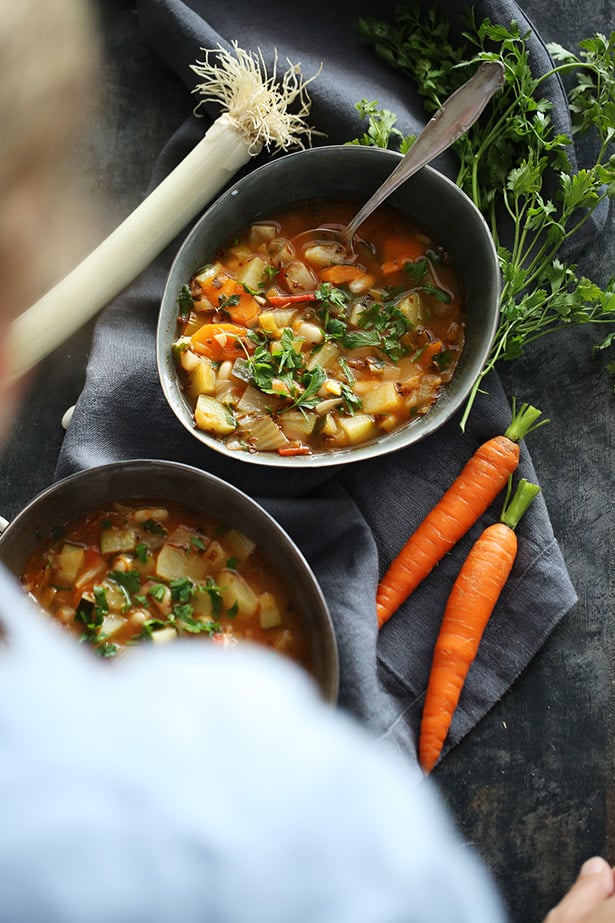 MINESTRONE
Instructions
If dried cannelini beans are used, either soak them overnight and then cook them in 700 ml water and a little salt for about 30 minutes OR cook the dried beans for about 1 hour without soaking. Alternatively, canned beans can be taken. Put this in a sieve, wash it off and add it to the soup at the end.

Heat the olive oil in a large saucepan and sauté the leek and garlic for about 3 minutes while stirring. Then add the vegetables and fry lightly while stirring. Deglaze with white wine. Add hot water, salt, oregano, allspice, tomato paste and maple syrup and simmer over medium heat with the lid closed for about 20 minutes.

Add the pre-cooked beans (or canned beans).

Season to taste with salt, pepper and a little Tabasco. Add half of chopped parsley to the soup. Put the soup in bowls, sprinkle with more parsley and serve immediately. If you like, you can serve it with grated Parmesan.
Wellcuisine-Tipp
To make the soup even more substantial, pre-cooked noodles can be added at the end.