It's November, so it's no wonder that the scent of gingerbread is wafting through our house. Every year I start the pre-Christmas period by baking gingerbread. I'm not following a tradition, I'm following my appetite. For me, gingerbread is one of the best Christmas sweets ever. This year I refined my "German Lebkuchen" a bit and added a layer of homemade marzipan. That makes them even more delicious and sophisticated.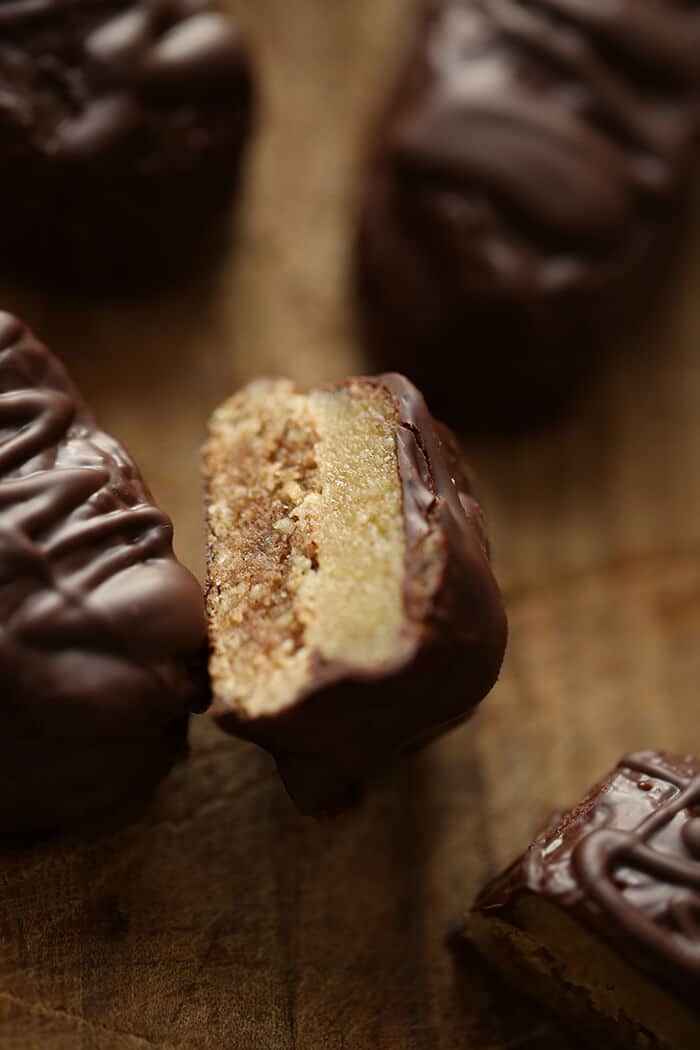 Gingerbread has a tradition that goes back thousands of years. Small spiced honey cakes were already used as grave goods in ancient Egypt and ancient Rome. Later, the pastry was mainly made in Belgian monasteries. Gingerbread was very popular in the Middle Ages because it had a long shelf life. Its popularity even went so far that there was a separate profession that only made gingerbread: in German we call it "Lebküchler". Depending on the country and region, gingerbread is made with different ingredients. In Austria, for example, gingerbread is made from rye flour, the well-known German Nuremberg gingerbread with lots of nuts. I have decided on my own tradition and make it only with nuts and completely grain free.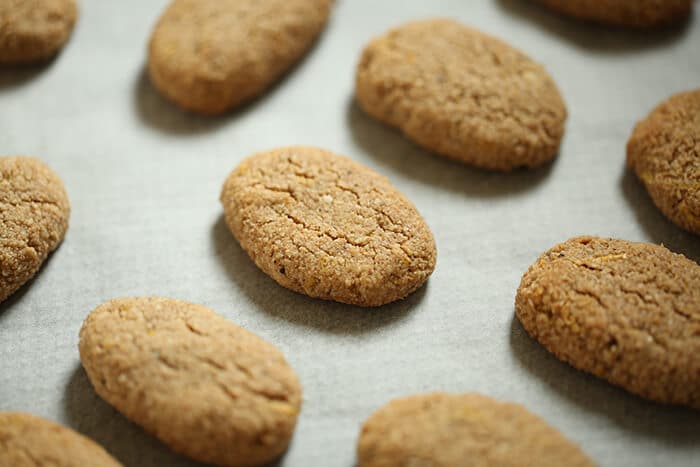 Pictures above: the pre-baked gingerbread is covered with the marzipan layer.
For me, cooking and baking are the perfect bridge between tradition and innovation. Drawing from the wealth of traditions and creating something new through our own ideas is the gift we receive when we fearlessly go into the kitchen and cook and bake with love and passion. This morning at breakfast I read in the book by the Catalan cook Maria Nicolau "Cocina o barbarie" (translated: "Kitchen or barbarism", only available in Catalan or Spanish) a plea for cooking as an act of humanity and freedom: "Cooking is everything that happens on the edge of a recipe: it's improvising, risking, deciding. Cooking is freedom. Against the extinction of this boldness, against the I don't have time syndrome and the barbarism of a society that eats but doesn't cook. It is the simplest act of reclaiming life: feeding ourselves."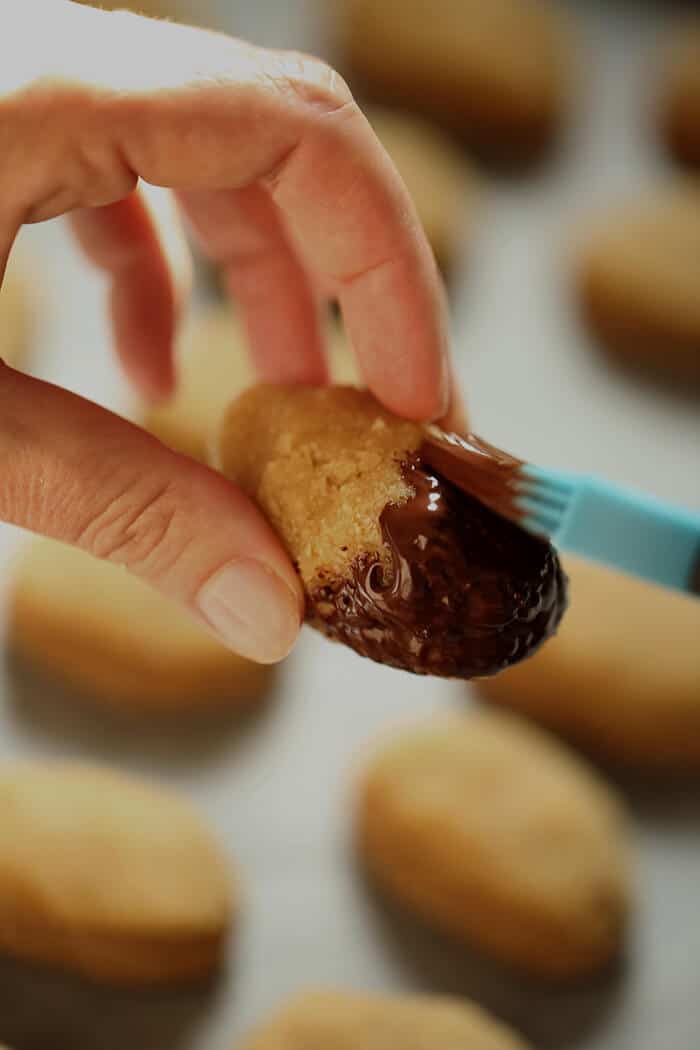 I have always seen cooking and baking as a creative, wild, creative act. As something that gives life, heals and changes us. An eternal flow of the past into the present and back. A flow of love from us to each other and back again, as eternal as the daily food on our table, which is occuring and disappearing with never-ending regularity. The food that makes us who we are, the material from which our body is made anew every day and from which our soul draws strength.
By the way, there is another story about the origin of the gingerbread. The one from a baker who had a sick daughter who liked to eat sweets. To cure her, he baked a candy using the best healing spices he could find. This is how she got well again. And the gingerbread was born. And maybe it's name "Lebkuchen" comes from life itself, the sweet dolce vita.
And now a simple question for you: do you love gingerbread? I look forward to your reply below!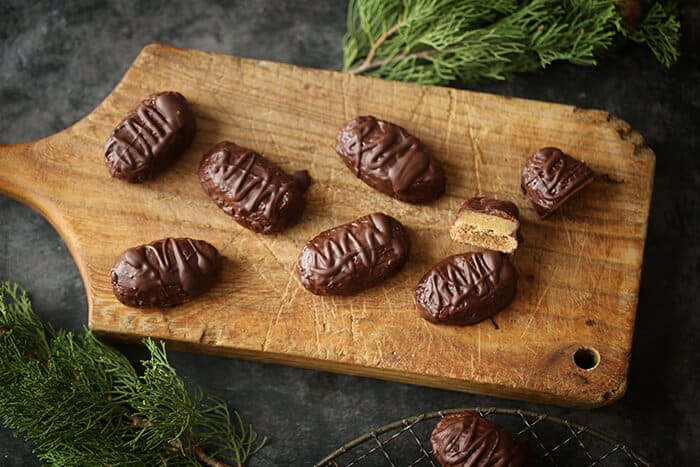 Marzipan gingerbread (gluten-free)
Ingredients
For the gingerbread dough:
Instructions
Preheat the oven to 180 ° C top and bottom heat.

Mix all ingredients for the gingerbread dough in a bowl.

Line a baking sheet with parchment paper. Take portions the size of a 3/4 tablespoon, form first into a ball and then into a sausage, place on the baking paper and flatten slightly.

Bake for 12 minutes. At the end of the baking time, the gingerbread should be lightly browned on the underside and still soft. They harden a little later.

Let the gingerbread cool completely.

Mix all ingredients for the marzipan together until smooth. Count the gingerbread and divide the marzipan into the same number of portions.

Shape each portion of marzipan into a ball and then into a roll, place on a gingerbread and press down.

Chop the dark chocolate and melt in a water bath.

Use 3/4 of the chocolate to coat the gingerbread all over with a brush. Use a teaspoon to drizzle the remaining chocolate in a line over the surface of the gingerbread.

Let the chocolate harden at room temperature.