Our everyday life often leaves us far too little time to pause, to feel what we need and to provide ourselves with everything that is good for us. This is precisely why retreats are so important for our well-being, our health and our emotional balance. Because they give us the space to feel our needs, to consciously let go of what no longer serves us, and to recharge our batteries so that we can return to our everyday life with renewed strength and focus.
When was the last time you took a conscious break and just took care of your health and your needs? And all that with a lot of fun, enjoyment and in inspiring company?
Our Wellcuisine cooking and yoga retreats in Mallorca are holidays for body, mind and soul. We combine the healthy Wellcuisine kitchen with inspiring yoga classes, natural beauty products and a wonderful place in the middle of the pristine nature of Mallorca to a holistic program that has a relaxing, uplifting and rejuvenating effect.
The week gives you the opportunity to feel completely at home in your body again, to deepen the enjoyable and healing relationship with your food and to be inspired for your own personal path to ever better health.
Would you like to be there? Then write me an email to info@wellcuisine.net …stating which retreat you are interested in and I will get back to you as soon as possible.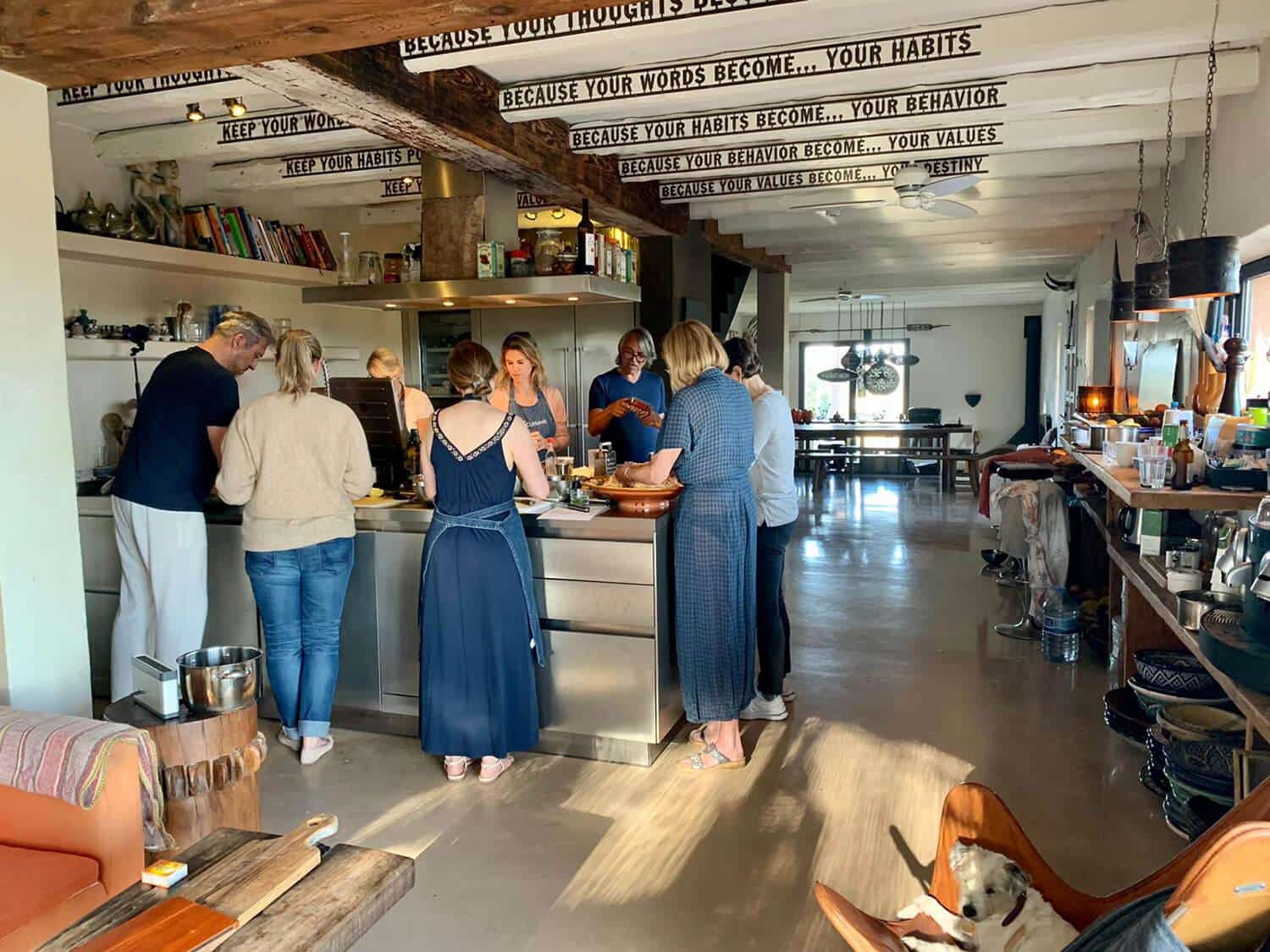 What's waiting for you
The day starts (if you want) with a jump in the 27-meter infinity pool. Then there is hot lemon-ginger water and a smoothie and 1.5 hours of Kundalini yoga in the wonderful Balinese yoga shala in the middle of nature. The yoga exercises are specifically geared towards the goal of the retreat: relax, recharge and shine.
After the yoga there is a delicious and healthy breakfast à la Wellcuisine.
The hours between breakfast and the afternoon cooking class are at your disposal. You can relax by the pool, go for a walk or just do nothing at all. This is exactly what this quiet and beautiful place invites you to do. Or you can drive to the beach or to Palma. For excursions of this kind we recommend renting a car upon arrival at the airport.
We'll provide a light lunch that you can easily help yourself to. Water, tea and coffee are also provided at all times.
In the afternoon there are cookies or cakes à la Wellcuisine. A natural beauty product is also available for you. For example a body peeling or a moisturizing or antiaging mask that you can then use yourself.
On three afternoons I give a lecture on an exciting health topic. The 5-day cooking course begins around 6 p.m. in which we cook a delicious menu for the evening together, which we then eat under the starry sky.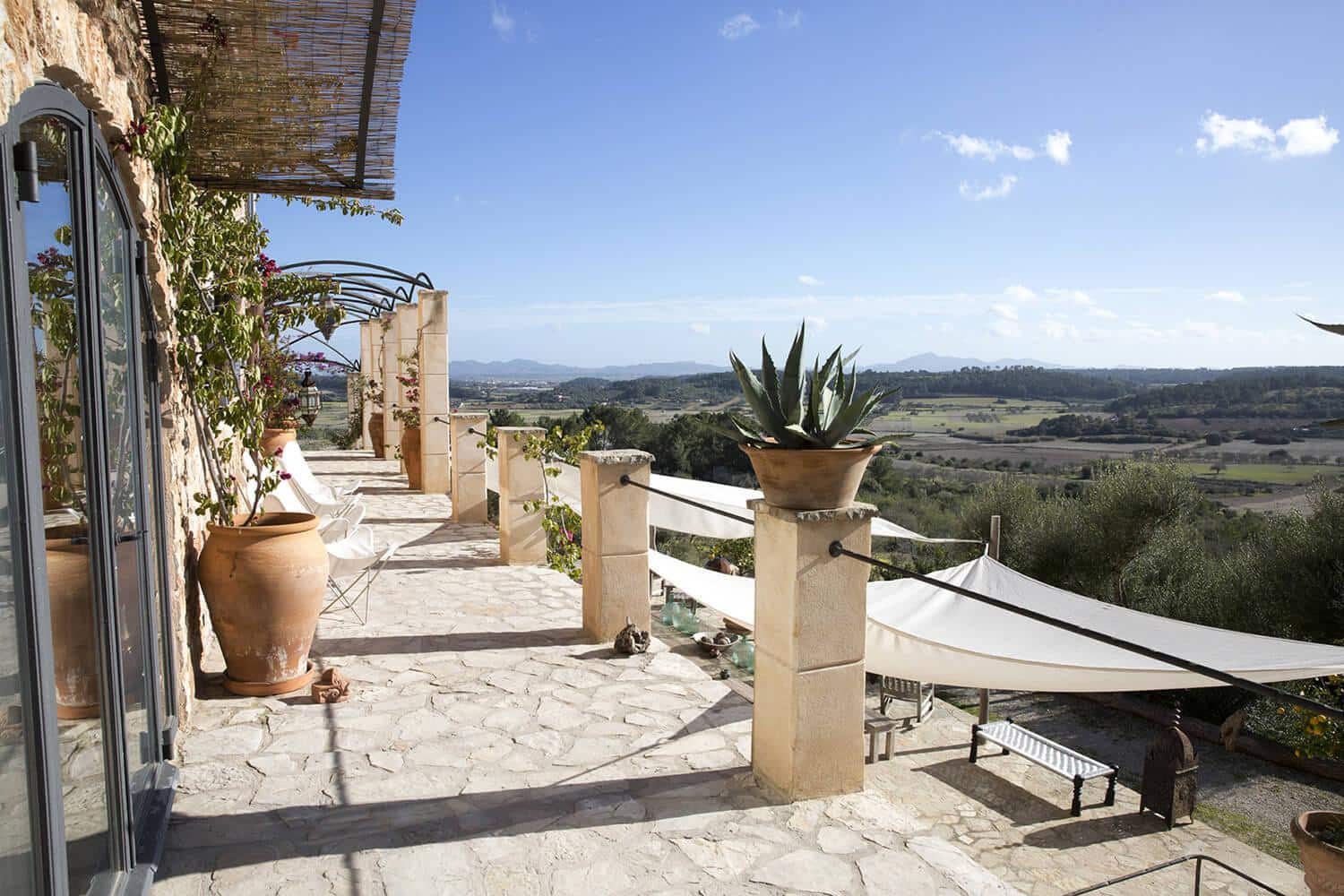 A wonderful place for setting your mind free and for refreshing your body and soul
Our retreats take place on a dreamlike property on a hill in the center of the island near the village Sant Joan with a wide view of the rolling landscape. It is a place that envelops you with its soothing calm, beauty and serenity as soon as you arrive. We live, cook, eat and relax in the beautiful finca, which we have all to ourselves during the week. On the extensive grounds there are many beautiful places where you can relax, read or sunbathe. The finca has a 27 meter long infinity pool and a Balinese yoga shala. The finca was chosen as one of the most beautiful estates in Mallorca by Vogue and other international architecture and lifestyle magazines.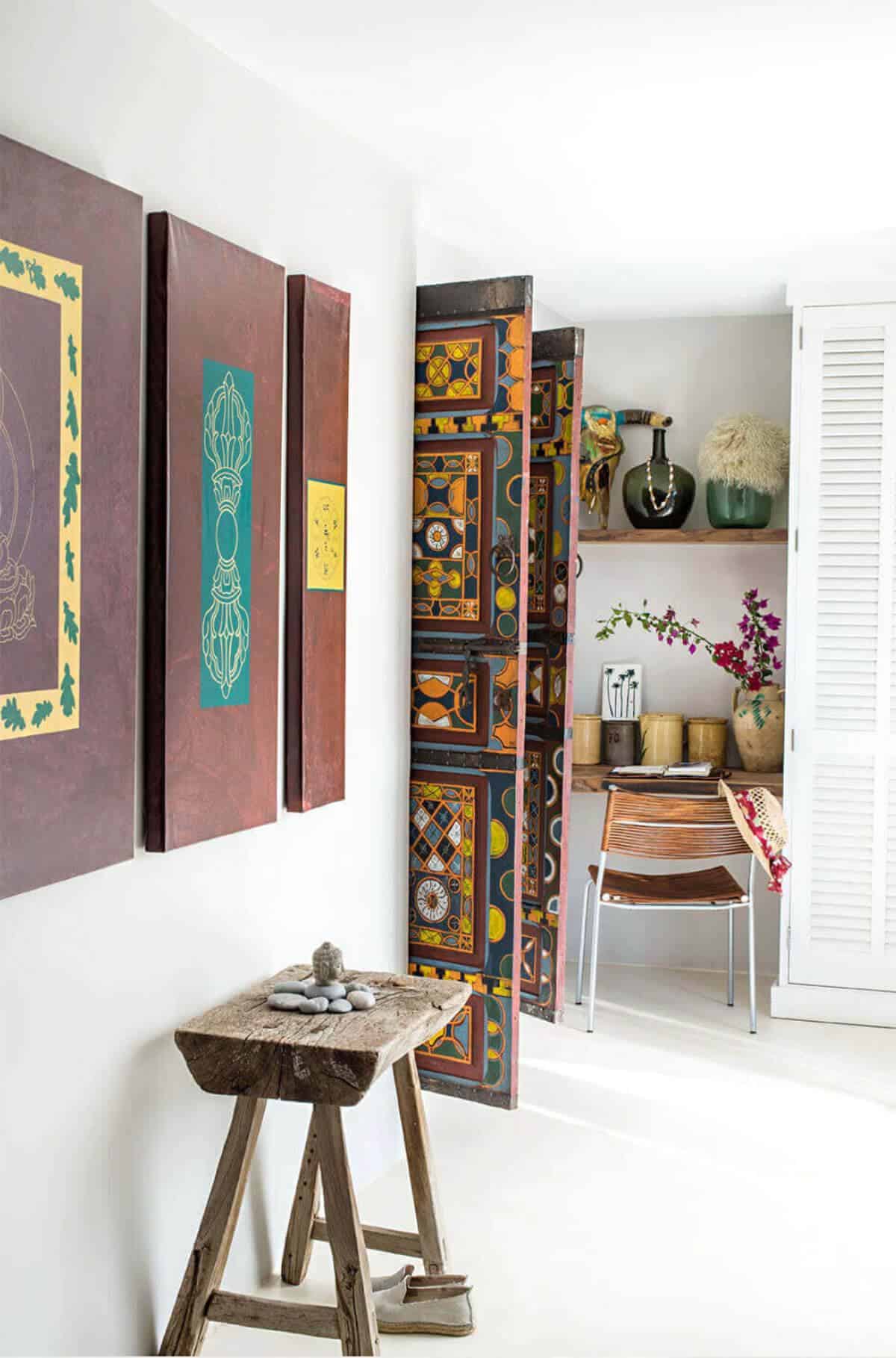 Food that nourishes you on all levels
The food is just as you know it from Wellcuisine: fresh, tasty, healthy and nourishing on all levels. We will freshly prepare breakfast, lunch and an afternoon snack for you. We cook our evening menu together. You will take home a lot of inspiration, information and kitchen hacks from the cooking classes. After the retreat, we will send you a personal digital cookbook of the dishes that we cooked during our time together. Our food is vegetarian, all non-alcoholic drinks are included. If you would like to have a glass of wine, you can buy a bottle from us. If the weather permits, we take all meals on the terrace of the finca.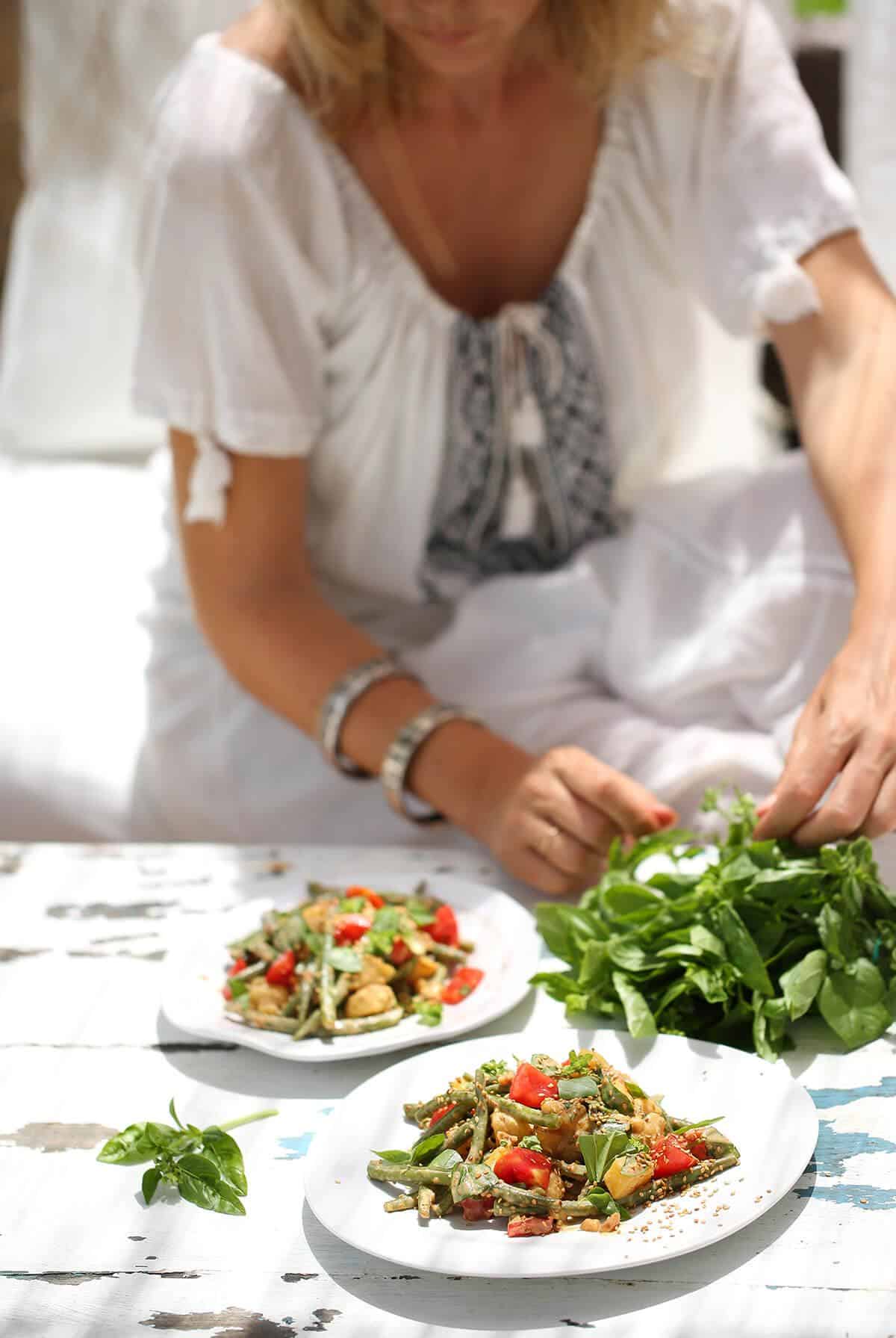 Yoga that relaxes and vitalizes
When I first practiced Kundalini Yoga years ago, I was immediately smitten with it. I love Kundalini Yoga because it is dynamic, easy and still challenging. The good news: You don't have to be able to form a pretzel out of your body to participate, because in Kundalini Yoga the exercises are easy to perform, but are so dynamic and often repeated that they are nevertheless very effective. Every day we dedicate our yoga to a certain topic. One day, for instance, we dissolve physical blockages, on the other we work on the liver and kidneys to stimulate the body's detoxification. Kundalini Yoga is very powerful, so by the end of the week you will have more energy and strength. At the same time it has a centering effect and helps you to calm down. After the dynamic yoga set we do a meditation – and I guarantee you: you can meditate. In Kundalini Yoga the meditations are easier because you focus your attention either on a mantra, your breathing or a certain posture. This makes it easy for you to switch off.
This is what our participants say:
"The Wellcuisine retreat in Mallorca is so much more than a week with cooking and yoga classes. Here body, mind and soul come together and let you feel rejuvenated and energized." Kristina M.
"The retreat is enriching for everyone who is ready to let go in order to open up to something new. By the end of the week you go home with a big "treasure" that will enrich you forever and make your life much more beautiful, more conscious and more relaxed. I am grateful for the wonderful experience." Sonja L.
"It was a great time that I will never forget. A dream that came true." Carmen N.
"In everyday life there is often little time and leisure to deal with questions of nutrition and to shed old habits. I have found new impulses for a healthy life and am now trying to integrate new rituals into the daily routine. Thank you dear Stefanie, for your warm manner and competent guidance. We all enjoyed the time together and had a lot of fun." Grit W.
"The retreat week was unforgettable; a wonderful time. I felt very comfortable in your company and take a lot of new impressions and insights home with me to integrate them into my everyday routine for a more conscious life." Julia B.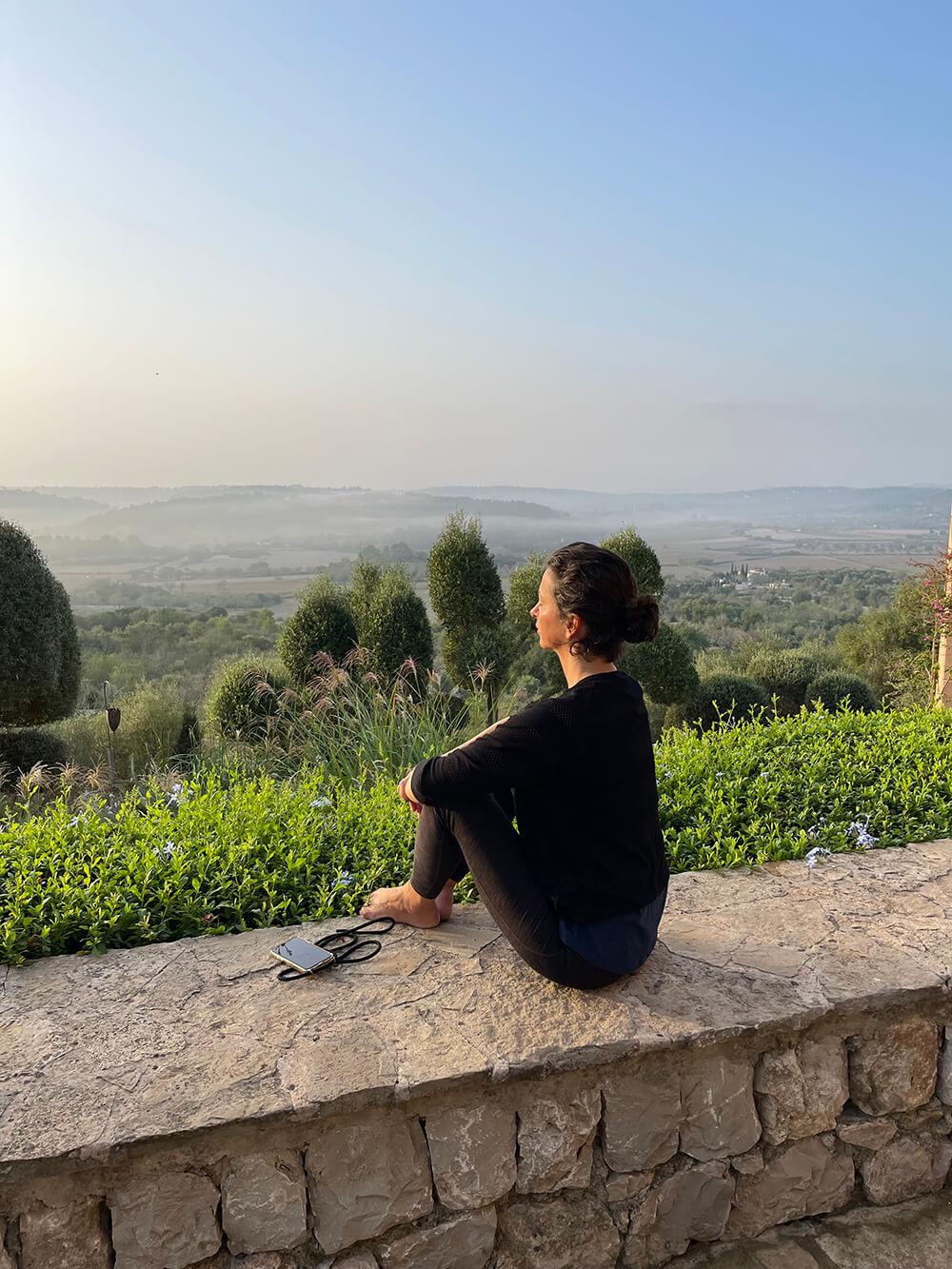 Our retreat in a nutshell:
When
On the day of arrival: own arrival to the finca from 4 p.m. Dinner under the night sky
5 days of yoga and cooking classes as well as 3 health talks
On the day of departure, departure by 11 a.m. (by rental car or taxi)
Where
Mallorca, near the village of Sant Joan
What
This is included:
6 nights in a beautiful, exclusive finca
5 cooking classes
5 Kundalini yoga classes of 1.5 hours each
3 inspiring health talks
Smoothie, breakfast, lunch and dinner à la Wellcuisine plus a sweet snack in the afternoon
Non-alcoholic drinks (wine and beer can be purchased separately)
5 organic, homemade beauty products
Bookable on top:
A massage with the experienced massage therapist Kim van Grinsven
Costs for the entire retreat including all services described above
(without flight and transfer)
When staying in a double room for two people with a private bathroom. Per person: 1,800 euros
When staying in the master bedroom with private terrace for two people with a private bathroom. Per person: 1,900 euros
When staying in a single room with a private bathroom: 2,400 euros
If you come alone and would like to share a room with another participant, please contact us. We organize it for you.
The prices do not include flights and transfers to the finca. We recommend renting a car. A taxi ride from the airport to the finca costs around 50 euros. We are happy to establish contact between you and other participants so that you can share a taxi or a rental car.
Would you like to join?
Then write me an email to info@wellcuisine.net .
Please bring:
Comfortable yoga clothes and swimwear. Yoga mats, yoga seat cushions and towels (including pool towels) are provided.
Come as you are:
No previous knowledge is required for the retreat (not even for morning yoga).
We are looking forward to welcoming you!