Only one week until Christmas – and my cookie consumption increases infinitely. Yours too? It's no wonder that I've been making hearty soups almost every day for the past few days to balance things out a bit. Soups are kind of  a "fast food" for me, because they are usually prepared in a flash and the rest of the work is done by the stove. At the weekend I was talking to a friend about good nutrition. We both deal with it professionally and therefore talk about it quite often. We don't always agree, but that is exactly what stimulates the conversation. This weekend he said a sentence that stuck in my memory: "You can tell good food by the fact that it heats you up." So simple, so true. Food is there to give us energy, not to take it away. And soups do this job really well. They warm you up and provide a good basis for the next round of cookies.
I will prepare this soup more often in the next two weeks, when we'll have guests in the house who might crave something hearty during the day. I fill the soup in small cups and bowls and sprinkle it with my lemony sunflower seeds, which give the whole thing a little crunch. And then one more macaron, please!
And now my question for you: do you also crave a hearty meal in Christmas season, when there are so many sweet treats everywhere you go? Please let me know in the comments below!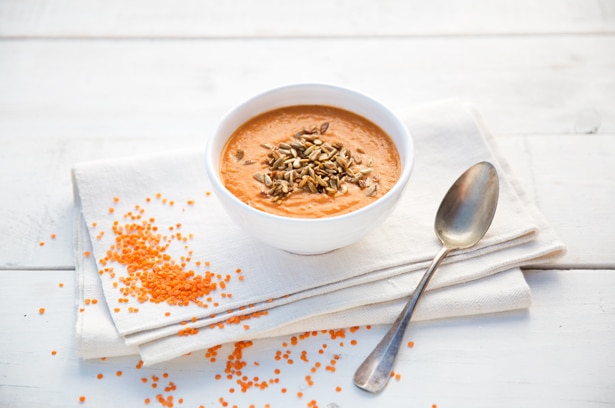 LENTIL AND COCONUT SOUP
Instructions
Heat the coconut oil in a large saucepan and sauté the onion and garlic in it. Put the lentils in a sieve, rinse with water and add to the saucepan. Add the canned tomatoes, coconut milk, water and ginger, reduce the heat and simmer gently for about 20 minutes. Puree with the hand blender or in a blender until creamy. Salt and pepper.

Put the sunflower seeds in a bowl. Mix the olive oil with lemon oil and salt and stir with the seeds. Heat a pan and roast the marinated seeds for about 3 minutes until they are lightly browned.

Pour the soup into small cups or soup plates, sprinkle with the seeds and serve hot.