It is well known that tastes are different. One's favorite dish is the other's "Yucky" and vice versa. Strangely enough, I haven't met anyone who didn't like hollandaise sauce. Of course, I know some people who only use store-bought hollandaise sauce or who do not want to eat it because of healthy (high fat content) or ethical (butter, eggs …) reasons. But now I dare to make the bold assertion that we all have a little sauce hollandaise lover in us. This creamy, buttery sauce is just too irresistible. And it tastes so good with our favorite seasonal vegetable: asparagus. So I've already made a few attempts to give the hollandaise sauce a slightly healthier finish. Most of the time I was not really satisfied with the result, because if the alternative is too far removed from the original, then it is no longer a real alternative.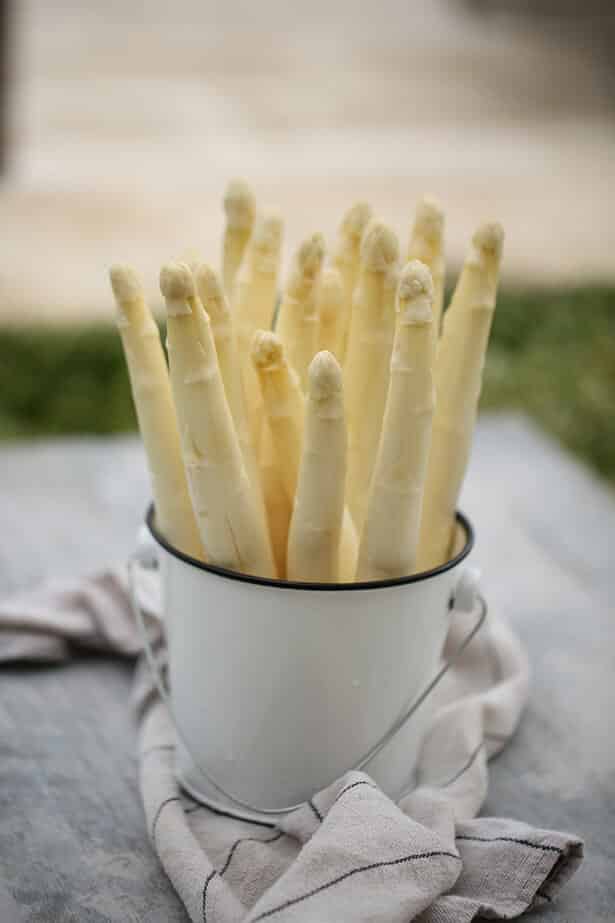 During my attempts, I noticed that you shouldn't take too much fat away from the hollandaise sauce, because fat is usually its main component. So if it's too low in fat, the taste buds say, "Oh, soup!" instead of "Ahhhh, hollandaise sauce!" So you need a certain amount of fat as a base. This can either consist of butter or mild olive oil. Thomas and I did the test this week. While we were able to determine differences between the butter and olive oil variants in the first test (the butter variant had a slight advantage in terms of taste), we could hardly notice any difference later when eating the sauce with asparagus. And the vegan hollandaise sauce was born! In my variant, first fried and then pureed zucchini with onion and garlic works as a binding element. What sounds strange first, tastes incredibly good later. And it's amazingly similar to the traditional hollandaise sauce, which is made from a mixture of egg yolk and butter.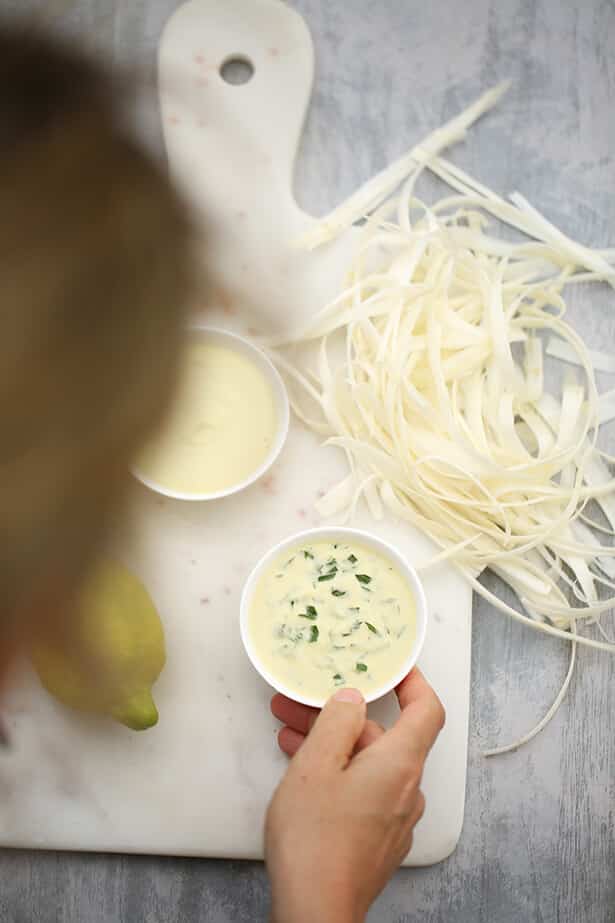 Since I grew up on the French border and therefore have an undeniable French influence in my eating habits, I not only love the hollandaise sauce, but also the sauce béarnaise that you get in every decent French restaurant. The sauce béarnaise is nothing more than a sauce hollandaise, into which freshly chopped tarragon is added. In my opinion, tarragon is a far too rarely used herb, because it has such an unique taste that it can elevate an entire dish from normal to sensational. This is exactly what happens to an already good hollandaise sauce when you add tarragon to it. You have to try to believe me.
But where does the hollandaise sauce actually come from?
The story of the hollandaise sauce
Despite its name, the famous sauce does not come from Dutch cuisine, but from classic French cooking of the 18th century. Originally the recipe is said to come from Normandy, which is famous for its butter. The sauce got its current name during the war, when butter became scarce in France and the sauce was made with butter imported from Holland. The hollandaise sauce is one of the basic sauces of French cuisine and serves as the basis of various other famous sauces, such as the tarragon-containing sauce béarnaise, the choron sauce that is refined with tomato paste, the romanov sauce to which caviar is added and the Dijon sauce, that is enriched with mustard and whipped cream.
And now my question to you: do you like hollandaise sauce? And have you made it yourself or used it from the pack? I look forward to your comment below!
HOLLANDAISE SAUCE
Instructions
Remove the green peel from the zucchini with a peeler. Dice the zucchini.

Heat the butter or olive oil in a pan and sauté the chopped shallot and garlic in it. Add diced zucchini and stir-fry.

Deglaze with white wine. Add the mustard, salt and a small amount of water and simmer for 5-7 minutes until the zucchini is tender.

Put in a blender, add the grated lemon zest and purée finely until a silky sauce is formed. If necessary, bring to the desired consistency with a little more water and season with salt and freshly squeezed lemon juice.

For a bearnaise sauce, stir in the chopped tarragon.

Serve the sauce warm with freshly cooked asparagus.
Wellcuisine-Tipp
The hollandaise sauce gets the right consistency in my recipe with pureed zucchini. In order for the sauce to get the right color (and not turn green), the green peel of the zucchini should be removed with a vegetable peeler before use. The peel can then be used for the next salad.