The Christmas season will officially start in one week. For me, however, it always starts a little earlier, namely when I see the first gingerbread cookies in the store in November (I don't see them beforehand because my eyes are still gingerbread blind before November 1st). Then I get really excited and buy a pack. At first I am very happy and wonder how I could have been without gingerbread for a whole year. Shortly afterwards I find them too sweet, too dry or too firm etc. My husband rolls his eyes because he already knows the game from last year. He asks: "Why don't you bake some yourself right away?" Well, because like a kid at the supermarket checkout, I want my lollipop straight away. But then the opened pack goes into the drawer at home while I put my apron on and bake my own gingerbread cookies, which are "not so sweet and somehow juicier and tastier and made with much better ingredients". Further eye rolling.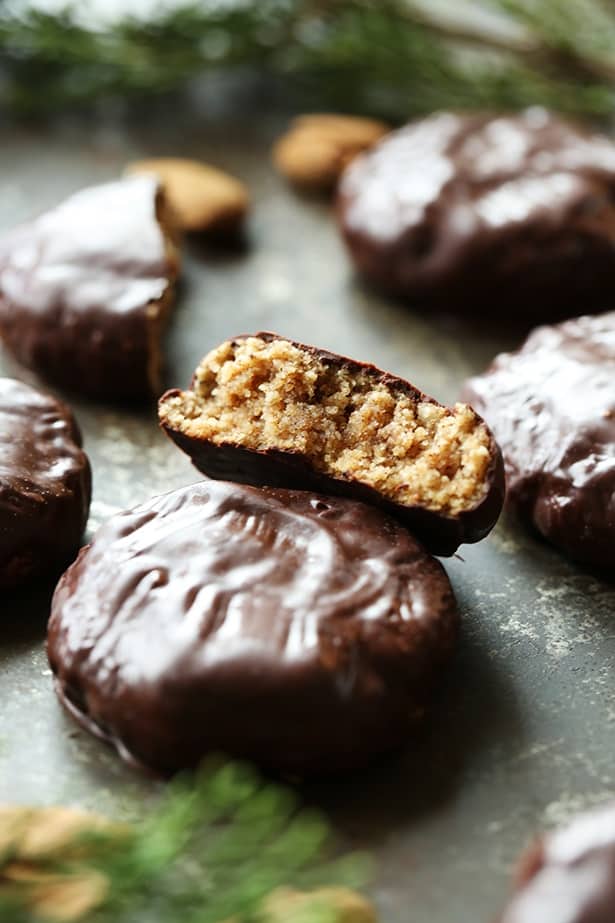 For me, gingerbread cookies are perhaps the most beautiful thing about Christmas time. It's enough for me to have a gingerbread and a clementine on my plate, a green tea in my hand and it's Christmas. Most of the time we don't have a Christmas tree and only minimal Christmas decorations in the house, but classic Christmas cookies are a must. And yes, if I had to celebrate Christmas on a lonely island and could only take a single pastry with me, it would probably be this gingerbread (but please don't tell my cinnamon stars and coconut macaroons!). I always have to grin when someone writes on social media on the first or second Advent that they are not in the Christmas spirit yet. Because it's interesting that at Christmas time we always think we have to feel a certain way. So cozy, happy and festive with a touch of angel dust. Since I generally don't like doing what I'm told (rapid nod from Thomas), I don't like the pressure of always feeling "Christmassy" during the Christmas season. I think that you should always feel the way you feel. And that it makes you potentially unhappy if you think you always have to be happy and satisfied or if you think you have to chase after an image that is given by society. But when I pull a fragrant sheet of gingerbread out of the oven, the smell of melted chocolate wafts through the kitchen, a candle burns on the table, the dog is sleeping in front of the fireplace and a pot of freshly brewed tea is waiting for me … and if it's outside it's already dark – and, oh, was that a snowflake? – then I also feel comfortable and satisfied and … maybe there was a little angel dust in the air. Who knows.
And now my question for you: what brings you into a Christmas mood? And do you love gingerbread cookies as much as I do? Please let me know in the comments below!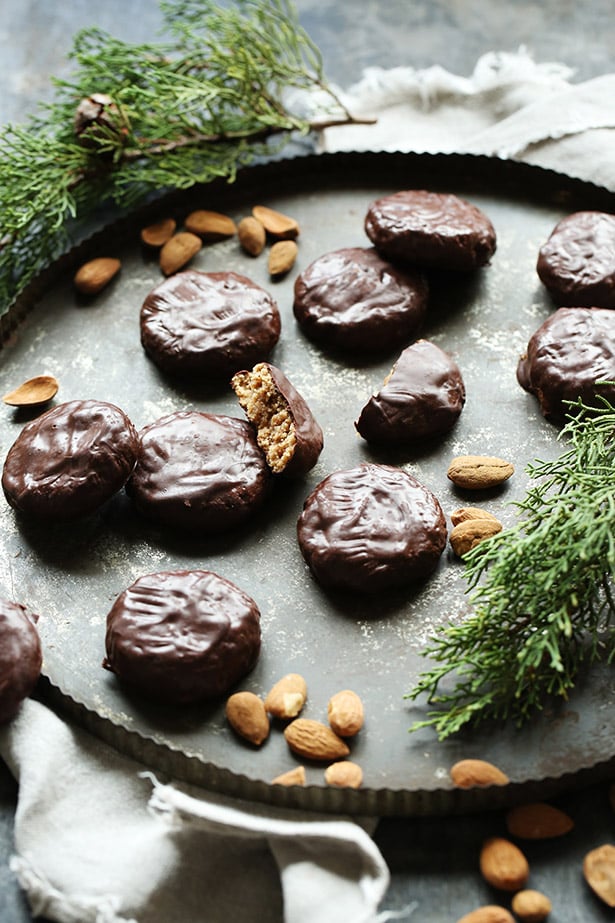 4 INGREDIENTS GINGERBREAD
Ingredients
For the gingerbread dough:
Instructions
Preheat the oven to 180°C.

Mix all ingredients for the gingerbread dough in a bowl.

Line a baking sheet with baking paper. Take out almost tablespoon-sized portions of the dough, shape into balls, place on baking paper and flatten a little. Shape the edges evenly round.

Bake for 12 minutes. At the end of the baking time, the gingerbread should be lightly browned on the underside and still soft. They harden a little later.

Let the gingerbread cool completely.

Melt dark chocolate in a water bath (if you like, you can "cheat", chop the chocolate and melt it while stirring and over medium heat in a saucepan without a water bath).

Using a brush cover the gingerbread all over with chocolate.

Let the chocolate harden at room temperature.