It's officially Christmas now and today I have a holiday recipe for you that is popular in the US, Canada and England: eggnogg. Eggnog is a drink that you cannot just plainly "drink", but you should "sip" it. Eggnog is normaly prepared with eggs, therefore the name. In my version you won't find a single egg, but instead lots of good ingredients, such as a wide variety of Christmas spices, nuts, coconut, honey and of course a shot of brown rum. It could be well served with dessert on Christmas Eve. But it also tastes wonderful on the sofa while watching old Christmas movies.
When I drink Eggnog, I always have to think of my grandma. Those who have read my book "Wellcuisine" already know her. Yes, that's the old lady with the golden slippers who kept a monkey in the kitchen – who was really keen on her spaetzle and jumped wildly in his cage when she was making them. And yes, that's the one who drove rallies in her spare time, and was able to throw a great meal together in no time – and the word "throw" is not chosen by chance, because my grandma really  threw the ingredients in bowls and pans – and in the end something great came out of it. If someone was on a diet or was just full after two servings, she would throw a load of spaetzle on the protective hands that were held over the plate.
In the afternoon, my grandma took a rest on her pink velvet sofa and enjoyed a sip of liqueur. Oh grandma, you would have liked this Eggnog so much. After all, it originally comes from England and that's where the eccentrics come from. In your heart you were a real eccentric, only in the body of a German housewife. I remember one Christmas when my grandma gave my mother a golden trash can as a gift. It was totally Buckingham Palace. Today it might be iconic, but back then it was just ugly and my mother could hardly hide her terror. I suspect that the Eggnog was invented for Christmas moments like that: you take a sip, smile, give thanks and simply leave the trash can be in all its golden glory.
In this sense: Merry Christmas! And stay relaxed ;–)
And now my question for you: do you have a funny or nice memory related to Eggnogg? Please let me know in the comments below!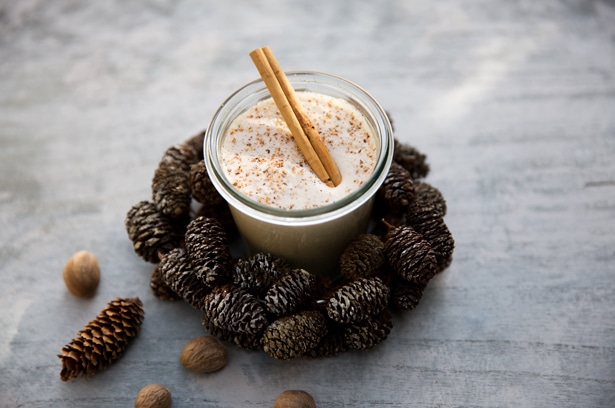 EGGNOG (WITHOUT EGG)
Instructions
Soak the cashew nuts in water overnight (alternatively: pour boiling water over them and let them steep for at least 2 hours). Then put in a sieve and rinse with clean water. Puree with the 500 ml water in the blender on the highest setting to a creamy consistency. Pour through a fine sieve.

Gently heat the coconut milk in a saucepan while stirring until it is completely liquid. Then mix with the cashew milk and the remaining ingredients in a blender.

The Eggnog can be stored in the refrigerator for approx. 3 days. It can be drunk both cold and warm. If you want to serve it cold, stir it well and pour it through a fine sieve again before serving, as fine lumps can form due to the coconut milk when it is cold. That's why I wouldn't serve it on ice.

Optional: add a little grated nutmeg to each portion before serving.